The Aaron Hernandez Scandal
The Patriots wish they could go back to a few weeks ago.  Everything  seemed so much simpler then – do you remember when the big question in Patriots camp was how Rob Gronkowski would bounce back from his surgery?  Remember, he had four surgeries on his arm and one on his back, and every pointed to this as the Patriots biggest red flag – an old fear on their 2010 drafted tight end coming to the forefront.  Those were the days, weren't they?
Or, if they can't go back that far, what about a week and a half ago, when a new third string quarterback by the name of Tim Tebow came to town?  Remember the media crush looking to get a glimpse of Tebow, pestering Bill Belichick with questions on how they would use him – quarterback, tight end, long snapper, what?  Those were some pretty good days, too.

No one's talking about Tim Tebow in Foxborough today.

It hasn't been a spectacular week for Aaron Hernandez by any stretch of the imagination.  On June 18th, it was reported that Hernandez was questioned in a "possible homicide", involving a man dating the sister of Hernandez's girlfriend.  He was not, then, named a possible suspect.  A car rented in his name was a key piece of evidence, and the police searched his home, and came out with some sort of box. It quickly became apparent that Hernandez was not ruled out as a suspect, and that he was not cooperating with the police.  His status changed rapidly over the course of Wednesday, and police began to imply that Hernandez was directly connected with what had been confirmed as a homicide.

They went back to his home, and discovered that Hernandez – or someone associated with him – had destroyed his cell phone and his home security system, which included video surveillance, and that a cleaning team had been called to scrub his mansion down.   On the 21st, authorities issued an arrest warrant for the tight end, for an obstruction of justice charge.  All day Saturday afternoon, the state police were in Hernandez's house. To top it all off, in an unrelated incident, Hernandez had a civil suit filed against him, alleging he shot a man in the face in Miami.

Now, before anything else, we need to be clear – Hernandez has not been found guilty in the civil suit or of criminal charges.  This is a developing story, and more of the story has to come out before anything can be said for certain.  Obviously, destroying his video surveillance and cell phone does not bode well, especially if the police believe them to have contained evidence of the crime.  At this point, it needs to be stressed, however, that what his role was – if any – in this incident remains cloudy.  He could be hiding evidence, or he could be being a scared 23 year old, and until more evidence comes out one way or another, that's what we have to stick with for now.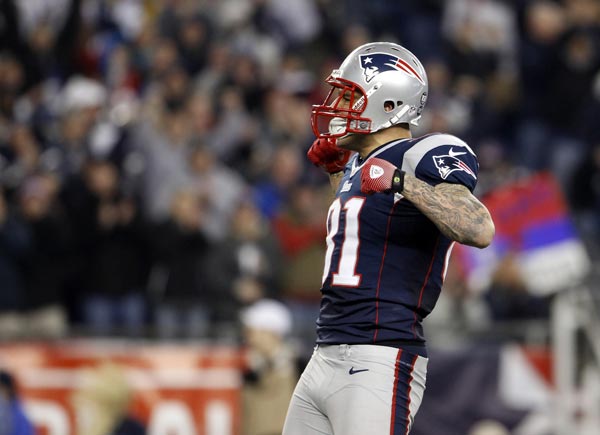 The issuance of the warrant implies that Hernandez knows something about what happened in the death of Odin Lloyd, whether he was on the scene at the time of the murder or merely a related third party.  Again, this story is developing, so we'll have to wait and see what happens in the upcoming week, but I think it's safe at this point to say Hernandez is in a whole heap of trouble.

In the wake of these accusations comes news that teams were worried about Hernandezin the lead up to the 2010 draft.  Some teams say now that they removed Hernandez entirely from their draft boards – though those concerns seemed to focus on his marijuana use as opposed to anything of this nature.  GMs are anonymously pointing to these red flags as the region Hernandez, at times considered a first-day pick, plummeted to the fourth round, as the sixth tight end drafted.  Obviously, there's a bit of revisionist history at work here, as these GMs weren't exactly coming out of the woodwork to say that they were thrilled with passing up on a 50-reception a year receiver.  It's not like "likely to be involved in a murder investigation" was on any of these pre-draft warning sheets, though players who have red flags in the lead-up process generally see those fears be realized to one degree or another over the course of their NFL careers.

What does seem like it's happening – and this is the very best case scenario here – is that Hernandez was hanging out with a crowd that he really should have been avoiding.  Look at the early careers of Ray Lewis, Michael Vick, and Pacman Jones – it's often hard to separate the desire for being loyal to the friends who helped you on your way up with the right thing to be done, and it's hard to cut yourself out of that lifestyle, but people can be taken down the wrong path by their associates.  There were rumors that Hernandez's friends back home in Connecticut were involved in gang activity, and his hometown of Bristol is only a few hours away from his new home.  It's all speculation at this point, but it wouldn't be too hard to believe, if those initial reports were true, that Hernandez found himself in the middle of a situation he shouldn't have been anywhere near.

There hadn't really been stories of Hernandez falling out of line or in any sort of trouble in his New England career, however, making this feel like it's come even more out of the blue. If he was involved in anything, it's been kept quiet until now – you would have expected the red flags to have come up more often up until now, but there's been no off the field skirmishes that made headlines, no late night drunken escapades, nothing – until now, as things begin to come out of the woodwork.  It's all very surprising.

It seems a bit crass to go "well, what will this mean for the Patriots offense?" when we're talking about a murder investigation, so I won't – but you should keep in mind that Ben Roethlisberger was suspended for six games in 2010 for being implicated in a sexual assault, despite never being charged with anything officially.  Hernandez seems to be already past that point, so the odds of him playing a full season in New England even if he's entirely exonerated seem to be nil.  Even if the law doesn't came down on him, commissioner Goodell likely will.

The Patriots have to be cursing their luck, too – despite the red flags Gronkowski and Hernandez had pre-draft, they had both remained clean through last season, and both got large extensions, and now, the injury concerns of Gronkowski and the character concerns of Hernandez have come charging back full-steam. An NFL scout said, with regards to Hernandez, that "You know, it doesn't always happen right away, but it seems like the red flags pretty much always come back at some point. Nine times out of 10."  We don't know what the end of this developing story will be, but it looks like those red flags have, indeed, come back, to haunt the Patriots.
Please read these other related pages:

What do you think?
We'd love to hear your comments and/or opinions. If you submit them here, other visitors can read them, rate them and comment on them. An e-mail address is not required.