Thanks for Nothing Marty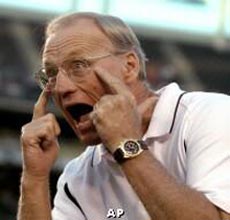 We saw that last game Marty. It was ugly. Your team had the best record in football and you lost for the first time at home. We saw that LT didn't get the ball much in the second half. It was only a matter of time before you would get fired we thought.
Then we hear you had a stay of execution. Seems like AJ Smith had a change of heart. It seemed like it didn't matter you carry with you a black cat, a ladder, and a broken mirror all in your pocket when it comes to the playoffs. Then it happened.
Today he was fired and they blamed problems with ownership but they basically wanted to get rid of him. Why didn't they fire him right after the playoff loss? Then maybe they could have gotten Wade Philips or Cam Cameron to be the new head coach. The transition would have been smoother than bringing in some overpaid coach. Now they're both gone along with a huge majority of the coaching staff. Or AJ must hate Marty so much he didn't want him coaching the Steelers, Cowboys, or Dolphins. Marty would've been hired to at least one of those teams.
So who would want this job? Does enough money get Pete Carroll to leave USC? With all the violations that USC is being investigated on now may be a good time to leave that program behind. But Carroll was a disaster in the NFL once and if you're the king of Los Angeles and you get the best players every year to play and it seems like that smile never wipes off your face then why leave?
Whoever comes in to coach will get a pretty stacked lineup. It's not like coming to a team that needs a lot of rebuilding. Seemed like the only rebuilding that was needed was from the coaching staff.
---
What do you think?
We'd love to hear your comments and/or opinions. If you submit them here, other visitors can read them, rate them and comment on them. An e-mail address is not required.
What Other Visitors Have Said
Click below to see contributions from other visitors to this page...

Carroll takes this job Not rated yet
2007/02/14 at 9:05 pm There is no way Carroll takes this job. One of the things he will be looking for in a NFL job is control. That is not happening …
The Chargers just better hope Not rated yet
2007/02/14 at 12:34 pm The Chargers just better hope G.M. A.J. Smith doesn't make a habit of having dysfunctinal relationships. The next coach is going …
---
From Thanks for Nothing Marty to NFL Archives | Sports Blog | College Football Archives | MLB Archives | NBA Archives | NCAA Basketball Archives | Soccer Archives | Olympics Archives | Stupid Athletes Archives | Other Archives |
---
Home Page
About Us | Contact Us | Site Search | Advertise | Terms of Use |
---