Thankful for Thanksgiving Day NFL
First I hope everyone had a great Thanksgiving. I hope you were able to stuff your face with delicious Thanksgiving treats like Kobayashi stuffs hotdogs.
Thanksgiving is not only a day of thanks but a day of traditional NFL football games. Detroit and Dallas are staples on Turkey day while KC was the new kid on the block.
I hope that most had their big Thanksgiving meal after the end of the Detriot vs Miami game. Otherwise, you'd have to go shopping on Black Friday to find a new TV after you puked on your old one. Every week Detroit keeps losing and every week I wonder how Matt Millen still has a job. I thought for sure they would show reaction shots of him all throughout the game. They did not which must mean he knew better and watched the game from somewhere deep inside the tunnels of Ford Field. Since he has been in charge they are 23-68. How does that stroke a vote of confidence from the Ford family? Do the Lions need to be taken over by a Japanese owner to show how it is done?
After about midway through the 3rd quarter, I was hoping a meteor would fall through the roof of Ford Field crashing directly on the field. That way they would have to cancel the game. Plus a big fat immobile rock would be much interesting to watch and discuss than the Lions.
After they roared out to a 10-0 lead, Miami wised up and decided to rush four instead of five players. That put a stop to Kitna finding anyone open to throw the ball to. The offensive line was so bad a line of turkeys could have blazed through and clawed Kitna to death.
It's bad when their ex-franchise quarterback, who sucked so bad that they got rid of him (though not Millen), comes back with another team and wins. Good for Joey. If he could have given a two handed salute to the fans of Detroit and Matt Millen, I am sure he would have loved to.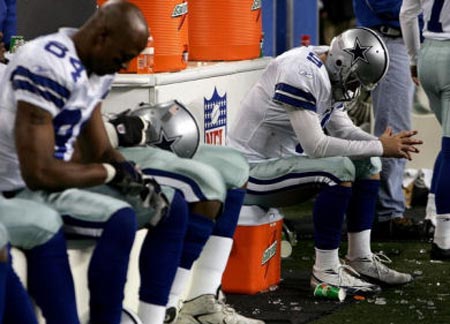 Tonny Romo
---
You cannot use any Tony Romo is a homo joke. This guy is the real deal. Five touchdowns today after leading the Cowboys to a victory over the Colts. A win like that is a perfect situation for a big let down game afterwards. Maybe dating Jessica Simpson puts a little twinkle in those legs and arm.
He's running the offense well. Aikman had five touchdowns once in his career but it took OT. Not for Romo today. He did not turn the ball over and he threw only seven incompletions.
Have we seen the last of Jake Plummer? After another uninspiring performance and a Denver loss he might be going the way of Bledsoe. It is difficult enough to win at Arrowhead stadium so it cannot be all on him. Clearly this team needs a spark and fans are hollering for Cutler. Denver is ony 7-4 and in the hunt for the AFC West and at least a wild card spot. Playing a rookie might please the fans but it's a high risk high reward situation.
---
What do you think?
We'd love to hear your comments and/or opinions. If you submit them here, other visitors can read them, rate them and comment on them. An e-mail address is not required.
---
From Thankful for Thanksgiving Day NFL to NFL Archives | Sports Blog | College Football Archives | MLB Archives | NBA Archives | NCAA Basketball Archives | Soccer Archives | Olympics Archives | Stupid Athletes Archives | Other Archives |
---
Home Page
About Us | Contact Us | Site Search | Advertise | Terms of Use |
---