Text Book Gator Ass Whopping!!
I'll start this with a quote from a classic movie you probably saw a commerical for tonight. All the talk was about the speed of Florida and that Ohio State would be no match for it. It could not have been more true. Just add strength to it as well.
"When this baby hits 88 miles per hour you're gonna see some serious shit." - Doc Brown.
It was serious shit tonight.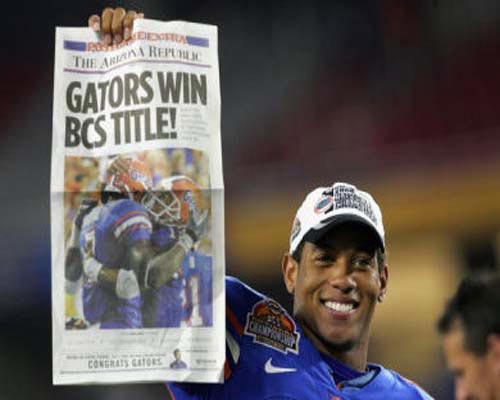 Leak
---
The University of Florida are national champions in football, basketball, and Dancing with the Stars. Man I wish I was drunk right now. Maybe my only regret of the night. I got so excited about the game I forgot I should have a six pack of cold beer.
The Gators win the national championship in football in such a lopsided game that general football fans would say this game was boring as hell. You won't hear that from me. I am a Florida alumni and long life Gator fan and I can't even contain how excited I am to see the Gators play their best game of the season in this game. Ohio State played more like Miami (Ohio) and the win was so convincing that there is no debate who the better team was. Give credit to the Gators for out playing and Urban Meyer for out coaching Jim BobTressel.
This is a team that struggled to score all season and that was a negative when debating whether the Gators should have even been in this game. Then they drop the largest load of the season on Ohio State. Massive size shit. Forty-one points against a defense that was suppose to be good. Last two games 80 points given up. That's almost as funny as having 82 total yards of offense in this game.
This is why they should do the Heisman voting after the bowl games. Most Heisman candidates are going to be playing in a bowl game anyway so that should be their last chance to showcase their skills. Where was the Heisman winner?? Is the Heisman that heavy that your muscles never recover from carrying it? 4 of 14 for 35 fucking yards? No touchdowns, one interception, and four sacks. That is absolutely shitty. It'sembarrassing for Heisman voters. Maybe winning that Heisman goes to your head and then you think you're Jack Bauer and you can take out an army of men with big fucking guns with a water gun. So many times we've seen the same Heisman let down in big time games. Troy Smith might have been the worst. He did have the worst passer rating inBCS championship game history. Congrats to you buddy.
The Florida kicker, who I have hurled every curse word at this season to no avail, went 2 for 2 on FG tries. He even had a extra point blocked and it still went in. A Gator defender loses his helmet and still makes a sack. Future three time Heisman winner TimTebow (just kidding) throws for a touchdown and runs for one. Man I wish I was drunk.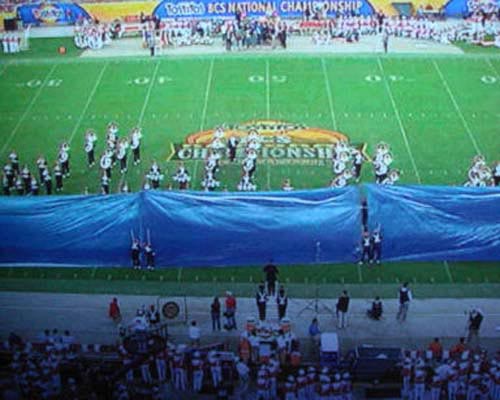 Titanic
---
Did anyone else notice the halftime show? The UF band comes out and plays some upbeat song. Ohio State's band comes out and plays a song from Titanic! We all know the massive ship that no one thought could ever sink hit a big fucking iceberg and sank killing most on board. It was one of most horrible and historicdisasters in history and that song perfectly summed up the way Ohio State played the first half. What was the band director thinking?? They even formed the shape of a boat and had smoke coming out from the top. Then they pulled out these blue tarps (above) to simulate water and the band members slowly sank into the water. They might of well have asked the stadium to play the video of Saddam Hussein's hanging on thejumbo tron during their performance. Maybe they could have brought out some baby cats and skinned them at midfield while they were at it. It was so sad. If this was American Idol, even Paula Abdul high on painkillers would have said that was a horrible song choice.
I heard Ohio State was just going to roll over the Gators. You heard it too. Ohio State was unbeaten and the Gators squeaked by most of their games. Ohio State was just as fast as the Gators. JimTressel is a big game coach. Troy Smith just won the Heisman. So much for all that hype. Watching the game I think Ohio State fans cheered twice. WhenGinn ran the opening kickoff for a touchdown and when they scored their other touchdown. That's it. So much for second half adjustments. Zero points given up by the Gators defense.
Cannot believe a month ago there was debate that the two best teams in the country might be from the same conference and they should have a rematch in theBCS championship game. How funny does that sound now? Both teams showed they were frauds and when they stepped out of conference this bowl season. I'm going to call it the Little 10 conference because Ohio State and Michigan because it's only appropriate.
Ohio State is now 0-8 against the SEC. Both of Tressel's bowl losses came against SEC teams.
Finally thank you UCLA for beating USC because without you none of this would have been possible.
University of Florida 2007 National Champions!! What a dream come true.
---
What do you think?
We'd love to hear your comments and/or opinions. If you submit them here, other visitors can read them, rate them and comment on them. An e-mail address is not required.
What Other Visitors Have Said
Click below to see contributions from other visitors to this page...

Florida didn't win this game because of speed...






2007/01/09 at 2:26 am Florida didn't win this game because of speed... they won because they controlled the line of scrimmage on both sides of the ball. …
---
From Text Book Gator Ass Whopping to College Football Archives | Sports Blog | NFL Archives | MLB Archives | NBA Archives | NCAA Basketball Archives | Soccer Archives | Olympics Archives | Stupid Athletes Archives | Other Archives |
---
Home Page
About Us | Contact Us | Site Search | Advertise | Terms of Use |
---