Superbowl Trivia Questions
If you are like me, the Superbowl is one of your favorite sports events of the year. It's a time when families gather, stories are shared, love poems are read….wait those are weddings. Let me correct myself: it's a time to stock up on beer, make sure the new HDTV works, invite all your friends (and remind them to bring an extra 24 pack each as the unofficial price of admission), and put your game face on. But, even if you've watched a lot of Superbowls, it's still fair to ask: how much do you know about the past history of the game and 2011's Superbowl XLV. Well, here at The Best Sports Blog, we weren't sure how much we knew, so we came up with a list of Superbowl Trivia Questions. Consider it your very own Superbowl Quiz to test your knowledge of Superbowl Trivia Facts. If you can answer a lot of the questions right (we set 12/15 as the expert fans' benchmark) then you're a Superbowl rock star! If not, then educate yourself (the answers are at the bottom of the article) and no one will know you weren't a Superbowl fan expert to begin with. Enjoy!
Historical Superbowl Trivia Questions
Here's our Aaron Rodgers jersey
How many Superbowl Trivia Facts do you know?
1. Which quarterback has won the most Superbowls in the last fifteen years?
a. Tom Brady
b. Peyton Manning
c. Ben Roethlisberger
d. Eli Manning
2. Which team once lost four Superbowls in a row?
a. Buffalo Bills
b. Oakland Raiders
c. Dallas Cowboys
d. Washington Redskins
3. Who was the MVP of last year's Superbowl?
a. Drew Brees
b. Roman Harper
c. Peyton Manning
d. Pierre Thomas
4. Which quarterback has made the most Superbowl starts without a win?
a. Dan Marino
b. Fran Tarkenton
c. Warren Moon
d. Jim Kelly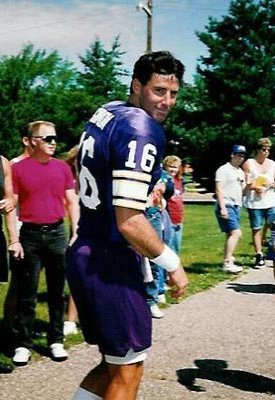 Thanks to Dlz28 from Wikipedia.org for this great picture of
Rich Gannon.
5. Which college produced the most Superbowl MVPs?
a. Georgia
b. Alabama
c. Ohio State
d. Maryland
6. Which quarterback threw the most interceptions in a Superbowl game?
a. Troy Aikman
b. Bart Starr
c. Brett Favre
d. Rich Gannon
7. Which coach has won the most Superbowls?
a. Chuck Noll
b. Bill Belichick
c. Joe Gibbs
d. Bill Walsh
Shopping for a Ben Roethlisberger jersey
Superbowl XLV Questions
8. Which quarterback starting in Superbowl XLV has the better passer rating over the past three seasons?
a. Aaron Rodgers
b. Ben Roethlisberger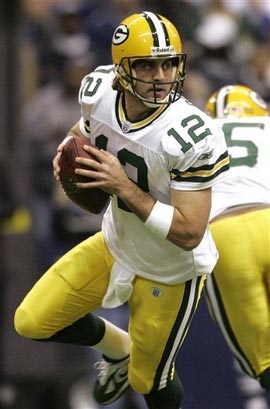 Thanks to Avinash Kunnath from Flickr.com for this great
picture of Packers quarterback Aaron Rodgers.
9. Which running back in Superbowl XLV was once a star back at the University of Illinois?
a. Jon Kuhn
b. James Starks
c. Rashard Mendenhall
d. Mewelde Moore
10. Which exceptional rookie will miss Superbowl XLV due to injury?
a. Maurkice Pouncey
b. James Starks
11. Which quarterback in Superbowl XLV wears a special protective helmet that is thicker and more padded than any other pro football helmet?
a. Ben Roethlisberger
b. Aaron Rodgers
12. Which Steelers player came close to being sent to Oakland for the 8th overall pick last offseason?
a. Ben Roethlisberger
b. Rashard Mendenhall
c. Mike Wallace
d. Troy Polamalu
13. Which Steelers defender could be considered the most underrated player in the NFL today based on per-snap impact?
a. Troy Polamalu
b. Brett Keisel
c. James Harrison
d. Ziggy Hood
14. Which Packers defender is both a Heisman Trophy and NFL Defensive Player of the Year Award winner?
a. Cullen Jenkins
b. Ryan Pickett
c. Clay Matthews
d. Charles Woodson
15. Which team did TBSB predict would win Superbowl XLV?
a. Packers
b. Steelers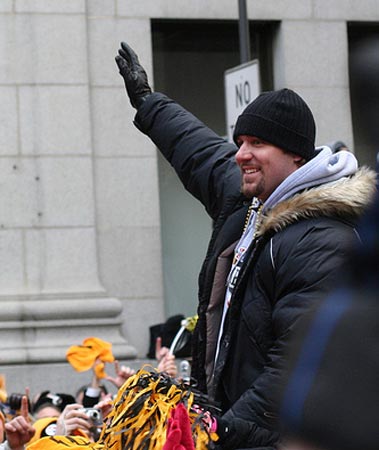 Thanks to Benjamin Ragheb from Flickr.com for this great picture of Ben Roethlisberger.
---
Looking for a NY Giants Gear
The Answers:
How did you do on your Superbowl Trivia Quiz?
Tom Brady. He has won three in the last decade and a half (2002, 2004, 2005) but has not won one since 2005 and has not won a post-season game since the 2007 AFC Championship. Of course, he was the 2010 NFL MVP so don't write him off just yet.
Buffalo Bills. Fans in the city will tell you they still haven't recovered. It's understandable because their team certainly hasn't.
Drew Brees. It was a no-brainer; he was absolutely spectacular.
Jim Kelly. He lost four straight with the Bills. Sadly, the margins of defeat got worse each year.
Georgia. The Bulldogs produced three different Superbowl MVPs.
Rich Gannon. In fairness, he was playing against his former coach, offensive guru Jon Gruden, but his performance was so poor it may have cost him a shot at the NFL Hall of Fame.
Chuck Noll. He won four with the Iron Curtain Steelers. Bill Belichick came within two minutes and a once in a lifetime catch by David Tyree of equaling that record.
Aaron Rodgers. In fact, his 98.7 mark is the best in the NFL over that span.
Rashard Mendenhall. The only reason Illinois made it to the Rose Bowl that year. I repeat: the only.
Maurkice Pouncey. Unless, of course, something changes before the game. You never know.
Aaron Rodgers. He said it spared him a concussion on Julius Pepper's savage 4th quarter hit in the NFC Championship Game.
Ben Roethlisberger. He needs to stay out of Georgia clubs if he doesn't want to end up on the other side of the Bay.
Troy Polamalu. I only wrote "could be" as a courtesy to other underrated NFL stars. He is the most underrated contributor in the league; the Steelers defense is simply not the same without him.
Charles Woodson. Another underrated gem.
You've Got to Read Our Steelers - Packers 2011 Super Bowl Preview to Find Out!
Best Sports Blog Books:
Thanks everybody. If you have any great questions of your own then make sure to post them in the Forum!
Ever wonder which were the Top Super Bowl Ads?. Here's our Super Bowl XLV Review.
---
Check out our Best All Time Pro Sports Team
---
What do you think?
We'd love to hear your comments and/or opinions. If you submit them here, other visitors can read them, rate them and comment on them. An e-mail address is not required.
---
From Superbowl Trivia Questions to Football Forum | Sports Blog | NFL Football Blog | NCAA Football Blog | NFL Football Archives | College Football Archives | MLB Baseball Blog | College Baseball Blog | MLB Baseball Archives | NBA Basketball Blog | NCAA Basketball Blog | NBA Basketball Archives | NCAA Basketball Archives | Fantasy Football | Fantasy Basketball | Fantasy Baseball | Soccer Archives | Olympics Archives | Stupid Athletes Archives | Other Archives | Basketball Forum | Baseball Forum | NFL Football Store | NBA Basketball Store | MLB Baseball Store | NCAA Football Store | NCAA Basketball Store | NCAA Baseball Store | Fatheads | NFL Football Tickets | NBA Basketball Tickets | MLB Baseball Tickets | NCAA Football Tickets | NCAA Basketball Tickets | NCAA Baseball Tickets |
---
Home Page
About Us | Contact Us | Site Search | Advertise | Terms of Use |
---