Someone Says There's a Game on Sunday?
Sadly I think those two kids (below) have tickets to the game and I don't. But I'm not going on national television to embarass myself. I do that enough just trying to act cool all day long.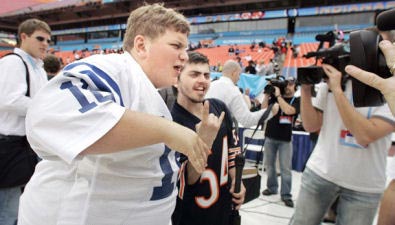 Idol
---
Game? What game? Nah, I only care about the Super Bowl for the party. I'm going to have a dirty martini drinking everytime Peyton Manning bends over. For the others who really care about football, I think people from around most of the country are sick and tired of seeing how warm and sunny it is in Miami while they're freezing their ass off. I live in north Florida (7 hours from Miami) and it was the coldest it's been in two years this past week.
I'm hoping for a great game. Fun. Exciting. Someone streaking. Maybe Borat if possible. Or the game could unfold as I imagine it below.
Remember how Leslie Nielson murders the national anthem at the LA Dodger baseball game in "Naked Gun"? Yes that will be Billy Joel, who swore he had only a Zima in the green room. Later he will try to drive away only to end up on the shores of Cuba.
Peyton Manning gets knocked out in the 1st quarter. Yeah no what we wanted. The thumb he injured? Yep re-injured again. He lost in thumb wrestling to a mouse trap. In comes Jim Sorgi for the rest of the game. He doesn't throw up on the field from nervousness. He pees in his pants, which is actually pretty cool.
Rex Grossman, throws his 6th interception, in the first quarter. You could count #7 but Tony Dungy was not standing on the field of play. He just can't stop thinking of the huge party that will happen in Miami when Fidel Castro dies. Brian Griese enters the game. After some excellent punting from both teams, Griese tries to run for a first down. He stumbles and knocks himself unconscious. An injury eerily similar in May 2002.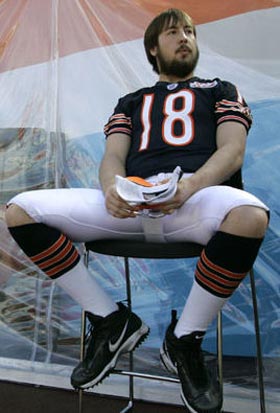 Kyle Orton
---
So Kyle Orton comes in and he breaks a sweat just putting on his helmet. Actually I would not doubt if it did not fit him. That fat boy has not missed a meal in a year. He might be on the eat-6-huge-meals-a-day plan replacing all water with beer. Orton vs Sorgi. The odds on that must have been staggering. If you bet $5 on it you would probably be driving away in a Ferrari. It's just as humorous as watching bad auditions on American Idol, except people would probably watch bad auditions over bad quarterbacks. If this game was the regular season, people would immediately turn away. Instead it's the Super Bowl, so people drink more to think the quarterbacks are really good!!
Game comes down to a game winning field goal opportunity for Vinateri. If Tom Brady didn't lead a comeback in a playoff game for New England two weeks ago (I'm still pissed over lost money), Vinateri has got to finally miss in the Super Bowl. Even God misses some things too. Cockroaches? Foot fetishes? My Super Sweet 16? Paris Hilton? Clearly missed the uprights with those. So I say he misses a chip shot field goal from 25 yards away. Bears win and Kyle Orton wins Super Bowl MVP and proclaims he's going to eat Disney World.
(By the way, was talking to a good buddy tonight and he said his brother would party with Grossman all the time in Florida. Said Grossman was the biggest coke head. Line after line after line. I know his brother and he's not the type to make up shit. If Grossman is/was a huge coke head, it explains a lot. Damn maybe it made him smarter. You know how drugs can do some crazy stuff. )
What to do to make time fly by until kickoff? You could go in a self induced coma but gotta pray you wake up or else it'll be a Super Bowl that Chuck Bundchen-Brady is starting when you wake.
Follow everything in Miami from a professional standpoint with the Miami Herald's coverage.
If you haven't read Deadspin "correspondent" AJ Daulerio's experience in Miami, go there and read it now. He's got the molester moustache going on that is a bit creepy. But the writing is sharp and he keeps running into celebrities. Some who run when they hear the word "Deadspin" being thrown around.
Jamie Mottram over at AOL who is doing the whole media thing on radio row. I think he's promising them free AOL for life because he's getting big name athletes coming on his show.
I love getting these random emails from companies promoting something for the Super Bowl. One I got from www.buttercast.com. They are running a contest for your commentary for the ENTIRE 2nd Quarter of the big game. This includes commercials. Talk over them, make fun of them, they don't care. You submit it. They'll listen to them all. I'm sure they'll know in the first 30 secs if it's worth listening to the whole recording because no way they listen to all the entries. Winners get a big ass TV. Second and third place get a Nintendo Wii and a Ipod respectively. So if you thought Joe Buck or Joe Theismann sucked doing football, let's hope you're not worse.
Have a great weekend and Go ______ (insert your rooting team)!
---
---
What do you think?
We'd love to hear your comments and/or opinions. If you submit them here, other visitors can read them, rate them and comment on them. An e-mail address is not required.
---
From Someone Says There's a Game on Sunday to NFL Archives | Sports Blog | College Football Archives | MLB Archives | NBA Archives | NCAA Basketball Archives | Soccer Archives | Olympics Archives | Stupid Athletes Archives | Other Archives |
---
Home Page
About Us | Contact Us | Site Search | Advertise | Terms of Use |
---