Some of the Best of the Worst in 2006
What I have come up with is a list of the sports figures from 2006 who have exemplified how stupid one can really be. It's because of them that others look so good and that gives bloggers a reason to type. The list is not comprehensive. There have been so many that have done so wrong this year but these are the some I just had to highlight.
---
Lindsey Jacobellis - I'll start with a favorite. This might have been a forgotten moment because it happened in February but seriously how stupid can you get? Jacobellis was dreaming of a gold medal and rightfully so because she was so far ahead of the pack in women's snowboard cross. Then a moment of clarity turned into stupidity as she decided to pull a trick on the final jump to look good for the cameras I presume. She could probably nail that landing after drinking a 12 pack and doing a line of cocaine. This one time she did not. She fell on the landing and had to say she was still happy with the silver medal. Doh!!
Houston Texans - Coming into the draft it was either Reggie Bush or Vince Young. Everyone knew that. Instead Houston decided to over think their need. They didn't need a quarterback (David Carr is great!) and they don't need a player who can fill the seats and do everything on offense (We got Dominick Davis!). They needed Super Mario who is quickly becoming another draft bust. Good thing Houston got him first because they probably thought he wouldn't be around in the second round.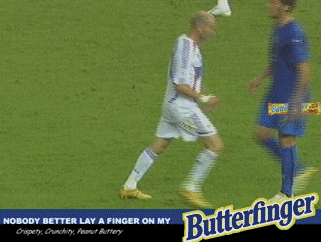 Zindane
---
Zindane - As a soccer fan, this image will forever be etched in my memory for as long as this earth will have me. We have never seen such a meltdown on a world wide stage. Not counting bad performances in championship games, this was the single most bizzare moment. The camera picked up a great angle. The headbutt was as if it was perfected by a Hollywood stunt team. And it was mocked endlessly.
Floyd Landis - Wins the prestigous Tour de France and then gets busted for elevated levels of testosterone. He blames too much whiskey and then dehydration and after everyone laughs at that he says those ideas were not his.
ESPN Mobile - I remember when they unveiled this with a pricey commerical during the Super Bowl. What seemed to be a great idea for all sports lovers turned into a financial disaster. Not only was the phone plan extremely expensive and limited to one type of phone and carrier but those commericals they kept playing were bad enough.
Terrell Owens - The Dallas Cowboys gave him $25 million reasons to have a chance to keep being the worst teammate in all of sports right now. When the team is doing well and he doesn't feel like he's getting enough attention, he'll stir up controversy. Now the Cowboys are on a downward slide and the T.O. we're all used to seeing is coming out. Told you so Cowboys.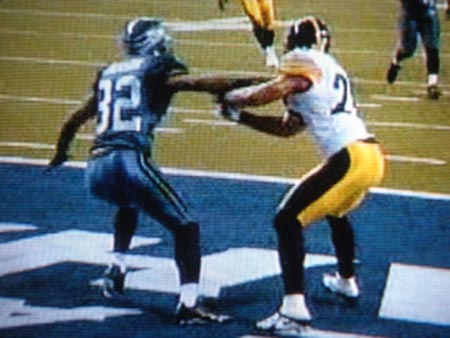 Bad Call.
---
Super Bowl XL officiating crew - Now I know there are two sides to this, judging from the debate that heated up after the game. I still think they were horrible and blew so many obvious calls. Try to convince me that the calls were not favoring Pittsburgh. Everytime there was a big Seattle play, a penatly came out. Pittsburgh only had three penatlies all game. Phantom touchdown calls. Phantom holding calls. Even some Pittsburgh bettors said they feel like they won dirty money.
Lamar Thomas (ex-Miami Hurricane announcer) - For wanting to get down on the field and whoop some ass! The problem was he said it on the air and not to his drunk buddies. Special shout out to the player who used the helmet like a woman's purse to attack.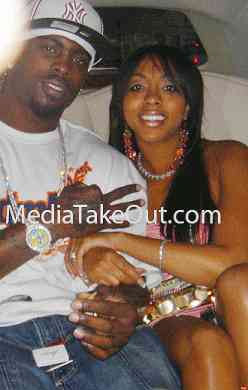 Vick.
---
Marcus Vick - Pulls a gun…oh I mean a cellphone…on some patrons in a Mcdonald's parking lot. Was he trying to save them from trans fat in the fries? That's after he stomps his way into the douchebag list. Now he has been sued for $6.3 million by a girl who says she was having sex with him when she was 15. A winner to bring home to mom. (pic from Deadspin)
Maurice Clarett - It's almost like what crime did he not commit this year? The finale was when he was pulled over wearing a bullet proof vest with four loaded guns and a bottle of vodka.
Matt Millen - There would only be two things that survive a nuclear war. Matt Millen and cock roaches. How else can you explain how he has not been fired after years of "Fire Millen" wishes? First round draft bust after draft bust. He had turned that organization into a Ford Pinto. Remember that car? It became a focus of a major scandal when it was alleged that the car's design allowed its fuel tank to be easily damaged in the event of a rear-end collision which sometimes resulted in deadly fires and explosions. Ford knew the design flaw but refused to fix it. Sounds eerily familiar.
Johnny Weir - The most ambiguously gay male figure skater of the year. He blames his dissapointing Olympic performance on the lack of comfort in the building. Apparently it made him feel black inside but I think that's just from smoking. He also blames the bus system for not picking him up on time. Really Johnny was just skating with two hands around his throat.
I know next year will bring more riches in the stupidity department.
---
---
What do you think?

We'd love to hear your comments and/or opinions. If you submit them here, other visitors can read them, rate them and comment on them. An e-mail address is not required.
---
From Some of the Best of the Worst in 2006 to Other Archives | Sports Blog | NFL Archives | College Football Archives | MLB Archives | NBA Archives | NCAA Basketball Archives | Soccer Archives | Olympics Archives | Stupid Athletes Archives |
---
Home Page
About Us | Contact Us | Site Search | Advertise | Terms of Use |
---