Sleeper Teams Come March
January is here and March madness is around the corner
I wanted to write about a few teams that I feel could be great sleeper teams come mid march. I feel that though there are two favorites two win it all (North Carolina and Kentucky) I feel there are still a number of other teams out there that can accomplish what VCU and Butler accomplished last there and upset a higher seed.
UNLV: UNLV is a very interesting team as they're playing under a new coach (Dave Rice), and look like they've moved on from being dominated last year in the NCAA tournament against Illinois. In fact, the Rebels went into the United Center this year and dominated the Illini and repaid the, for what happened last year. Led by seniors Chace Stanback and sophomore Mike Moser (both transfers from UCLA), the Rebels have created a very impressive resume this year. The Rebels have defeated the likes of UNC (in Las Vegas), Illinois (in Chicago, and after the win over Ohio State is looking better and better), and California. UNLV has also only lost to Wichita State (we'll get to them later), and at Wisconsin (one of the most difficult places to play in college basketball). This could be a sleeper team later in March and maybe into April.
Wichita State: This is another mid major team out of the Missouri Valley that I like a lot. Had they defeated Creighton on New Years Eve, they would have had two signature wins (UNLV as well), and a winning streak of 12 in a row. Led by seniors Joe Ragland and Garrett Stutz, they can be a sleeper and beat a few teams in the NCAA tournament. They still need another signature win (February 11th vs. Creighton wouldn't hurt) and a deep run in the Missouri Valley to secure their place in the field of 68.
Kansas State: The Wildcats are a team on the rise and are getting better and better as the season has gone on. Kansas State has only three losses (one bad loss by 18 at archrival Kansas) and almost gave two different teams their first loss (Missouri defeated by 16, and lost to Baylor by 2). Kansas State is led by junior guard Rodney McGruder, and senior forward Jamar Samuels, and are one of the best rebounding teams in college basketball this year. Kansas State has defeated Missouri, at the time a ranked Alabama team, and almost defeated Baylor while not having one bad loss this year. If Kansas State continues there play of late, they should be playing in second weekend of March Madness.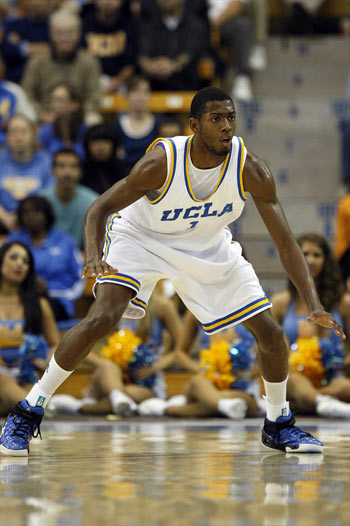 Mike Moser (1) during the NCAA regular season men's basketball game between the Humboldt State Jacks and the UCLA Bruins at Pauley Pavilion in Westwood, CA.
---
West Virginia: One of the best March Madness coaches of all time might just have another team that's capable of pulling off a few upsets come March Madness time. West Virginia has a few bad losses this year (Kent State early in the year and lost by 19 to Seton Hall), a few losses to good teams (at Mississippi State and lost by 2 to Baylor), and a handful of good wins (Kansas State and Georgetown). West Virginia is also led by two seniors with Kevin Jones and Darryl "Truck" Bryant that can make plays and were apart of a team that went to the final four a few years ago. I also feel that outside of Syracuse, this might be the next best team in the Big East when we reach March Madness.
I also wanted to write about one elite team that hasn't been considered a true championship contender, and that team is Baylor. Baylor has all of the ingredients that a NCAA Championship team needs: Great athleticism and talent (Perry Jones III, Quincy Acy, Quincy Miller), good coaching (Scott Drew), and a senior not afraid to take the big shoot in Quincy Acy. Baylor has had many different tests this year and answered all of them so far (wins at BYU and Kansas State, along with other wins against Sand Diego State, West Virginia, Saint Mary's, and Mississippi State). Baylor still has a long way to go, but I feel after Kentucky and UNC, this is the next best team in college basketball and deserve more credit.
Read more about The Imperfect Perfection: Look out for Murray State in 2012 March Madness
---
What do you think?
We'd love to hear your comments and/or opinions. If you submit them here, other visitors can read them, rate them and comment on them. An e-mail address is not required.
---
From Sleeper Teams Come March to NCAA Basketball Blog | Sports Blog | NFL Football Blog | NCAA Football Blog | NFL Football Archives | College Football Archives | MLB Baseball Blog | College Baseball Blog | MLB Baseball Archives | NBA Basketball Blog | NBA Basketball Archives | NCAA Basketball Archives | Fantasy Football | Fantasy Basketball | Fantasy Baseball | Soccer Archives | Olympics Archives | Stupid Athletes Archives | Other Archives | Football Forum | Basketball Forum | Baseball Forum | NFL Football Store | NBA Basketball Store | MLB Baseball Store | NCAA Football Store | NCAA Basketball Store | NCAA Baseball Store | Fatheads | NFL Football Tickets | NBA Basketball Tickets | MLB Baseball Tickets | NCAA Football Tickets | NCAA Basketball Tickets | NCAA Baseball Tickets |
---
Home Page
About Us | Contact Us | Site Search | Advertise | Terms of Use |
---