Should Rick Barnes and Texas Longhorns Basketball Part Ways?
By Dennis Berry

When you are a coach, you can stay in one place too long. We may be witnessing that with Rick Barnes in Texas.

First there is no question that Barnes has done an outstanding job at Texas during his time there. He has a great resume to back it up. He is the winningest coach in the history of Texas Longhorn basketball. He has a winning percentage of .719 in 14 full seasons in Austin. That includes 13 straight 20 win seasons.
The Longhorns have made 14 straight NCAA Tournament appearances under Barnes also. He has taken Texas to five Sweet 16's, three Elite Eights, and the 2003 Final Four – their first trip there in almost 60 years.

Yet the last few years have not been the best for Texas basketball.

Since an Elite Eight appearance in 2008 Texas has not been out of the first weekend. That includes a team that went 28-8 during the 2010-11 and tied for the best record in the Big 12. That team lost in the second round to Arizona.

Since that 2008 Elite Eight squad, three of four Texas teams have lost in double digts. The 2008-09 team went 23-12 and 0-7 in the Big 12. The 2009-10 team went 24-10 and 9-7 in the Big 12. The 2010-11 team is mentioned above. Then last year's Longhorns went 20-14 and 9-9 in the Big 12.

This season has not started out any better. Texas won their first two games of the year against Fresno State and Coppin State. Then came a trip to the Maui Invitational Tournament.

Once there, things got bad. They lost their opening round game to host Chaminade 86-73. They were down as many as 18 points in that game. Don't forget that Chaminade is a Division II program that gets their chance against Division I programs every year in the tournament.

Then came a 59-53 overtime loss to Southern California. This was an USC team that lost by 30 points to Illinois in their opening game in Maui. The Longhorns were able to get one win in Maui, however, when they beat Mississippi State.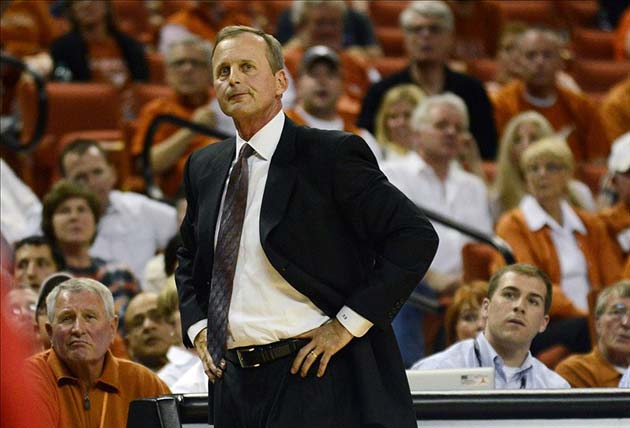 Many will point out that the Longhorns are suffering without their starting point guard Myck Kabongo. He is out while the NCAA investigations a trip he took in the offseason. Kabongo is a leader on the court and his absence is definitely a factor.

Still, there is plenty of talent left that losing to Chaminade and Texas should not have happened. The team is made up primarily of players from the 2011 and 2012 recruiting classes. Those classes ranked 8th in 2011 and 11th in 2012 by rivals.

Two top 15 classes should be able to beat a Division II team and a middle of the pack PAC-12 team.

Another concern for fans of the Longhorns should be the class of 2013. Right now that class is not even ranked by Rivals, Scout, or ESPN.

What's more is that Texas missed out on two great players in the Class of 2013. When the Harrison twins – Andrew and Aaron – were making their decision to where to play college basketball, Texas was not even in the twins' final three choices. Their final three were SMU, Maryland, and Kentucky. The twins chose Kentucky.

Texas did recruit the pair and offered them a scholarship, but could not even make it to the final list. That was a big recruiting miss as Barnes could not keep some of the best Texas high school players from leaving the state.

Barnes is not completely out of top Texas high school players in the Class of 2013, though. Julius Randle, a forward from Plano, TX, has the Longhorns listed in his final six. If Barnes can get a commitment from Randle, it would be a huge boost.

After 14 years in Austin, has Barnes taken the Longhorns as far as he can? If the Longhorns do not show improvement as the season goes and Barnes cannot land another solid recruiting class, it may be time for Texas and Barnes to consider moving on.


What do you think?
We'd love to hear your comments and/or opinions. If you submit them here, other visitors can read them, rate them and comment on them. An e-mail address is not required.