She By Far is the Most Trashy One of All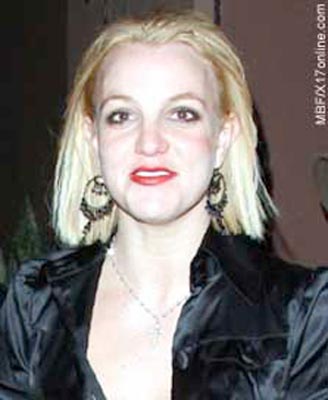 Britney Spears
---
Sometimes in life, people will tell you it never hurts to ask. However if you're Britney Spears it's just wise to not even bother asking the image conscious NFL for some sort of collaboration. She was turned down flatly when her peeps asked the NFL about participating in an all-star NFL Network promo to air during the Feb. 4 football finale. They said she's too much of a train wreck and they already have Paris Hilton. Damn that's cold! They're even trying to recruit manly Janet Reno. Where does she fit in the NFL demographics?
I only hoped the NFL people laughed when they were asked. Shocked at first and then uncontrollable laughter. We're talking about a woman who married a bum, has questionable child rearing habits, flashed her kibble and bits to the whole world, had to be carried out from a New Year's eve party at Caesar's Palace, and looks like that (above). Even the largest fan website devoted to her shutdown because of her recent actions.
What's gotta hurt even more? He ex-husband is going to star in a Super Bowl ad for Nationwide Mutual Insurance Co. The closest Britney will get to the Super Bowl is some drunken induced state at some club in South Beach. Embarassing pictures sure to come.
What do you think?
We'd love to hear your comments and/or opinions. If you submit them here, other visitors can read them, rate them and comment on them. An e-mail address is not required.
---
---
From She By Far is the Most Trashy One of All to NFL Archives | Sports Blog | College Football Archives | MLB Archives | NBA Archives | NCAA Basketball Archives | Soccer Archives | Olympics Archives | Stupid Athletes Archives | Other Archives |
---
Home Page
About Us | Contact Us | Site Search | Advertise | Terms of Use |
---