Shaun White Hopes to Use Gold Medal to Get Babes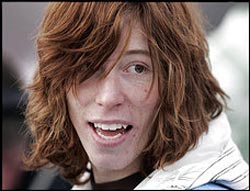 If my nickname was the "Flying Tomato" and people said I looked like Carrot Top, I'd be one angry kid. Although it'd be better than being called "Fire Bush".
If I had a stellar snowboarding and skateboarding career, owned three homes, two condos, and needed two commas to tell you how much I make from endorsements, screw it, I'd let them call me anything.
Shaun White came into the 2006 Torino Olympics as the favorite in halfpipe snowboarding and he came through. He was so good that by the time for his second run, he still had the highest score and the gold locked up. His 46.8 score (out of a possible 50) on the first run of the finals was more than five points better than the next competitor. His winning run included a lofty lien air, textbook McTwist, jaw-dropping frontside 10, cab 10 nose grab, frontside 9 lien to backside 9. I have no idea either what those mean. They just sound really hard.
He almost didn't make it to the finals. In his first of two qualifying runs he slipped on one of his landings. A rarity. It took a pressure filled second run to finally qualify. He said in the first run he just wasn't paying attention. Once in awhile when I'm walking I'll accidentally trip. Suppose it's the same thing when it comes to doing a frontside 9 lien to backside 9 for him.
Now he has gold, he will try to accomplish his other goal while staying at the Olympic Village.
"I'm gonna get some babes."
Plethora. Shaun, learn it. You'll have a plethora of babes in the village. The funny part is that I just heard Bob Costas bring up that quote in a fire side interview. Shaun rolled with it. Sadly, Bob did not dish out any advice for the gold medal country for babes, the Swedish women. It'd be funny to hear him talk game.
But it seems Shaun has eyes for Sasha Cohen (the top US figure skater). Shaun made sure he let her know who's the king of this Olympics so far during his press conference.
"I'm hoping Sasha Cohen dates gold medalists," Shaun White said, slipping into an imaginary conversation with the figure skater. "Hey, babe. Oh, this? Oh, yeah, I just got it. How you doin?"
Shaun you're so money and you don't even know it. You could probably date Jessica Alba with that gold medal. She dates a guy named Cash. You have lots of it and a gold medal.
---
---
What do you think?
We'd love to hear your comments and/or opinions. If you submit them here, other visitors can read them, rate them and comment on them. An e-mail address is not required.
What Other Visitors Have Said
Click below to see contributions from other visitors to this page...

---
From Shaun White Hopes to Use Gold Medal to Get Babes to Olympics Archives | Sports Blog | NFL Archives | College Football Archives | MLB Archives | NBA Archives | NCAA Basketball Archives | Soccer Archives | Stupid Athletes Archives | Other Archives |
---
Home Page
About Us | Contact Us | Site Search | Advertise | Terms of Use |
---