Scorer's Nightmare: The Best on Ball Defenders in College Basketball
Defense is a lost art in today's game. Too many fans focus too much on the offensive side of the ball. If NikStauskas has an off night, he is chastised for his poor shooting, rather than the guy who defended him being praised. It's sad. Great defenders lacking offensive dominance go underappreciated in their collegiate careers, and are taken later in the draft or not at all. All the while, prolific scorers who can't play a lick of defense are taken in the Top 5 every year.
The NBA needs more Tony Allens. The ability to gain extra possessions for your team and eliminate an opposing scorer for 40 minutes is incredibly important. Players who can do that won't be stars at the next level, but they are the X-Factors that will turn a good team into a great one.

This article identifies the best "on-ball" defensive guards in college basketball today. As you read over the list, I'm sure a few of the names surprise you and some of the numbers may confuse you. Rest assured, I can explain my reasoning behind the selection of the ten names before you (just check out the "*Statistics Explanation" at the end of the article).

| Name & Rank | Class | Team | Height | Weight | Steals Per Minute (SPM) | Blocks Per Minute (BPM) | Fouls Per Minute (FPM) | Versus Top Scorers (vT100) | On-Ball Rating (OBR) |
| --- | --- | --- | --- | --- | --- | --- | --- | --- | --- |
| 1. Delon Wright | JR | Utah Runnin Utes | 6'5" | 180 lbs | 0.08 | 0.04 | 0.05 | 0.72 | 4.44 |
| 2. Alex Caruso | SO | Texas A&M Aggies | 6'5" | 183 lbs | 0.08 | 0.04 | 0.08 | 0.52 | 6.73 |
| 3. Trevor Cooney | SO | Syracuse Orange | 6'4" | 195 lbs | 0.08 | 0.00 | 0.03 | 1.06 | 3.77 |
| 4. Briante Weber | JR | VCU Rams | 6'2" | 165 lbs | 0.13 | 0.00 | 0.08 | 0.81 | 6.02 |
| 5. Jordan Adams | SO | UCLA Bruins | 6'5" | 220 lbs | 0.10 | 0.01 | 0.07 | 0.99 | 4.47 |
| 6. Calvin Newell | SR | UCF Knights | 6'1" | 210 lbs | 0.08 | 0.00 | 0.04 | 1.33 | 4.51 |
| 7. Retin Obasohan | SO | Alabama Crimson Tide | 6'1" | 205 lbs | 0.07 | 0.04 | 0.09 | 0.72 | 3.86 |
| 8. Marcus Smart | SO | Oklahoma St Cowboys | 6'4" | 220 lbs | 0.09 | 0.02 | 0.09 | 0.80 | 4.03 |
| 9. Tyler Ennis | FR | Syracuse Orange | 6'2" | 180 lbs | 0.08 | 0.01 | 0.06 | 1.06 | 3.93 |
| 10. Wesley Saunders | JR | Harvard Crimson | 6'5" | 215 lbs | 0.07 | 0.03 | 0.07 | 1.03 | 3.33 |
There is certainly a vast diversity in the play styles of the ten players listed above…

Many are all-around athletes:

Utah's junior guard DelonWright  (#1) is currently first on the team in points (16.1 ppg), assists (5.3 apg), steals (2.8 spg), and blocks (1.3 bpg). Top that off with the fact that he is second on the team in rebounding (7.0 rpg), and it is crazy that so few fans have heard of him! It's safe to say he is one of the most dynamic, and underrated players in the nation.

Similar in style of play to Wright is Oklahoma State's sophomore Marcus Smart (#8). Unlike Wright, Smart is a recipient of quite a bit of hype. Smart's choice to forego the NBA Draft and remain in Stillwater was one of the most highly covered stories this offseason. He ranks first on the Cowboys in points (17.3 ppg), assists (4.4 apg), and steals (2.4 spg) and second in rebounds (5.7 rpg). Those phenomenal sophomore stats are the main reason I believe that sticking around was the smart decision (no pun intended).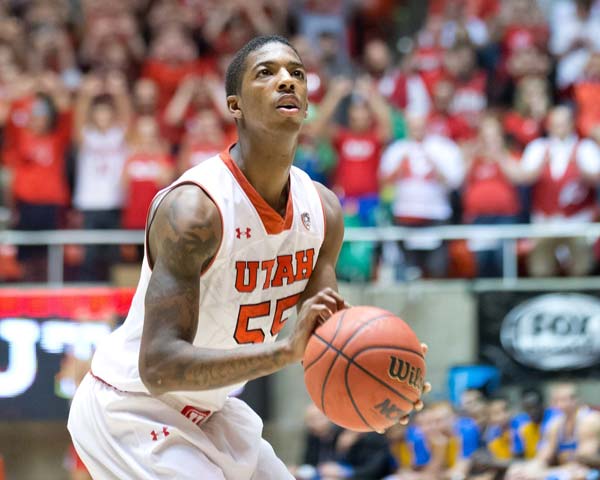 Wesley Saunders (#10), senior at Harvard, has also been an all around weapon for the Crimson. As the team leader in points (15.2 ppg) and steals (2.2 spg), second in assists (3.9 apg), and third in blocks (0.9 bpg) and rebounds (5.2 rpg), he will most likely be named player of the year in the Ivy League.

Only a sophomore, UCLA's Jordan Adams is another player who just about does it all. First on the team in points (16.8 ppg) and steals (3.0 spg), and second in rebounding (5.5 rpg), Adams has his Bruins tied for second in the PAC-12. Noticeable improvement from his already impressive statistics in 2012-13 has Adams already turning into a team leader in only his second season.

Others are team players:

VCU's junior guard Briante Weber (#4) isn't a large source of scoring for the Rams, but still plays the most minutes on the team (29.6 ppg). How?  Simple.  He does the intangibles. Shaka Smart preaches "havoc" defense, and Weber -- the NCAA's leading ball thief (3.9 spg) -- fits perfectly into Smart's style of play. VCU doesn't need Weber to score points to win games, his team leading steals and assists (4.1 apg) are all that is necessary.

Much like Weber, undefeated Syracuse's freshman guard Tyler Ennis (#9) serves as the Orange's much needed floor general. Ennis is one of the smartest players in crunch time, rarely turning the ball over and losing possessions. Being only a freshman, don't be surprised if he becomes the country's best on-ball defender in just a year or two, if he stays at least.
   
Texas A&M sophomore Alex Caruso (#2) is another guy who puts his Aggie team over himself. Averaging 4.6 assists per game, Caruso has really emerged this year as a strong player on this team of mostly juniors. If all goes according to plan, A&M could be a serious contender in the SEC with Caruso at the helm.

The rest are important role players in their own right:

In addition to being a phenomenal defender, Syracuse sophomore Trevor Cooney (#3) is a sharp shooter extraordinaire. Shooting 46.1% from behind the arc, Cooney is averaging an incredible 4.6 three pointers per game! Dropping a career high nine threes in a win vs. Notre Dame, Cooney has his Orange well on their way to another NCAA Tourney run.

UCF's senior Calvin Newell (#6) historically has always played an important role on his teams. A transfer from Oklahoma, Newell hasn't put up phenomenal numbers this season, but his 27.4 minutes of hard work and leadership per game is very important in its own way to his Knights.

Rounding out the top ten, Alabama sophomore RetinObasohan is still just a blossoming prospect looking to increase his role on the team. Currently the team's second leading scorer (11.7 ppg), Obasohan has provided valuable minutes (32.1 mpg) from his starting role this season. After this breakout year, the leadership reins of the Crimson Tide will most likely be handed over to Obasohan next season after senior guard Trevor Releford (18.3 ppg) graduates.

As you can see, every player on the list is unique, but they all do share one thing in common. Each and every one of them is one of college basketball's best on-ball defenders. This esteemed group of young men are all very capable of harassing opponents until their faces are red from rage. Although defense is severely underappreciated, it is still something a choice few of us still acknowledge and respect.

*Statistics Explanation:

Surprised by some of the names you see up there? No Aaron Craft or Quinn Cook? There is a reason for that. What warrants a defender as being better than the rest? What sets one defensive specialist apart from the rest? Most people will look at how many steals a player records. Well this is largely true, but there is much more to look at to truly understand the beauty that is on-ball defense.

First, I chose to look at measurable statistics like steals, blocks, and fouls. Rather than looking at these numbers over a season or over a game, however, I shrunk it down to the minute. After all, on most teams, it is the point scorers that earn the most time, and many stellar defenders have limited opportunity every game to show off their skills. For this reason, measuring performance over a minute's time frame broadens the field of players considered and really separates the cream of the crop. I analyzed the top ball thiefs over the span of a minute, and selected ten who comparatively had very limited fouls per minute, and in some cases, a few blocks to boot.

Then came the time to order the final ten. After looking at the current statistics I had accumulated, I thought about possibly the only key factor that hadn't yet been considered. The ability to keep scorers from scoring. To uncover this, I had to look at how this year's top scoring guards performed against these ten players, compared to how well they typically perform.

For example: Say Oregon's guard Joseph Young typically scores 0.59 points per minute (ppm) over the year, but against Utah's Delon Wright, he was held to a mere 0.35 ppm. By taking his key game stat and dividing it from his season totals (0.35/0.59), the result was 0.59 (meaning he was only 59% as effective vs. Delon Wright than he usually is).

After finding all of the statistics of my top ten defenders vs. top scorers and averaging them, each player received their "Versus Top Scorers" statistic. The lower the number, the better the given defender did against the top scorers.

With all of the statistics I needed, I found a value for each player that I chose to call their "On-Ball Rating". This created statistic was found by plugging their statistics into this formula:  ((1.5*SPM+BPM)/FPM)/(vT100). This weighted the player's steals at a 3:2 ratio vs. Blocks (steals better represent a player's ability to pressure the opposition), divided that combination by fouls (demonstrating the efficiency of a player's steals/blocks without getting into foul trouble), and divides all of that by the player's vT100 rating (because the lower this value is the better, using it as a divisor increases the value of the player's final "On-Ball Rating"). This OBR statistic was what I used to finally give my top ten defenders a rank and to crown Delon Wright as the best on-ball defender in the nation.


What do you think?
We'd love to hear your comments and/or opinions. If you submit them here, other visitors can read them, rate them and comment on them. An e-mail address is not required.
Scorer's Nightmare: The Best on Ball Defenders in College Basketball to NCAA Basketball Blog