Sad End to Jim Calhoun's Career
By Dennis Berry

Long Road Ahead for Connecticut
On Thursday Jim Calhoun announced his retirement as Head Coach at the University of Connecticut. Calhoun spent 26 years as the Huskies' basketball coach. He built the Connecticut program into a national power from nothing.

He won three NCAA Titles – 1999, 2004, and 2011. He won nine Big East regular season titles and seven Big East Tournament championships. He brought in a ton of NBA talent to Storrs.
His legacy should be that he built a basketball program from nothing. Though, what he left behind may have a bigger impact on how he is remembered.

As he walks away from Connecticut, he leaves it in less than stellar shape. Calhoun's retirement is just the finishing touch to a rough offseason for the Connecticut basketball program. It appears that it will be a while before we see Connecticut return to the national stage.

That is because the Huskies are banned from postseason play for the 2012-13 season. That is because of poor work in the classroom by the Connecticut basketball team. Connecticut scored below the 900 Academic Progress Rate score from 2007-08 to 2010-11. That made Connecticut the first school from a major conference to face a postseason ban because of a low APR score.

The school appealed to the NCAA; that appeal was denied in April. That means the Connecticut will not be eligible for the 2013 Big East Tournament and the 2013 NCAA Tournament.

After the NCAA denied Connecticut's appeal, then came a mass exit of talent from Storrs. Jeremy Lamb and Andre Drummond left for the NBA. Alex Oriakhi transferred to Missouri. Roscoe Smith transferred to UNLV. Michael Bradley asked out of his scholarship and enrolled at Western Kentucky. In all, the Huskies lost five of their top eight scorers.

As it faces a postseason ban and their best players leaving, Connecticut basketball has to start over. They will turn to Kevin Ollie to lead them in the post Calhoun era.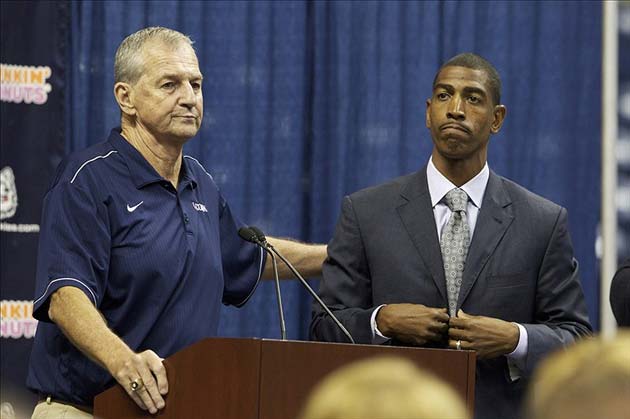 Ollie is a former Connecticut team captain under Calhoun. He played from 1991-1995 in Storrs. He then went on to play 13 seasons in the NBA for 11 different teams.

The challenge ahead of Ollie is a tough one. He only has one season to prove himself on the job. Actually, the contract he signed is for seven months. That will be tough for someone who has no head coaching experience under his belt. He only has two seasons of assistant coaching at Connecticut. That's it for his coaching experience.

Ollie will be handicapped when it comes to recruiting. With only a one-season contract, will he be able to sell "his" program to recruits? Other coaches will use his short contract against him in recruiting. Will any big time recruits want to commit to Connecticut if it is not known if Ollie will be there next season?

Another factor working against Ollie is the talent level he has to work with. There are still good players at Connecticut. Shabazz Napier, Ryan Boatwright, and DeAndre Jordan are still there. That will give Ollie a nice trio to work with. Outside those players, there is not much else.

The key to success this year is Jordan. Last season he came in as a freshman with a lot of hype surrounding him. He did not live up to that hype. He only averaged 4.2 points a game last season. This was not what was expected out of a five-star recruit.

With so much working against Ollie, it seems hard to believe that he will be the man to return Connecticut back to being a major player in college basketball. Not saying that he can't, but it is hard to believe that he will be given the time in order to rebuild the program.

At the end of the 2012-13 season, Connecticut will be looking for a new coach. Whoever that coach is will be given the time needed to rebuild the Huskies back into a Top 10 basketball program.


What do you think?
We'd love to hear your comments and/or opinions. If you submit them here, other visitors can read them, rate them and comment on them. An e-mail address is not required.