Reassessing the Winners and Losers of the Dwight Howard Trade
By Lorenzo Tanos


We're now halfway through the 2012-13 NBA season and that means we've had 40-some games to observe the four teams who took part in a blockbuster trade that most notably sent Dwight Howard from the Orlando Magic to the Los Angeles Lakers.  Here's how I assess all four teams at this point of the season, specifically looking at each individual trade piece and how he's impacted his new team. 

Denver Nuggets (26-18) – The Nuggets got just one player from the Howard trade, and that was Andre Iguodala, whose numbers are still very similar to those he posted as a 76er.  That hasn't stopped him, though, from being a key player on the Nuggets' rotation, a game-changer on defense and one of the most versatile wingmen in the league, just as he's always been.  His arrival has certainly helped the Nuggets remain competitive in the Western Conference.

RATING – B+/WINNERS


Los Angeles Lakers (17-25) – When was the last time the Lakers had such an ignominious record at the season's halfway mark?  I'll be guessing right off the top of my head when I say the Randy Pfund era.  That's a good two decades ago and back then, the Lakers didn't have any superstars.  Now they have four, and they can't seem to get any kind of chemistry going.  But moving on to the trade pieces, Howard has been putting up good numbers, but not great ones – of course, he has to defer to Kobe Bryant on offense.  Earl Clark did an admirable job filling in when Howard and Pau Gasol were injured.  Chris Duhon has been an okay reserve point guard with Steve Blake on the sidelines.
 
Numbers-wise, the Lakers got good production from the men they acquired through the trade.  Chemistry-wise, that's a totally different story. 

RATING – C/LOSERS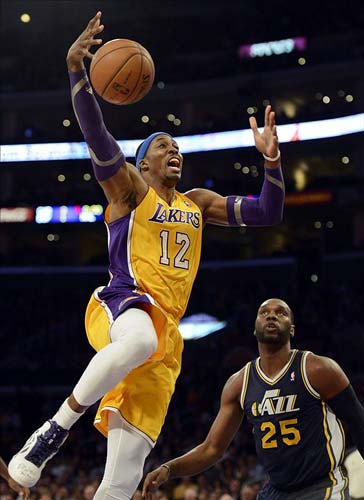 Jan 25, 2013; Los Angeles, CA, USA; Los Angeles Lakers center Dwight Howard (12) goes up to the basket as Utah Jazz center Al Jefferson (25) looks on during the first half at the Staples Center. Photo Courtesy By Richard Mackson-USA TODAY Sports.
Orlando Magic (14-27) – The Magic, who traded away their two best players – Howard (to the Lakers, natch) and Ryan Anderson (to the New Orleans Hornets) in the preseason, were expected to tank it this year with their present lineup.  Granted, the Magic are as far as you can get from a playoff team, but they got some good returns through the Howard trade.  Nikola Vucevic has been a revelation – the second-year big man from USC backed up Spencer Hawes as a rookie with the 76ers, but emerged as a double-double threat as the Magic's starting center.  Glen Davis was putting up career numbers prior to his injury – he's not the guy you want as your starting four AND your second option on offense if you're hoping for a deep Playoffs run, but he does make a good starter for a potential lottery team like the Magic.
 
As expected, ArronAfflalo was the best player the Magic got from the mega-trade.  Already a more than decent starting two-guard for the Nuggets, Afflalo broke out this season as the Magic's top option on offense and a stopper on the defensive end.  As for the rest of the players acquired from the trade –Josh McRoberts and Mo Harkless, to be specific – they've been decent, though not great frontcourt reserves.  Christian Eyenga was waived before the season, while Al Harrington has yet to see action due to injury.

RATING – B+/WINNERS


Philadelphia 76ers (17-25) – And we're still waiting for Andrew Bynum to play his first game as a Sixer.  Knee injuries have kept him out of action since the start of the season, including that infamous bowling-related injury that took place ahead of the season proper.  The other trade acquisition hasn't done too much, unfortunately.  Jason Richardson is the Sixers' starting off-guard, but is in a time-share with Nick Young and is even more underwhelming than he was last year with the Magic.

RATING – D-/LOSERS
What do you think?

We'd love to hear your comments and/or opinions. If you submit them here, other visitors can read them, rate them and comment on them. An e-mail address is not required.