Ranking the Best Pound for Pound Fighters in Boxing
How much things change, how much they stay the same – it's a good theme for boxing in 2013.  Manny Pacquiao, boxing's recent pound for pound king, has been brought low.  Floyd Mayweather, his chief rival, has kept his perch at the top.  Wladimir and Vitali Klitscko remain the dominant heavyweights in boxing, even as rising stars Amir Kahn and Devon Alexander have failed to live up to their potential.
It's time for a new pound ranking.  Who is really the best fighter in boxing?

No. 1: Floyd Mayweather

From 2006-2007, Mayweather was the undisputed pound for pound king.  Then, for much of the past half-decade, he shared a disputed crown with Manny Pacquiao.  The two clawed for the title, eyeing and circling one another warily, feasting on the same opponents but never actually jumping into the ring together.

Now, that debate is over.  Manny Pacquiao's best days are behind him, courtesy of a poor loss to Timothy Bradley (judges' scorecards aside, Pacquiao would have knocked Bradley out in his prime), and he ended 2012 out cold on the canvas against Juan Manuel Marquez.  Mayweather is now King of the Hill – and there isn't even anyone close.

No. 2 and No. 3: Wladimir and Vitali Klithscko

It's strange to see two heavyweights near the top of a pound for pound list; they often have too many pounds hanging off them to qualify.  But with Pacquiao's fall, there are few dominant options in the lower divisions.  The Klitschko brothers have dominated boxing since the mid-2000s, when Evander Holyfield aged and Lennox Louis retired, and there is no one even close to ending their reign.

No. 4: Juan Manuel Marquez

Long the second banana to Manny Pacquiao in their rivalry, Marquez ended all that with one fierce December punch.  Despite a losing record in their four fights, Marquez's definitive victory, coupled with disputed results in their past two fights and a draw in the first, will leave history judging Marquez as the winner of their storied rivalry.

Nonetheless, Marquez looked suspiciously muscled for a man of his age – and previous style – and associated with a known steroid purveyor for his most recent fight, so if something emerges that taints his victory, it will color history's view of his career.
 
No. 5: Nonito Donaire

When one star falls, another rises: Nonito Donaire.  Now the Philippines' most promising boxer, Donaire could be the next pound for pound king, whenever Mayweather decides to retire.  He still has to clean out the light welterweight division first, where an intriguing match with Saul Alvarez could await in 2013. Keep your eyes out for that at Coral Sports.

Best of the Rest
No. 6: Manny Pacquiao

Pacquiao fans will challenge this, arguing that it is an overreaction to one bad fight.  It's not; it comes from objectively watching Pacquiao's last three fights, dating to 2011.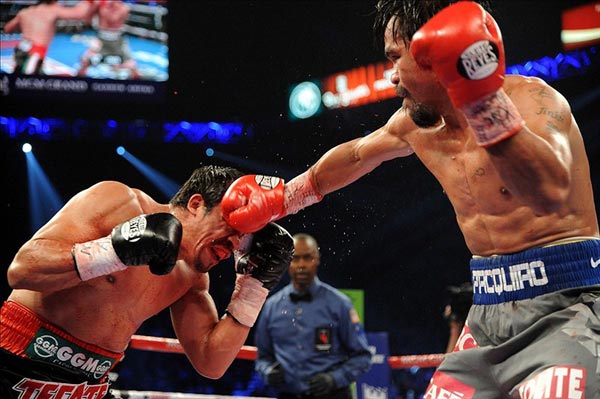 The Fighting Congressman has slipped a step, perhaps two.  In his last win, over Juan Manuel Marquez, Pacquaio looked a step slow and his victory was disputed.  In fact, my own scorecard had Marquez the victor – Pacquiao landed more power punches but Marquez outboxed Pacquiao and looked fresh and in command towards the end of the fight.  Against Timothy Bradley, Pacquiao should have won but his inability to knock out the light-punching Bradley showed his clear decline – the old Pacquiao would have ended the fight in the fourth round.  And, most recently, he ended 2012 out cold against Marquez.  At 33, it's not even certain he should return to the ring.
No. 7: Saul Alvarez

Yes, it's true, he has no real victories on his resume.  A 40-year old Shane Mosley is hardly an impressive win.  But Alvarez has youth, style, and vigor coupled with tremendous talent.  He could become boxing's next big star and will get a chance to fight Floyd Mayweather if his handlers feel he is ready.

No. 8: Timothy Bradley

Bradley benefited from strange scoring in his mega-fight with Manny Pacquiao, which he clearly lost in the ring but ended as the anointed victor.  With Pacquiao now out of the picture, Bradley could look for a match up with Floyd Mayweather in 2013.

No. 9: Austin Trout

Miguel Cotto is not his former self; the Puerto Rican star is in clear decline.  But a win in Cotto's "home" at the Garden established Trout as a fighter with legitimate champion credentials.

No. 10: Amir Khan

Even with another eyesore defeat on his resume, Khan is still a big draw and a big-time talent.  He is not a brawler and his chin is definitely suspect but Khan has the second fastest hands in boxing after "Money" Mayweather.  As long as he remembers to box, not brawl, he is a threat to win any match up in the ring.


What do you think?
We'd love to hear your comments and/or opinions. If you submit them here, other visitors can read them, rate them and comment on them. An e-mail address is not required.
From Ranking the Best Pound for Pound Fighters in Boxing to Boxing Blog