Ranking the Best Offseason in Major League Baseball
It's that time of year, when the flowers begin to bloom, and two Marlins fans show up at the stadium looking for tickets.

Spring training has arrived!

So, which Major League Baseball teams had the best off-seasons this winter?
No. 1: Toronto Blue Jays
Credit Alex Anthopoulos: when he went for it, he really decided to contend for the World Series.  Gifted an opportunity to acquire the talented half of the Marlins' roster for pennies on the dollar in November, he pounced: adding pitchers Josh Johnson and Mark Buerhle and all-star Jose Reyes. The Jays also added steroid MVP Melky Cabrera to the outfield and reigning CY Young winner R.A. Dickey.  Now, the Blue Jay's rotation features five top starters in Dickey, Johnson, Buerhle, Morrow, and Romero with an excellent top and middle of the order featuring Cabrera, Reyes, Edwin Encarcion, Brett Lawrie, and Jose Bautista.  Injury risks remain a serious concern for the Blue Jays but they are now – on paper – a World Series contender.

No. 2: Chicago Cubs
Theo Epstein gets a top grade because the Cubs clearly improved for 2013 without surrendering any precious draft pick compensation and without adding significant long term spending burdens to the team's future bottom line.  Chicago also cleverly structured their new additions' contracts to make them ideal trade bait this summer.  Assuming the team improves but fails to contend, Chicago could parlay pitchers Scott Feldman, Scott Baker, Matt Garza, and Carlos Villenueva into talented young prospects.  For a team built to contend beginning in 2014, its exactly the right, patient approach for future success.

No. 3: Atlanta Braves
The Braves admirably replaced retiring Hall of Famer Chipper Jones and all-star Michael Bourn without a significant addition to the budget, trading for future star Justin Upton and his uber-talented older brother, B.J. Upton.  The Braves look like real World Series contenders for the next 3-5 years with a deep crop of starting pitchers and a talented, youthful middle of the lineup.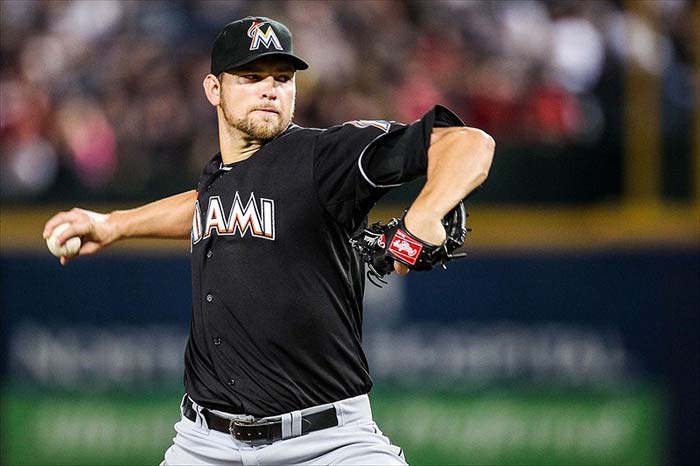 September 26, 2012; Atlanta, GA, USA; Miami Marlins starting pitcher Josh Johnson (55) pitches in the fifth inning against the Atlanta Braves at Turner Field. Photo Courtesy By Daniel Shirey-USA TODAY Sports.

---
No. 4: Detroit Tigers
Detroit came within four games of a World Series title last year.  Retaining No. 2 starter Anibal Sanchez was a must, so credit GM Dave Dombrowski for prying him away from the Cubs at the very last second.  The Tigers also added Torii Hunter, a good bet for the No. 6 hole in their loaded lineup, and will benefit from the return of all-star catcher/DH Victor Martinez.  Who wants to face a lineup of Austin Jackson, Miguel Cabrera, Prince Fielder, Martinez, and Hunter in the playoffs?

No. 5: Washington Nationals
Only the potential fallout from ace Gio Gonzalez's potential steroid suspension robs the Nationals of a much higher place on this list.  GM Mark Rizzo skillfully engineered a two year contract for Adam LaRoche, securing a left-handed presence in the middle of the lineup without blocking star prospect Anthony Rendon.  Washington also solved its leadoff and center field problems deftly with a trade for Denard Span and added rotation depth by acquiring former ace Dan Haren.

What do you think?
We'd love to hear your comments and/or opinions. If you submit them here, other visitors can read them, rate them and comment on them. An e-mail address is not required.