Ranking the 2012 American League All-Stars
Since Baseball has a rule that each team needs to have at-least 1 member from each team on the All-Star Team, I decided to abide by this rule and take at least one player from each team on this roster (The first name listed is the player that I feel they should start the game).
My All-Star roster
American League:
1st Basemen: Paul Konerko and Prince Fielder: At age 36, First Baseman Paul Konerko has had arguably the best first half of his MLB Career (.333 Average, 13 Home Runs and 39 RBI) while playing on a White Sox team that surprisingly still in first place as we approach the Mid-Summer Classic. In addition to Konerko, fellow American League First Baseman Prince Fielder has also gotten off to a great start to this season (.301 Average, 12 Home Runs, and 50 RBI) and has been the Tigers best offensive player the first half of the season.
2nd Baseman: Robinson Cano, Jason Kipnis, and Ian Kinsler: Robinson Cano got off to a slow start to the season but has since bounced back and as the Yankees have heated up so has Robinson Cano. Cano is now leading all 2nd Baseman in average (.308), Home Runs (18), and is 2nd in both Runs and RBI. In addition to Cano, 2nd year Cleveland Indian Jason Kipnis has been the best the most consistent offensive player for a solid Indians team. Ian Kinsler has also put together a very solid season for a great Rangers offense.
Shortstop: Derek Jeter, Elvis Andrus, Mike Aviles: At age 38, the captain of the New York Yankees has been playing some of his best baseball and has been great this season hitting .300 with 7 Home Runs and 25 RBI. In Texas, Rangers Shortstop Elvis Andrus (.302 and 31 RBI) has become one of the top 5 best shortstops in baseball. Lastly, Mike Aviles (.267, 9 HR and 43 RBI) has been one of the few consistent offensive players for this inconsistent Red Sox team.
3rd Basemen: Adrian Beltre, Mark Trumbo, and Miguel Cabrera: The Texas Rangers got off to a great start to the 2012 Season and Adrian Beltre was a very much apart of their great start to the season. Beltre has continued his great start to the season as he has a .330 Average, 13 Home Runs and 51 RB) for the best team in baseball. As everyone knows, new Angel Albert Pujols had a difficult time adjusting to the American League, however, one of the top rookies from last year, Mark Trumbo, was able to adjust to playing a new position and still have a nice start to his season. (.315 Average, 19 HR, and 53 RBI) is one of the key reasons for the Angels still being in the playoff hunt. Finally, like Trumbo, former reigning AL Batting Champion Miguel Cabrera (.312, 16 HR and 62 RBI) has been able to make the transition from 1st to 3rd base and continue to be a very productive player for the Tigers this season.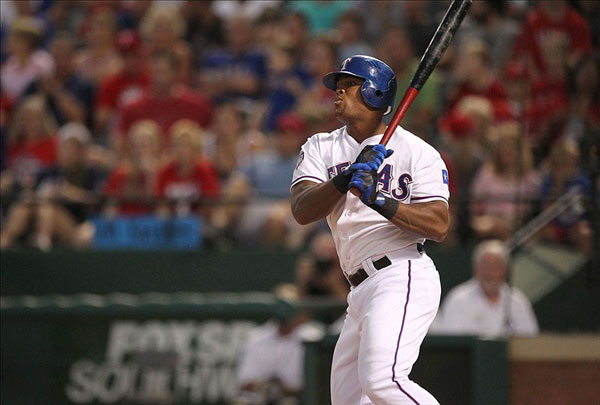 Jun 22, 2012; Arlington, TX, USA: Texas Rangers third baseman Adrian Beltre (29) hits a single in the sixth inning against the Colorado Rockies at Rangers Ballpark. Photo Courtesy By: Matthew Emmons-US PRESSWIRE.
---
Catcher: A.J. Pierzynski, Joe Mauer, and MattWieters: I don't like taking too many players from a team that's holding not 1st place by a thread and is just a few games over .500, but AJ Pierzynski no question about it deserves to be in the All-Star Game Ashe leads All AL Catchers in Home Runs and Rb while still being second in Average.
Unfortunately for Minnesota, Joe Mauer and the Twins have had a tough 1st Half their season, but Mauer has bounced back after an injury plagued season having a .321 Average and 34 RBI on the season. Matt Wieters (10 HR and 34 RBI) and the rest of the Orioles team deserves a tremendous amount of credit as they've been able to stay In contention while playing in the toughest division in baseball.
DH: David Ortiz and Billy Butler: Big Pappi (.308, 21 HR, and 53 RBI) is back and better to being one of the most feared hitters of all time as he 's carried the Red Sox offense throughout the 1st Half of the season. As fr the young Royals, they've had a lot of downs and few ups to their season, but one of the biggest ups has come from veteran DH/ 1st Baseman Billy Butler. As the younger players have struggled, Butler has only gotten better as times gone on with a .296 average along with 15 HR and 46 RBI.
Outfield: Josh Hamlton, Adam Jones, Curtis Granderson, Jose Bautista, and Mike Trout. Hamilton might have come back to earth but he's still acing an All-Star caliber season (.316, 24 HR and 69 RBI) while being a Free Agent once the 2012 comes to an end. Adam Jones (.295, 19HR and 41 RBI) on the other hand has become one of he best young all around players in baseball. Granderson (21 HR and 43 RBI) on the other hand has put up very good power numbers for one of the top teams in baseball. Jose Bautista (26 HR and 61 RBI) had dreadful start to his season but has since battled back to lead th league in Home Runs and one of the top players in RBI. What a great start to the year by rookie of year nominee Mike Trout (.345 Average, 8 HR and 32 RBI) has been a extremely impactful season for this Angels offense.
Pitchers: Chris Sale, Yu Darvish, CC Sabthia, Justin Verlander, Felix Hernandez, David Price, Fernando Rodney, Jim Johnson, Chris Perez, Ryan Cook, and Rafael Soriano. A very solid list of both righties and lefties on the American League All-Star roster. I feel first year starter Chris Sale has been the best pitcher throughout the 1st Half of the MLB Season (9-2 with a 2.27 ERA) as he's helped the White Sox to 1st place in their division. Yu Darvish has also had a very productive start to his career as it seems like he's been well worth the money that they spent on him. CC Sabathia has one again had a very strong year (9-3 with a 3.45 ERA) while being the anchor for the best team in baseball. As for the last 2 CY Young Award Winners in Felix Hernandez and Justin Verlander.
The 2010 winner has been one of the few bright spots (6-5 with a 3.05 ERA) for the Mariners this season. As for the 2011 Cy Young and MVP Winner, he's once again put together another solid season (8-5 with a 2.65 ERA) for the Tigers. The Rays have had one of the worst offenses in baseball, but feature one of the best pitching staff's in the game. Two of the players that have had impactful seasons for the Rays have been David Price (11-4 and a 2.92 ERA) and Fernando Rodney (22 saves and a 1.04 ERA). There have been a number of other great relievers on the season which include: Oriole Jim Johnson (23 saves along with a 1.30 ERA), Indian Chris Perez (2.76 ERA and 23 saves), Ryan Cook (1.59 ERA), and Yankee Rafael Soriano (1.84 ERA and 17 saves).
---
What do you think?
We'd love to hear your comments and/or opinions. If you submit them here, other visitors can read them, rate them and comment on them. An e-mail address is not required.
---
From Ranking the 2012 American League All-Stars to MLB Baseball Blog | Sports Blog | NFL Football Blog | NCAA Football Blog | NFL Football Archives | College Football Archives | College Baseball Blog | MLB Baseball Archives | NBA Basketball Blog | NCAA Basketball Blog | NBA Basketball Archives | NCAA Basketball Archives | Fantasy Football | Fantasy Basketball | Fantasy Baseball | Soccer Archives | Olympics Archives | Stupid Athletes Archives | Other Archives | Football Forum | Basketball Forum | Baseball Forum | NFL Football Store | NBA Basketball Store | MLB Baseball Store | NCAA Football Store | NCAA Basketball Store | NCAA Baseball Store | Fatheads | NFL Football Tickets | NBA Basketball Tickets | MLB Baseball Tickets | NCAA Football Tickets | NCAA Basketball Tickets | NCAA Baseball Tickets |
---
Home Page
About Us | Contact Us | Site Search | Advertise | Terms of Use |
---