Ranking the 10 Most Efficient Rookie Players Last Season For Fantasy Basketball
By Ron Leyba

With the Fantasy season over several weeks ago and with the Playoffs approaching their end in a few days, now it's the right time to have a look to the rookie players of the last season and break down their efficiency and general performance. Which of those met our expectations and proved out to be solid picks for fantasy teams? Which ones over delivered and which provided less?
Let's kick start with the No.1 Draft pick of the 2012 NBA Draft, Anthony Davis from the New Orleans Pelicans. Despite suffering a late-season knee injury, Anthony Davis provided not less than what we expected him to do. He was the most efficient rookie of his class last season, averaging 13.5 PPG, 8.2 RPG, 1.8 BPG, 51.6% FG and 75% FT. Despite the disappointing course of his team, Davis proved that he is perhaps the most NBA-ready player of the entire rookie class. He is projected to come back next season even stronger and that's why he is a solid pick for the next season.

Damian Lillard was surely a pleasant surprise last season. Drafted from the Portland Trailblazers at number six overall, Lillard showed great leadership skills and also received very flattering comments from coaches and other NBA players. His numbers just confirm his performance, which is projected to see an upward course next season: 19.0 PPG, 6.5 APG, 0.9 SPG, 0.368% FG, 0.844% FT.

Andre Drummond from the Detroit Pistons gets the No.3 spot at our most efficient rookie list. 7.9 PPG, 7.6 RPG, 1.6 BPG, a fantastic 0.608% FG, and 0.371% FT. Drummond was originally the ninth pick, but surely over-performed. Judging from the lack of quality centers in the NBA, Drummond can emerge as one of the best in the position in the next seasons.

Bradley Beal, Washington Wizards shooting guard gets the fourth seed. His numbers show why: 13.9 PPG, 2.4 APG, 3.8 RPG, 0.9SPG, 0.386% 3P. The third overall pick had a terrific season despite his injury that limited him to just 56 games this season. The USA team invitation only came to confirm that he will be one of the best in the position the next seasons.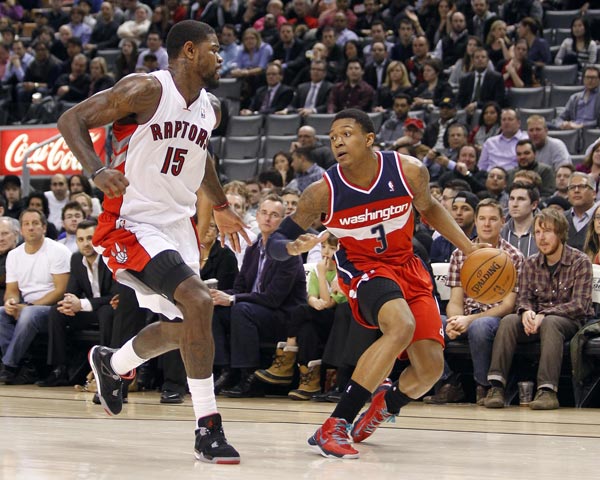 Michael Kidd-Gilchrist was also solid this season and proved out to be a nice fantasy pick. Though he didn't surprise with his numbers, he was the fifth most efficient rookie last season. 9.0 PPG, 5.8 RPG, 1.5 APG, 0.7 SPG, 0.458% FG. He has potential to get better next season for sure.

Dion Waiters from the Cleveland Cavaliers gets the sixth spot. 14.7 PPG,    3.0 APG, 2.4 RPG, 1.0 SPG, 0.310% 3P were his averages this past season.

His teammate Tyler Zeller is next. 7.9 PPG, 5.7 RPG, 0.9 BPG, 0.438% FG, 0.764%FT were his numbers. He is another prospect center and another solid fantasy pick for next season, comparing to the other rookies.

Jared Sullinger from the Boston Celtics gets the eighth spot. If it wasn't for his serious health issues, he could rank even higher. 6.0 PPG, 5.9 RPG, 0.5 BPG, 0.493% FG    0.746% FT were his numbers.

Harrison Barnes and Harkless Maurice complete the Top 10.  Barnes averaged 9.2 PPG, 4.1 RPG, 1.2 APG, 0.6 SPG, 0.439% FG and Harkless averaged 8.2 PPG, 4.4 RPG, 0.7 APG, 1.2 SPG, 0.461% FG.

For more fantasy basketball updates, follow @nbafantasyinfo on Twitter or like Fantasy Basketball Money Leagues on Facebook.


What do you think?
We'd love to hear your comments and/or opinions. If you submit them here, other visitors can read them, rate them and comment on them. An e-mail address is not required.