Rajon Rondo Injury Spices Up the NBA Trade Deadline

Bad news, Celtics fans.  That hyperextension Rajon Rondo looked like he had?  Nope.  Torn ACL.  That's a surgical reconstruction, and likely, a year of recovery time, meaning he'll miss the rest of this season and the beginning of next.  It's rare that a team can absorb losing an All-Star starter like Rondo, and Boston's no exception – as of today, they're clinging on to the last playoff slot in the Eastern Conference by 2 ½ games, but losing a starter is going to crush them, right?
Well, not so fast.

First of all, let's clarify this – the Celtics are not a good team this year.  Were they in the superior Western conference, they'd likely be turfed, but their competition for that #8 slot, about halfway through the season, seems to be 16-27 Detroit, 18-25 Philadelphia, and 16-28 Toronto --  not exactly a murderer's row of talent, there.So, pre-Rondo injury, you'd have to call the Celtics a favorite for the playoffs, but that's all – we're not looking as to whether a Rondo-less Celtics team can compete for a title because, well, a Celtics team with Rondo intact likely couldn't do it, either.  So, we're just looking at that last slot in the East – are the Celtics a playoff team without Rondo?

First of all, let's take a realistic view of Rondo.  Yes, he's starting for the all-star team, but that's through the fan vote.  Don't get me wrong, he belongs on the team one way or another, but there were other guards in the East (Jrue Holiday on the 76ers that are right behind them, perhaps?  Kyrie Irving out in Cleveland?)that could have very easily gotten the nod (and presumably, one will now that Rondo's out).  Rondo doesn't go to the line; he's not as involved in scoring as some of the other top guards, and his defense is… interesting, to say the least.  Again – he's a deserving all-star, but there's a perception of him as one of the elite guards in all aspects, when in fact he's got some holes.  He's fantastic at distributing the ball, with great vision and a fantastic understanding of the offense.    That's what the Celtics will find hard to replace – but elsewhere, the Celtics have actually found better success without him.  They score more when Rondo's off the floor – he's actually being outscored by opposing point guards.  That's somewhat due to his defense, which at times has been described as spotty.   The Celtics are going to get their scoring prowess from players like Paul Pierce and Kevin Garnett, so they can focus on having someone try to run the offense without worrying on getting to the basket.

Ah, but I say that like that's so easy – again, there are few in the game that can match Rondo's vision and creativity at the point.  I mean, he's leading the league in assists per game – you don't bring that sort of talent off the bench.  When Rondo's been off the floor, the Celtics have most often gone to Courtney Lee– but he's not exactly a point guard; they stick him at shooting guard and move Jason Terry to the point, most often.  Of course, Terry is no Rondo – he really has seemed more comfortable as a shooting guard this year – but he's had success, especially as a scorer.  But, again, that's not the key part of Rondo's game, and neither Terry nor Lee are really suited for a lynchpin role in the offense.  There will have to be a significant scheme change for the Celtics to keep in contention.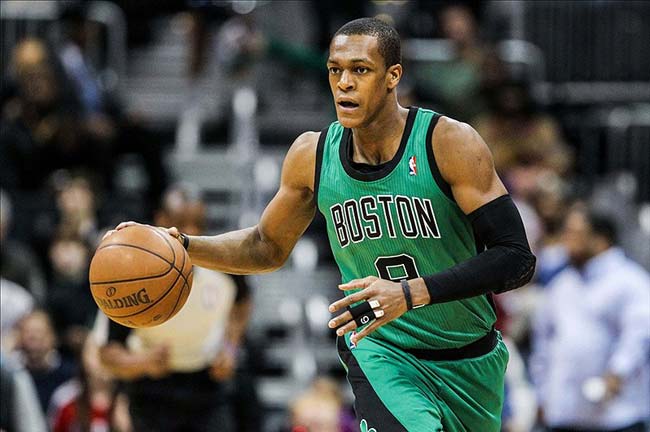 Jan 23, 2013; Atlanta, GA, USA; Boston Celtics point guard Rajon Rondo (9) takes the ball down the court in the first quarter against the Atlanta Hawks at Philips Arena. Photo Courtesy By Daniel Shirey-USA TODAY Sports.

---
But again, we're talking the #8 seed.  The Celtics could go in another direction – the team certainly isn't getting any younger.  They could blow up the roster this season and try to dump some salary / get some young players in for next season and beyond.  Imagine a win-now team with Kevin Garnett – the Rockets would suddenly see their half-court prowess explode with Garnett playing power forward, and could send some young players (like Chandler Parsons) and/or some draft picks over to help the Celtics in 2014 and beyond.  The Warriors could use a go-to scorer like Paul Pierce, and his leadership would help out there, too.  Harrison Barnes is certainly an intriguing young player, so some sort of Pierce for Barnes deal might end up helping both clubs out there.  Or maybe they could go for a bigger splash – Memphis is trying to dump salaries to get under luxury tax thresholds; perhaps Pierce's more friendly contract could be exchanged for Rudy Gay, a younger player.

These are just a few of the options the Celtics have.  Were I in charge, however, I think I might go ahead and try to blow up the team.  They were old before the season started, and the team was only going to last a bit longer as it were.  It's hard to break up a squad that has been so successful in the past – doing it out of the blue is a good way to get your fans to turn on you.  However, with the Rondo injury, they can at least turn some lemons into lemonade and use this opportunity to make the team better in years to come.  Let's face it – even with Rondo, this is a team that was going to get unceremoniously dumped from the playoffs in the very first round.  No, it's better to take this opportunity to take a step backwards in order to take a leap forwards in the future.  Losing a young talented player like Rondo is horrible, but there's nothing they can do about that now – all they can do now is do their best to turn this horrible situation into one that will benefit the team in the long run.
What do you think?

We'd love to hear your comments and/or opinions. If you submit them here, other visitors can read them, rate them and comment on them. An e-mail address is not required.