Providence College Basketball
This article is an overview of Providence College Basketball: its history, player accomplishments, and current level of success. One thing a number of Best Sports Blog users have asked for is biographies on major NCAA basketball programs-Providence among them-so this is one of a series of articles designed to meet that need. So, without further ado, let's take a look at the history of Friars basketball:
The Providence College Friars basketball team may come from a small school but they have been a nationally-relevant contender on a number of occasions. Providence College basketball began all the way back in 1921 but the team did not become a strong program until the NCAA tournament era. In 1964, the Friars made the tournament for the first time and, the next year, they advanced all the way to the NCAA Elite Eight. The team reached the NCAA tournament again in 1966 and, after several down years, made it all the way to the NCAA Final Four in 1973 behind stars Marvin Barnes and Emilio de Gregario. The team made the Sweet Sixteen again in 1974 and in 1977 and 1978.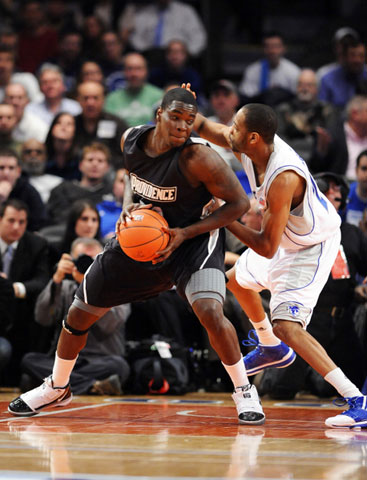 Providence Friars forward Jamine Peterson (21) and Seton Hall Pirates guard/forward Robert Mitchell (23)
during the Big East Championship at Madison Square Garden in New York, NY.
---
After that period of 1970s success, Providence College basketball again entered a period of dormancy. However, in 1987, Providence made a surprisingly deep run in the tournament-all the way back to the NCAA Final Four. It was an unexpected but very satisfying season for devout Friar fans but it did not lead to a period of dominance.
Since then, the Providence College Friars have been factors on the national stage but have never again contended for the national title. The Friars won the Big East outright in 1994 and made a surprise NCAA Elite Eight run in 1997 but they have not made the NCAA tournament since 2004. Looking forward, the Friars will have to use their program's prestige and enduring popularity to lure top level talent in order to return to national relevance. That will be a day for all devout Friar fans to celebrate!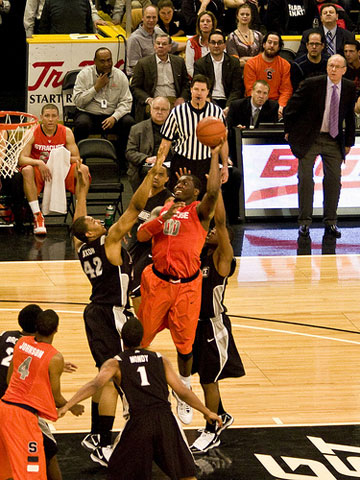 Thanks to Briles from Flikr.com for this great picture of Syracuse vs Providence College game.
---
---
---
From Providence College Basketball to NCAA Basketball Blog | Sports Blog | NFL Football Blog | NCAA Football Blog | NFL Football Archives | College Football Archives | MLB Baseball Blog | College Baseball Blog | MLB Baseball Archives | NBA Basketball Blog | NBA Basketball Archives | NCAA Basketball Archives | Fantasy Football | Fantasy Basketball | Fantasy Baseball | Soccer Archives | Olympics Archives | Stupid Athletes Archives | Other Archives | Football Forum | Basketball Forum | Baseball Forum | NFL Football Store | NBA Basketball Store | MLB Baseball Store | NCAA Football Store | NCAA Basketball Store | NCAA Baseball Store | Fatheads | NFL Football Tickets | NBA Basketball Tickets | MLB Baseball Tickets | NCAA Football Tickets | NCAA Basketball Tickets | NCAA Baseball Tickets |
---
Home Page
About Us | Contact Us | Site Search | Advertise | Terms of Use |
---