Previewing the NFL Championship Games: What Have We Learned in the Playoffs?

After this weekend's games, you can be forgiven for thinking a 49ers-Patriots Super Bowl is inevitable.  After all, didn't you see the 49ers turn on the gas in the second half on their way to knocking out the Packers?  Colin Kaepernick was practically unstoppable on the ground, setting a single-game quarterback rushing record, and the rest of the team rose up with him.  After that first-drive interception while most of America was still tuned into the Ravens-Broncos finish, the 49ers looked utterly unstoppable.  579 yards of total offense – more than the 49ers have ever done in a playoff game – steamrolled the Packers, and the defense looked much improved with the return of a surprisingly healthy Justin Smith to the lineup.   They didn't need to blitz – they only blitzed twice the entire game, and still hit Rodgers 11 times.   They seemed absolutely unbeatable by anyone, on any field, on any day.
And then, the very next day, we had the Patriots showing their domination of the Texans a few weeks ago was no fluke.  These postseason wins are becoming routine for the Pats – this was Tom Brady's 18th such win, more than any other starting QB in NFL history.  But it wasn't just Brady, however – the Patriot running backs Shane Vereen and Stevan Ridley combined for over 200 yards from scrimmage and four touchdowns.  The Patriots – Texans game was the least competitive game of the weekend, as the Texans were really out of it by the fourth quarter, and the Patriots rolled.  With Peyton Manning and company knocked out, the Patriots seem to be the top team left standing in the AFC.  Really, everyone and their uncle was on the bandwagon, calling the 49ers and Patriots the odds on favorites to advance.

And you know?  They're right – they ARE the odds on favorites to advance, and anyone telling you differently is trying to, say, find an angle for their next column on a sports blog or something of that nature.  That being said, there ARE two other teams playing next week, after upsetting opposition that, on paper, looked better – the Ravens and Falcons are still alive, and would thank you for not overlooking them quite so easily.  You may think the 49ers and Patriots are destined to meet in New Orleans on February 3rd, but both the Falcons and Ravens are holding on to cards that could upset the entire balance of the postseason.

Let's start with Baltimore first.  Or, rather, let's start with the Patriots defense.  They've been stalwart against the run all year long, holding opponents to only 101.9 yards per game – and advanced stats, adjusting for schedule and things of that nature, suggest that they've been even better.  But, against the pass, it's been a long season for the Patriots, even since adding AqibTalib at midseason.  They've allowed the fourth most passing yards this year – 271 yards per game.  Some of that is due to teams passing to try to catch up with the prolific offence, but you can't discount ALL of it – Football Outsiders has the team being 13.9% worse than an average pass defense this season.  They're actually pretty good – or, at least, average – at guarding the top two receivers, but once you get to nickel and dime situations, they hit the bottom of the league.  They allow nearly 70 yards of receiving a game to #3 or #4 receivers, 65 yards a game to tight ends, and 50 yards a game to running backs.  Now, the addition of Talib HAS helped somewhat in this sense – it's allowed all the other cornerbacks to drop a slot in the pecking order, giving them better matchups.  That being said, it's helped against the top two receivers much more than it has against the rest of the passing game – and it's helped in the short game much more than it's helped in the deep ball.

That's where the Ravens have a chance – oh, you can't throw deep all game, and you'll need a steady diet of Ray Rice if you're going to do anything, but Joe Flacco has shifted into another gear in the long pass here in the postseason.  He's averaging 20.4 yards per completion – and the Patriots gave up 74 passes of 20 or more yards this year, more than any other team in football.   The Ravens aren't going to win a 7-3 style game or anything like that – but they have shown they have what it takes to fight in a shootout.  They're undergunned when compared to themight of the Patriots offense – that's why they're favored, after all – but if they can keep the big play in their arsenal, the Ravens could just well steal this one.  The weather may not cooperate – a snowy night would hurt their odds –but it's probably the Ravens best path to success.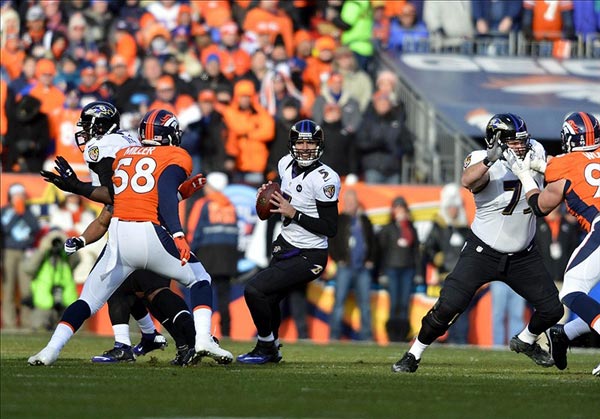 As for the NFC title matchup, there's one reason the Falcons are in this game – home field advantage.  It's always huge, but for west coast teams traveling to the east coast, it's even bigger.  We saw a firsthand example of this on Sunday, when the Seahawks, playing at 10 AM local time, sleepwalked through the first half before turning it on in the second half.  If one data point isn't enough to convince you, however, look at this – since 2007, PST teams are 15 – 44 when playing in the Eastern time zone.  It gets worse when it's an early game, too – those dreaded 1 PM starts see Pacific and Mountain teams go 19 – 52.  There's not a lot of data to for 3 PM games, which is what the NFC Championship Game will be this year, but there is a clear trend – earlier games are a significant disadvantage for teams from the West Coast.

If you want a more on-the-field answer, well, you can look as the Seahawks game as a warm up for the 49ers – both feature young, mobile quarterbacks who play remarkably similar styles of games, and punishing, brutal defenses.  That being said, if the game was in San Francisco this week, I wouldn't give the Falcons much of a chance at all – it's the privilege of home field advantage that could give the Falcons a boost into the Super Bowl.

Both games should be plenty exciting – and not foregone conclusions.  We'll know in a week who our Super Bowl teams will be -- and not a moment before.
What do you think?
We'd love to hear your comments and/or opinions. If you submit them here, other visitors can read them, rate them and comment on them. An e-mail address is not required.