Power Ranking the Commissioners of the NFL, MLB, NBA, and NHL
The Duke of Wellington once said that Napoleon's leadership was worth an extra 50,000 soldiers on the battlefield. That got me wondering: what is Roger Goodell's leadership worth to the NFL? And how do each of the big-time American sports league commissioners stack up against one another?
The recent lockouts, labor battles, and rampant distrust between players and owners has shed increasingly light on the commissioners' role and power. Once relegated to the shadows, the commissioners are now front and center in their respective sports.
So, who has the edge between the quartet of Roger Goodell, Bud Selig, David Stern, and Gary Bettman?
Goodell is the relative "new boy" on the block. He has only been in power since 2006, when he replaced former boss Paul Tagliabue. He controls the most popular, highest grossing sport in America and deserves credit for ending his sports' lockout without missing any real games. Goodell's ability to reach across the gap and strike a deal with the players at the last minute earned him the support of fans.
However, the record isn't all rosy: Goodell's inept handling of the patently ridiculous "officials lockout" and his flip-flopping positions on player safety issues have eroded his position with the players to an all-time low. Currently, Goodell is locked deep in a battle with the NFLPA over both the New Orleans Saints bounty scandal fallout and the potential 18 game season; both issues that could define the next several years of his tenure.
Bud Selig is the "good ol' boy." Selig was originally an owner and his former role gives him credibility with his bosses. His greatest challenges came during the 1994 strike, which came early in his tenure and nearly destroyed baseball, and the fallout from nearly ten years of rampant steroid abuse across the majors. Selig successfully weathered both those storms, though baseball lost its status as America's premier sport. Selig now runs a pretty smooth ship: baseball easily avoided the polarizing lockout that all three of its major sports counterparts have faced in the last two years and his biggest issue now seems to be whether to change the World Series dates or to increase use of instant replay.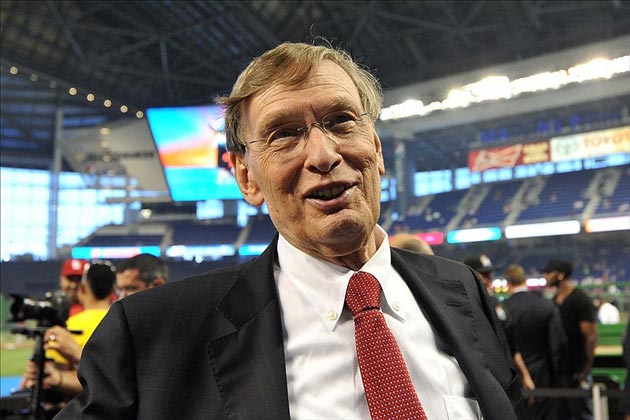 ---
David Stern is the "old hand," though he is actually far younger than Selig. Stern has been NBA commissioner practically as long as anyone can remember; basketball barely existed as a primetime sport before he arrived on the scene. Whatever his faults, Stern has essentially "made" the NBA into America's third most popular sport and he deserves singular credit for that achievement. Stern also deftly managed the NBA lockout; although it looked terrible at the time and he suffered some negative coverage, it was only Stern's personal clout and deft handling of the situation that ultimately got a deal done and prevented a lost season. Now, he gets to hand over a well-oiled machine to his long-time deputy Adam Silver in 2014.
Now, onto the "bad boy" of the block, Gary Bettman. Hockey's long-time commissioner is hated by players and fans alike. Although by all accounts a shrewd negotiator, Bettman's lack of control over his hardline owners has significant costs; the sport has suffered four work stoppages in the last two decades. No league can sustain impressive growth or build a large fan base with that track record and, unsurprisingly, hockey has suffered greatly. The NHL is a distant fourth in popularity to its three major counterparts and will not rival any of them for mainstream attention for years to come.
So, how would you power rank America's commissioners?
---
What do you think?
We'd love to hear your comments and/or opinions. If you submit them here, other visitors can read them, rate them and comment on them. An e-mail address is not required.
---
From Power Ranking the Commissioners of the NFL, MLB, NBA, and NHL to NFL Football Blog | Sports Blog | NCAA Football Blog | NFL Football Archives | College Football Archives | MLB Baseball Blog | College Baseball Blog | MLB Baseball Archives | NBA Basketball Blog | NCAA Basketball Blog | NBA Basketball Archives | NCAA Basketball Archives | Fantasy Football | Fantasy Basketball | Fantasy Baseball | Soccer Archives | Olympics Archives | Stupid Athletes Archives | Other Archives | Football Forum | Basketball Forum | Baseball Forum | NFL Football Store | NBA Basketball Store | MLB Baseball Store | NCAA Football Store | NCAA Basketball Store | NCAA Baseball Store | Fatheads | NFL Football Tickets | NBA Basketball Tickets | MLB Baseball Tickets | NCAA Football Tickets | NCAA Basketball Tickets | NCAA Baseball Tickets |
---
Home Page
About Us | Contact Us | Site Search | Advertise | Terms of Use |
---