Popular Basketball Moves
Basketball's personality comes from its star players. These great players, who are often termed Superstars, always have a great signature move that they can call their own. Hall of Fame center Kareem Abdul Jabbar had the sky hook. Michael Jordan had the fade away jumper and the Airness dunk. Let's take a look at some of the best signature and popular basketball moves of all time. There are, of course, many, many others so, if there are others you would like broken down, please write about that in the Forum and we will add them to the article!
Today's Popular Basketball Moves
Tim Duncan Bank Shot

Tim Duncan's signature bank shot in the post is maybe the least sexy signature movement in NBA history. It lacks flow, aesthetic beauty, or pure power yet its effectiveness remains unmatched. In many ways, both its lack of flash and high percentage of success are reflective of Duncan's own career and approach to the game of basketball: all that matters is putting the ball in the basket and winning the game.

Duncan's bank shot relies on the Superstar's passing ability and consistent willingness to hand the ball off to open teammates. After receiving the ball in the low post, Duncan s around to pass and, because he happily passes it to the open man, this typically induces his opponents to move to man on man defense and his own defender to work against the pass. However, this inevitably allows Duncan to overpower the single defender and simply bank the ball off the backboard and into the hoop. Of course, if defenders fail to bite, Duncan always passes to the open man and gives his team a high percentage open shot.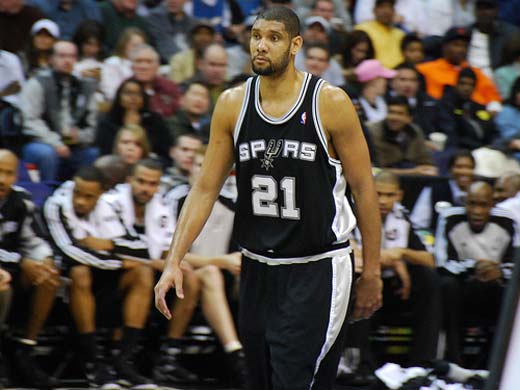 Thanks to Geoff Livingston from Flickr.com for this great picture of Tim Duncan Walks Verizon Center's Floor.


Ray Allen's Break Away, Fade Away

While this move originally belonged to Indiana Pacer's icon Reggie Miller, Ray Allen has perfected it over his Hall of Fame career. The move relies on Allen's incredible shooting and ability to move without the ball, beat defenders, and get off an uncontested shot in less than a second.

Unlike other signature movement's, Allen's does not begin with the ball. Instead, he begins the movement without the basketball and beats his defender using an offensive screen set by a teammate. Once open, he moves to his spot, catches the ball, and launches an open shot in less than a second. Unlike most other players, who cannot shoot that quickly and will brick it from range, Allen's quick release and high percentage from deep make this one of the most beautiful and unselfish popular basketball moves in the NBA.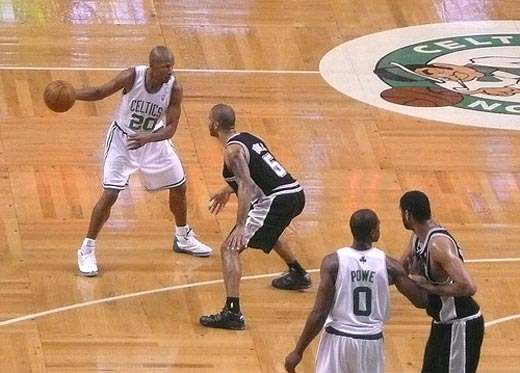 Thanks to Lorianne DiSabato from Flickr.com for this great picture of Ray Allen heavily guarded.


Popular Basketball Moves from the Past
Michael Jordan's Fade Away

His Airness' fade away jump shot was maybe the most unstoppable and beautiful movement in the history of basketball. It became Jordan's signature movement on the court and, while Kobe Bryant's fade away motion is also compelling and effective, it will never rival the pure aesthetic of Jordan's motion. Even today, a decade and a half after his last NBA championship, Jordan's fade away is still readily identifiable by basketball fans everywhere.

Jordan's movement relied on his athleticism, shooting, and intuition. He began the movement dribbling in isolation. After teasing his opponent, Jordan would fake hard in one direction as if to drive to the hoop but then turn his body and elevate to take the shot. The superior elevation produced the signature fade away fall and also gave Jordan an unmatched view of the basket and a good shot of scoring on the attempt.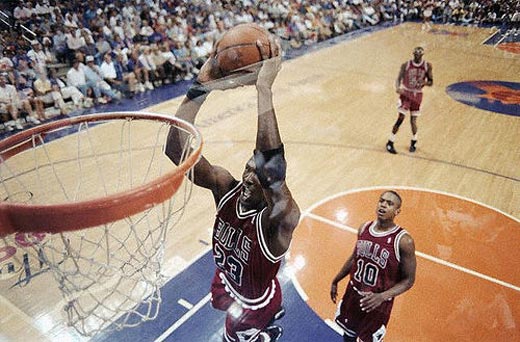 Thanks to Vedia from Flickr.com for this great picture of Michael Jordan.


The Allen Iverson Crossover

The crossover dribble is a staple of NBA basketball. Kobe Bryant, Derrick Rose, and LeBron James all have their own personal versions but, in his prime, The Answer was the greatest practitioner of the cross-over dribble. His version was nearly unstoppable and was one of the most recognized movements in the NBA during the early part of the last decade.

Iverson's movement required several different steps. First, he free-styled with the ball for 3 to 4 seconds to induce his opponent into making a defensive mistake. On the 3rd or 4th second, Iverson would take a small step towards his opponent with his right leg while keeping the ball on his left side. Then he would fake drive to his left and, once his defender bit on the fake, Iverson would veer right and use his speed to get to the hoop. Typically, he would score an uncontested layup or end up at the free throw line.

Iverson's cross-over dribble, and all the hard fouls he took, helped to change NBA rules. The NBA allowed guards more freedom of movement and cracked down on hand checking later in Iverson's career, which pushed other star guards to develop their own signature crossovers. Today, it is one of the most common and effective moves in the game.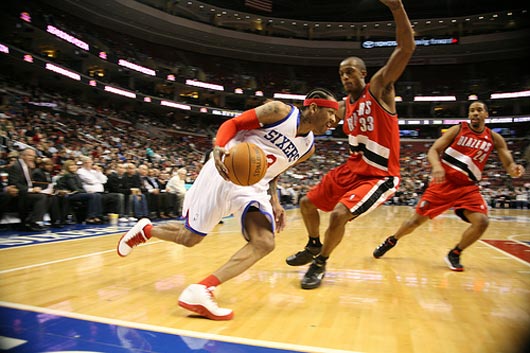 Thanks to Philadelphia 76ers from Flickr.com for this great picture of Allen Iverson.


The Hakeem Olajawon Dream Shake

It is no coincidence that no player has ever truly replicated Olajawon's dream shake. Perhaps the most effective and unpredictable low post movement in the 1980s-1990s NBA, the dream shake was extremely complicated. It required a tremendous amount of athleticism and intuition on Olajoawon's part and, even now, the specific mechanics of the movement are hard to break down into parts. Nonetheless, let's take a stab at it:

Olajawon began the movement while holding the ball on the baseline near the basket. He would then use a series of ball movement and eye fakes to induce his opponent to move out of position. Unlike other moves, however, Olajowon's Dream Shake was not one dimensional and did not require the opponent to make a specific mistake. Instead, he adapted the movement to his defender's choices and, typically in the space of a few seconds, would pivot his way to the basket for either a dunk or an easy layup.

The Shaquille O'Neal Drop Step

While his fitness may have been a question at times, The Diesel's post moves were always some of the best in the league. And make no mistake, Shaq's drop step, power dunk in the post was his most ferocious and powerful movement. Now partially replicated by the similarly gifted Dwight Howard, O'Neal's move terrorized other NBA centers for over a decade. Indeed, even though he is now a 40 year old backup on the Celtics, the move still works its magic.

Shaq's move was deceptively simple and relied on the Hall of Famer's own power and intuition. O'Neal would get the ball in the low post, fake once or twice, get himself in the charge area of the paint, then create more space with additional fakes. Once that space was created, Shaq would throw his right leg around his opponent's then pivot 180 degrees around his defender.


Thanks to Keith Allison from Flickr.com for this great picture of Shaquille O'Neal.

The defender would then be totally turned around and out of position and dunk in his face. Surprisingly simple but, without Shaq's power and his intuitive knowledge of when to pivot on his defender, the movement loses its potency. Still, the drop set, power dunk's power was unrivalled and, during his heyday, Shaq used it to win four NBA championships.
What do you think?

We'd love to hear your comments and/or opinions. If you submit them here, other visitors can read them, rate them and comment on them. An e-mail address is not required.