Playing Your Backups: The Impact on the NFL's Best Teams
Week 10 in the NFL showed us why it is important to have a quality backup quarterback as four starters were knocked out of their respective games. Big Ben left Monday's contest with a shoulder injury, making his status for this Sunday doubtful. Jay Cutler was one of three quarterbacks that sustained concussions and could miss one or more games. The other two are Alex Smith of San Francisco and Michael Vick of the Eagles. I'll run through all four quarterbacks and the scenarios each team has in case the starter can't take the field or doesn't get cleared for Week 11.
Let's start with Big Ben. It is being reported that he probably won't need surgery, but there is no clear-cut guideline for his injury. He suffered injuries to his throwing shoulder and to his ribs versus the Chiefs, which led to the Steelers to turn to veteran Byron Leftwich. Leftwich hasn't won a start since he was in Jacksonville, so if he struggles Pittsburgh will pull the trigger and put in Charlie Batch. Coach Mike Tomlin isn't letting on how serious this injury is, but Roethlisberger has been ruled out for this weekend against the Ravens as his rib injury is being considered more serious.

Big Ben is tough and will try to get back on the field as quick as he can. This injury comes at a crucial stage of the season though as Pittsburgh faces Baltimore twice in the next three weeks. The Steelers are still in a good position as long as they don't drop three in a row and fall to .500. It is a slippery slope the Steelers are on so hopefully they choose the right path for their franchise quarterback.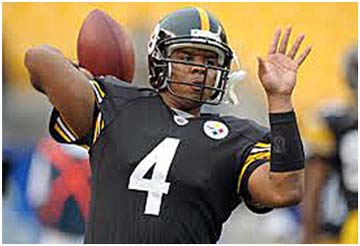 Alex Smith suffered a mild concussion, but he appears to be on schedule to start this Monday versus the Bears. Smith, who has had to deal with many offensive coordinators in his career, can't seem to shake the label of being an underachieving quarterback or bust. Smith has shown glimpses of excellence this season and yet some people in the media still think the 49ers should turn to quarterback Colin Kaepernick. The 49ers have used Kaepernick in a few ways this season, throwing opposing defenses off with a spread option formation. San Francisco took Kaepernick in the second round of the draft so the 49ers definitely feel he's going to be part of the future.
I don't think Smith will miss any time and I don't believe San Fran will risk the team chemistry by replacing Smith with Kaepernick. But I do believe this is Smith's last year to get the job done. He has a great defense and a lot of weapons on offense, so if he doesn't get the 49ers to the Super Bowl look for the franchise to turn the team over to Kaepernick next season.
Jay Cutler has been ruled out of Monday's contest versus the 49ers, handing over the offense to backup Jason Campbell. This is similar to last year when the Bears went on a losing streak after Cutler suffered a broken thumb and fell out of playoff contention. Cutler was knocked out of the game on Sunday night after Houston's Tim Dobbins smoked him in the first half. Dobbins has since been fined $30K for that hit, which is crazy because Cutler was beyond the line of scrimmage and considered a runner, but that is a topic for another day.

Campbell came into the game and couldn't get the Bears into the end zone and lost the game, 13-6. With Cutler out of action, the Bears also signed veteran Josh McCown to be the new backup. Chicago is hoping Campbell doesn't struggle like Caleb Hanie did last season after Cutler went down with his injury. Coach Lovie Smith is confident in Campbell, but only time will tell if the Bears can get back on track with Cutler on the sideline. With Green Bay playing well and Minnesota surprising the league thus far, the Bears can't afford to stumble with Cutler hurt. He's no stranger to concussions, so it is unclear how long he'll be sidelined.

The last quarterback suffering a concussion last weekend was Michael Vick. This is by far the most intriguing injury as it affects the future of this franchise, Vick, and coach Andy Reid. Reid has stood by Vick despite his struggles this season, and the Eagles are falling short of everyone's expectations. With Vick suffering another concussion rookie signal caller Nick Foles entered the game getting his first NFL action. He'll be starting on Sunday against the Redskins this weekend, and this could be the future of the franchise. Foles, a third-round pick, did well enough in the preseason to earn the backup job in Philly.
Now that Vick is hurt and on the last year of his contract, which means his time in the City of Brotherly Love is probably over. Reid's most likely gone after this season too, which means the team will be Foles'. Fans aren't happy with how the Eagles are playing but this turn of events will give them a glimpse of what to expect. Philly has a lot of weapons offensively and if Foles can get some protection from that banged up offensive line he may turn a few heads. But that O-line is the cause for a lot of headaches for Philly and needs to be addressed this offseason.

Fans may not always get what they want, but sometimes injuries have a way of changing the course of franchises. Remember how Tom Brady got his job? Drew Bledsoe was knocked out of a game against the Jets and the Brady era began. For the fans of the Eagles they may be getting what they want, albeit from an injury to Vick. Foles may be able to handle to pressure and turn the team around. All we can do now is wait and see who steps up to the plate and who falls on their face this weekend as it is the week of the backups.

Related Readings
What do you think?
We'd love to hear your comments and/or opinions. If you submit them here, other visitors can read them, rate them and comment on them. An e-mail address is not required.