Some College Basketball Teams Benefit From Players Who Decided to Stay in School for 2012-2013 Season
April 10th was the day that underclassman could remove their name from the NBA Draft – if they had already declared for the draft. – and remain in college. Still the deadline for all underclass to declare for the draft is April 29th. It is just that after April 10th, if an underclassman declares for the draft, he cannot come back to school.
While this seems unfair to players and gives them little time to seek feedback from scouts, it is the current rule. We have already seen players announce they are returning to college next year.

Here is a list of the big winners – right now.

Indiana Hoosiers
Indiana returned to the national scene last year. They defeated three teams ranked in the top five and made it to the NCAA Sweet 16 for the first time since 2002. Expectations will be even greater for the 2012-13 season.

That's because the school announced that key players Cody Zeller and Christian Watford will return to school. Zeller was the Co-Big Ten Freshman of the Year and averaged 15.5 points and 6.4 rebounds a game. Watford was second in scoring with 12 points a game.

With the duo returning to Bloomington, the Hoosiers will return all five starters from last year.

Michigan Wolverines
With the announcement that point guard Trey Burke is returning for his sophomore season, Michigan will have a team that might be able to compete for a Final Four spot. Burke lead the Wolverines in scoring last season averaging14.8 points and 4.6 assists.

He is not the only Wolverine coming back to school. Also returning is Tim Hardaway Jr., who averaged 14.6 points a game. Hardaway Jr was seen by many as being NBA ready, but felt he could use another year of college. Also returning is Jordan Morgan, who averaged 7.3 points while playing 24 minutes a game.

The return of Morgan, Burke, and Hardaway Jr will give Michigan three returning starters from last year's team. These guys helped their team finish 24-10 and shared the Big 10 regular season championship.

Ohio State
The return of Deshuan Thomas for Ohio State is huge. With center Jared Sullinger already declaring for the NBA Draft the Buckeyes are losing their best inside scorer. Ohio State also loses it best outside shooter in William Buford to graduation.

Thomas' NBA stock rose during the first four rounds of the NCAA Tournament. He averaged 21.8 points, 8.5 rebounds, and shot 52% from the field. He was without a doubt the best player for Ohio State on its run to the Final Four.

Next year should be an even bigger year for Thomas. He will become the center of the Buckeyes' offense. If he puts up the numbers next year like he did in the NCAA Tournament, the Buckeyes will not miss a beat.

Baylor Bears
Baylor was in a position where it could lose four key players from last season's Elite Eight team. Quincy Acy was lost to graduation. Perry Jones III has entered the NBA Draft.

It's not all bad news as it appears Baylor will have Quincy Miller and Pierre Jackson back next year. Miller was a highly ranked incoming freshman, but was inconsistent throughout the season. He averaged 11 points and 5 rebounds a game. Jackson had a great NCAA run where he averaged 17.5 points and 6.8 assists a game.

If Baylor wants to break through in the Big 12 and the NCAA Tournament, both players will have to increase their production on the court.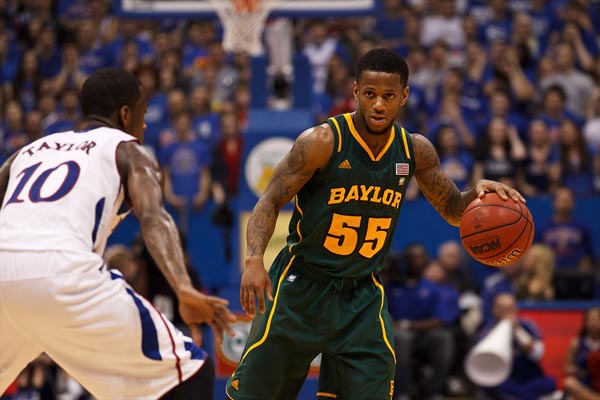 Lehigh Mountain Hawks
Lehigh just became the sixth 15 seed to upset a two seed in the NCAA Tournament last year when they defeated Duke 75-70. C.J. McCollum was the biggest reason why. The junior scored 30 points, grabbed six rebounds, and had six assists in the upset.

He seemed like he was a lock to turn pro after Lehigh lost in the second round to Xavier. McCollum averaged 21.9 points, 6.5 rebounds, 3.5 assists, and 2.6 steals a game last season. In a draft that seems void of playmakers on the wing, a team would have drafted him.

McCollum decided to return to complete his studies and earn his degree. This is great news for the Lehigh program. They finished second in the Patriot league last year and lost three seniors. If players step up, the Mountain Hawks should be favorites in the Patriot league next season.

North Carolina Tar Heels
It's been a tough month for the Tar Heels. First they lost Kendall Marshall in the NCAA Tournament, which probably prevented them from playing for a National Championship. Now they have to rebuild their roster after losing Marshall, Harrison Barnes, and John Henson to the NBA Draft as well as Tyler Zeller to graduation.

One piece of good news is the return of James McAdoo next year. McAdoo was limited through most of his freshman season. After injuries hit North Carolina he was able to show more of what he could do.

Even though his numbers at North Carolina were not great, he still would have been a lottery pick because of his potential. Now McAdoo will be the main guy for Roy Williams next year. Expect a breakout season from the sophomore.

James McAdoo returns for sophomore season, which is a big return after losing Marshall, Henson, and Barnes to the draft.

Arkansas Razorbacks
Last season BJ Young was the best player for the Razorbacks while playing mainly in the sixth man role. He played in 32 games, but only started in 7 games. Still he averaged 15.3 points, 2.3 assists, and shot 50% from floor while playing 25 minutes a game.

His decision to return is huge for Mike Anderson. He will be able to pair the young point guard with Marshawn Powell, who only played in two games because of injury. Both should be All-SEC candidates.

Arkansas will return 6 of their top 7 scorers from last year. With talent returning to Fayetteville, the Hogs should be near the top of the SEC.

Murray State Racers
Last year Murray State was the last team in men's NCAA Division I level to lose a game. They won 23 games in a row and went 28-1 in the regular season and won the Ohio Valley Conference Tournament before losing to Marquette in the NCAA.

Isaiah Canaan was a big reason for the Racers' success. He averaged 19 points, 3.6 assists while shooting 47% from the floor and 46% from three. He earned AP All-American second team honors and Wooden All-American team honors.

Murray State will be a favorite to win the OVC next season with the return of Canaan. They will not sneak up on teams like they did last year, but having a player like Canaan – who should be preseason All-America – on the team should help.

Creighton Bluejays
Doug McDermott is a scoring machine. He averaged 23 points a game last season. He scored 20 points or more in 24 games. He went over 30 points four times. He season high was 44 points.

Most people really did not hear about him until March because he plays at Creighton. That should not be the case going into next season. McDermott returns and he will be an early favorite to win many player of the year awards.

Creighton will also be a favorite to win the Missouri Valley Conference next year and will probably be the mid-major team that a lot of people will pick to make a run in the NCAA Tournament.

UNLV Rebels
Last year UNLV returned to the national scene in college basketball. They went 25-7 during the regular season. That included a win over then number one North Carolina 90-80, then 19th ranked Illionis 64-48, and then #14 San Diego State 65-63.

A big part of the Rebels' success was Mike Moser. The transfer from UCLA averaged 14 points and 10 rebounds a game. With numbers like that he could have easily moved on to the NBA.

Yet he decided to come back for his junior season. That means that UNLV will a favorite of the Mountain West Conference. Also expect a better showing from UNLV in the NCAA Tournament than this year.

While these players withdrew their name from the draft does not mean that they still cannot decide to re-enter the draft by April 29. That is the deadline for all players to declare.

There are a many players out there that have not made a decision yet. Florida is still waiting on freshman Bradley Beal to decide his future. The North Carolina State is in the same shape with C.J. Leslie. While Kentucky freshman trio of Anthony Davis, Michael Kidd-Gilchrist, and Marquis Teague are expected to leave, they have not made it official and are not expected to until April 29th.

Right now it is hard to get a clear picture of what the college basketball landscape will look like. We still have to see who leaves for the NBA, transfers and recruiting classes to be finalized. If these players do return, these teams are in good shape for 2012-13.


What do you think?
We'd love to hear your comments and/or opinions. If you submit them here, other visitors can read them, rate them and comment on them. An e-mail address is not required.
What Other Visitors Have Said
Click below to see contributions from other visitors to this page...

Baylor Bears Probation






I read in the Lexington Herald-Leader today, 12 April 2012, that Baylor has been placed on three years probation Baylor Teams placed on probation . What …