Pitino and Boeheim Trade Jabs
By Dennis Berry

You had to figure that Big East Media Day would be eventful. It would be the final Media Day for Syracuse and Pittsburgh as Big East members. In the end, it will be the war of words between two Hall of Fame coaches that will be remembered well.
Louisville's Rick Pitino and Syracuse's Jim Boeheim got into it over whether or not Memphis and Temple could replace Syracuse and Pittsburgh when they leave for the ACC after this year. Pitino believes that they are solid replacements. Boeheim disagrees.

According to zagsblog.com both coaches think the other is full of it. Jim Boeheim let his feelings be known to reporters:
"Rick's full of s***t if that's what he really said," Boeheim said to a handful of reporters at Big East media day. "If he was in the Big 12 right now like he wanted to be, he'd being saying the Big 12 is the best. That's the bottom line."

Pitino did hold back with thoughts on Boeheim's comment:

"I think he's full of s**t, and so we're both full of it," Pitino told SNY.tv with a broad smile. "I think without question Temple and Memphis…Look, we're going to miss Syracuse because they bring more than just a team. They bring the fans and Memphis and Temple can't do that."

So both coaches think the other is full of it. Of course both coaches are entitled to their own opinions. Pitino is trying to assure Big East fans that the conference will be just fine once Syracuse and Pittsburgh leave.

Boeheim is a Big East guy. He probably does not like that Pitino feels that the conference will be ok with Temple and Memphis. After all, Syracuse – and Boeheim – have been a part of the Big East since it was formed in 1979.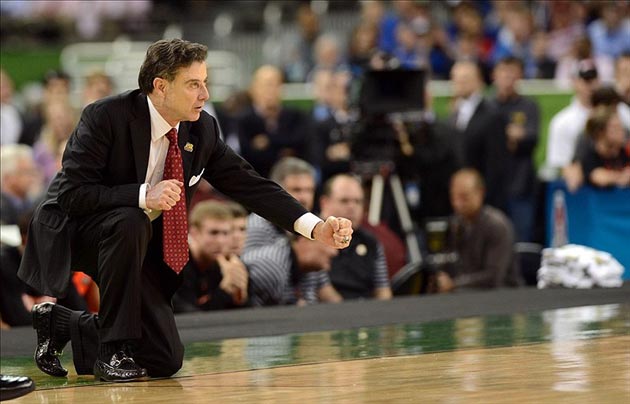 For Pitino, he has plenty of other things to worry about other than what Boeheim thinks about his thoughts on the Big East. Expectations in Louisville are as high as they have been since Pitino has been the head coach. They were picked to win the Big East during their Media Day and Peyton Siva was selected as the Preseason Player of the Year.

On top of that, not only is Louisville picked to win the Big East, but they were voted second in the Coaches' Preseason Poll and are a popular pick to win the National Championship. The Cardinals return all their key players that contributed to their Final Four run last year and fans expect the same thing this year.

Louisville has been to two Final Fours under Pitino in 2005 and 2012, but has not won a national championship since 1986. To make matters worse for Cardinal fans, Kentucky won the National Championship last year. They beat Louisville in Final Four on their way to the title. The pressure to win will probably be the heaviest on Pitino since he guided Kentucky to the 1996 National Championship.

Louisville and Syracuse is a must see match up before Big East Media Day. Both teams have a chance to compete for the Big East championship. After today, their meeting on January 19 in Louisville will now have greater interest.


What do you think?
We'd love to hear your comments and/or opinions. If you submit them here, other visitors can read them, rate them and comment on them. An e-mail address is not required.