Perfect Example of America Overreacting
Don Imus get fired by CBS and he didn't deserve it. I'm disappointed.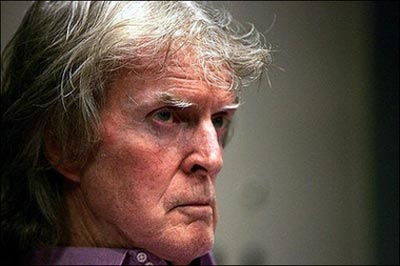 Imus.
---
This is a shock jock getting fired for a horrible comment which he apologized for. Yet Jesse Jackson and Al Sharpton, who we really never hear from unless something terrible is happening to a black person, jumps on his ass and continues to bring him down like the phrase "nappy headed ho's" was the worst phrase ever uttered over the air. I swear they just love to be on camera and sound important.
Then sponsors start pulling their money from Imus' radio show. This incident drew so much unwanted and negative attention to CBS that I'm sure sponsors threatened to stop advertising all together with any CBS programming. It's just like the dress code in the NBA to move away from the ghetto image, which still thrives (see NBA All Star weekend). Sponsors and money demanded changes. Money screams loud when it wants something. That's why Imus got fired. He's been a shock jock for decades now. He doesn't get called that for being safe in his career. Yet now this has put him over the edge and he gets canned?
I wish that Imus had saved that phrase and used it this week when the news of the Duke case being dropped. If anyone is a nappy headed ho, it's the low life stripper who falsely accused innocent men of rape. I GUARANTEE you that there would be no controversy here if he had called her that. She is all that and more. Call Mike Nifong a nappy headed old fart. He's garbage as well. Both of them started a domino effect that ruined the image of Duke, the players' lives, their family's life, too much money spent on a legal team, and a tarnished image on these boys for something they didn't do. Why isn't Jesse Jackson and Al Sharpton on the news hollering and screaming this this woman isn't behind bars for her actions? Why isn't she in jail? Why can't they all just go away?
You have to read Kansas City Star's Jason Whitlock's take on this whole circus. He speaks the honest truth and I'm glad it comes from someone in the African American community. Like he said, "Dave Chappelle was offered $50 million to make racially insensitive jokes about black and white people on TV. He was hailed as a genius. Black comedians routinely crack jokes about white and black people, and we all laugh out loud." It's so true these days it's sickening.
Honestly it's a great article and you will see how much of a joke the aftermath of the situation really is. How there was an hour press conference, which half of it was spent talking about how great of a season Rutgers had. And to sum it all up I'll quote Whitlock…
I'm sure at least one of the marvelous young women on the Rutgers basketball team is somewhere snapping her fingers to the beat of 50 Cent's or Snoop Dogg's or Young Jeezy's latest ode glorifying nappy-headed pimps and hos.
---
What do you think?
We'd love to hear your comments and/or opinions. If you submit them here, other visitors can read them, rate them and comment on them. An e-mail address is not required.
---
---
From Perfect Example of America Overreacting to NCAA Basketball Archives | Sports Blog | NFL Archives | College Football Archives | MLB Archives | NBA Archives | Soccer Archives | Olympics Archives | Stupid Athletes Archives | Other Archives |
---
Home Page
About Us | Contact Us | Site Search | Advertise | Terms of Use |
---