Paul Williams' Motorcycle Accident: Reflecting on Greatness Amidst Tragedy
There will be no more punishing for Paul Williams.

Williams, the former welterweight champion boxer who was called "the Punisher" for his ferocious, relentless punching in the ring, was paralyzed in a motor cycle accident this week. He has lost all movement from the waist down and will never walk or box again.
The accident came just weeks after Williams signed on to fight Saul "Canelo" Alvarez for the WBC Light Middleweight Title. Alvarez is only 21 years old but he owns big wins over Shane Mosley and Kermit Citron. A win would have completely reinvigorated Williams' career and put him back on top of the boxing world.

Instead, he finds his career over and will need to begin a new life outside of the ring.

Williams was riding his motorcycle to a relative's wedding in Atlanta when he swerved out of his lane to avoid a car. He then had to avoid another car, lost control of the bike, and flew in the air several feet before landing on his back and damaging his spinal cord.

George Peterson, his trainer, manager, and father figure, announced the tragic consequences to the press.

"They're saying he won't walk again or box again," said Peterson, "Paul is in denial right now. It's been that way with him. You tell him he can't or won't do something, and he wants to prove you different. So whatever the doctors say, he's not listening. But they say that (walking and boxing) is not going to happen."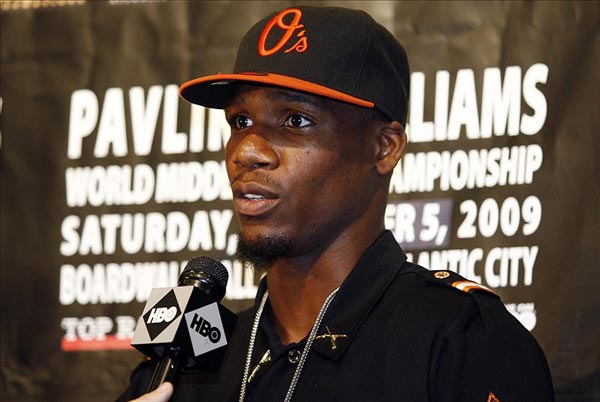 Williams is currently in recovery. He will soon have surgery to stabilize the rest of his spinal cord so he can move his upper body.

Despite his recent career trajectory, Williams was once the world's most feared boxer. In 2007, he won the WBO Welterweight title when he knocked out Antonio Margarito in his prime. Williams was upset in 2008 by Carlos Quintana but he avenged the loss a year later and, in 2009, defeated Sergio Martinez in the Fight of the Year.

After that epic bout, many pundits claimed that Williams was such a tough fighter that Floyd Mayweather and Manny Pacquiao were actively avoiding taking him on in the ring.

William's accident is a cruel reminder that everyone is vulnerable. It's strange to think that Williams, who many once considered the best boxer in the world, could suffer such a horrifying accident. Now, fans can do nothing but provide support to help Williams cope and move forward with his life.

But that is all for the future. For now, all anyone can think is that Williams, and the entire boxing world, have been dealt a punishing blow.


What do you think?
We'd love to hear your comments and/or opinions. If you submit them here, other visitors can read them, rate them and comment on them. An e-mail address is not required.
From Paul Williams' Motorcycle Accident: Reflecting on Greatness Amidst Tragedy to Boxing Blog