PacMay vs. LeoHag
Comparing Floyd Mayweather vs. Manny Pacquiao with Sugar Ray Leonard vs. Marvin Hagler
Boxing, it seems, is re-entering the national consciousness. Mainstream fans are still discussing Floyd Mayweather"s controversial KO of Victor Ortiz, many are excited to see Manny Pacquiao"s highly anticipated third bout with Juan Manuel Marquez, and still more are looking forward to a Manny Pacquiao vs. Floyd Mayweather showdown. What would a Manny Pacquiao vs. Floyd Mayweather fight look like?
Grantland's (Bill Simmon's newest, successful sports project) insightful look (by Eric Raskin) into famous megafight between Sugar Ray Leonard and Marvin Hagler provided some interesting food for thought: Mayweather and Pacquiao"s contrasting styles and paths to greatness match up uncannily to those of Leonard and Hagler. Though certain differences exist, a Pacquiao vs. Mayweather fight might be eerily similar to the biggest fight of the 1980s, the fight that marked the pinnacle of middleweight boxing.

Sugar Ray Leonard was a superstar, "Marvelous" Marvin Hagler was a pugilist. From his earliest boxing days, Leonard was bred to be a champion. He had the looks, style, and charisma of a ring megastar. His handlers sought to make him boxing's next lion and paved him a golden road to success. He was the most highly touted amateur of his day and became the National Golden Gloves champion in 1973. Leonard's meteoric rise continued into the mid-1970s and, when he won the Olympic Gold medal in the 1976 Montreal Olympics, he instantly became boxing's most exciting young talent.

When he turned professional in 1977, he earned a record $40,000 for his first fight, a unanimous decision over Luis Vega. By the time he entered the ring to fight boxing's monster, Roberto Duran, on June 20th1980, he was the WBC and Ring welterweight titlist and the most popular, charismatic boxer on the planet.

Marvin Hagler was a boxer to the core, a fighter who lacked star power even when he had already attained superstar status in the boxing world. He turned professional in 1973 without fanfare and won his first fight over Terry Ryan for a $40 payout. There was no gold on Hagler"s road to glory; it was filled with tough fights in nearly empty gyms against desperate men willing to do anything for a few dollars.
His early path resembled that of a 1920's pugilist, an early days ring brawler along the lines of Sam Langford, the great boxer who fought over one hundred twenty bouts in two decades without a shot at a world championship. By the time he earned his first shot at a title, on November 30th 1979 against Vito Antuofermo, he was already a battered veteran with a 47-2-1 record.

Sugar Ray Leonard lost his classic first battle with Roberto Duran. He fought Duran's style, declining to use his speed and outbox his monstrous opponent and instead engaging him toe to toe. Plagued by insecurities over his gilded path to glory, tortured by questions surrounding his choice of opponents, and hurt by dismissive attitudes of his sterling 27-0 record, Leonard felt compelled to trade blows with Duran. Leonard was a supremely gifted fighter with unparalleled speed and style but he was not a bar-room brawler. He left the ring a defeated 27-1.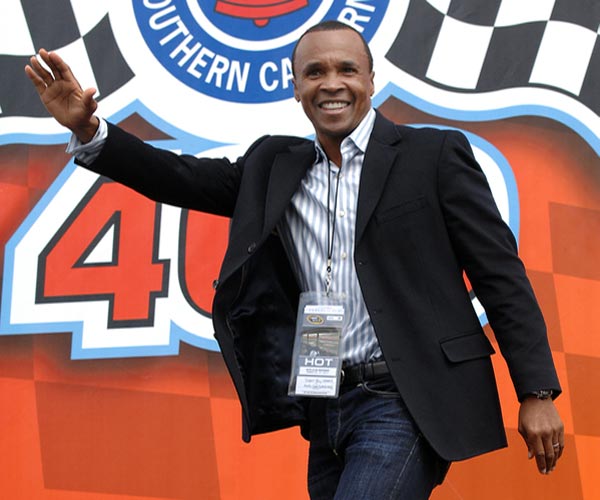 Hagler went into his fight with Antuofermo without an ounce of star charisma or stylistic flair. He beat the champion down through the entire fight but his lack of fans and brutal approach left him with a draw. It still ranks as one of the worst miscarriages of justice in boxing history. Leonard regrouped and his superstar status earned him an immediate rematch with Duran. This time he boxed Duran and declined to brawl. Leonard danced around the champion and peppered him with jabs and fast right hands until Duran quit on his stool.
For his part, Hagler took out his anger on British champion Alan Minter when he TKO"d him in the third round of their title bout. By 1981, both Leonard and Haglerwere multi-belt champions without equal in their respective divisions.

Does any of this sound familiar? The narratives of Floyd Mayweather and Manny Pacquiao, though circumstantially different from those of Leonard and Hagler, have an eerily similar feel.
Floyd Mayweather is a born boxing star; Manny Pacquaio is a pugilist who made himself into a star. Mayweather comes from a boxing family. His father, Roger Mayweather, was a famous and skilled contender for two decades. He passed on his skills and veteran knowledge to his far more talented son. Bred to be a boxing icon, Floyd's early path was similar to Leonard's: a sterling amateur career, a highly anticipated (though in Mayweather's case unsuccessful) Olympic run, and a well-timed decision to turn professional. By the time he turned professional, in a 1996 2nd round TKO win over Roberto Apodaca, he was already known as boxing"s next superstar.

Manny Pacquiao's boxing career began in the slums of the Philippines. His path to greatness was paved with poverty and hardship rather than elite training and golden opportunities. He won his first fight, over Edmund Ignacio, in a completely unheralded bout. He lost his twelfth fight, against RusticoTorrecampo in 1996, because he was emaciated, under the catch-weight, and forced to wear heavy gloves that impaired his hand speed and punching ability.

Mayweather has gone on to defeat every opponent he has ever faced. En route to a 42-0 record, boxing's anointed superstar has triumphed over Jose Castillo, Arturo Gatti, Zab Judah, Oscar de la Hoya, Juan Manuel Marquez, and Shane Mosley. But he has always prided himself on his undefeated record and taken care to preserve it. Despite his perfect mark, Mayweather's success remains clouded by many fans belief that he has avoided taking on tough fighters in their prime (de la Hoya, Marquez, and Mosley were certainly years passed there's when Mayweather defeated them) in order to keep his pursuit of perfection alive. Today he is 42-0, perfect and famous for his unblemished "Pretty Boy Floyd" superstar face. But questions still torment him.
Manny Pacquiao lost his bid for perfection in his humiliating KO loss to Torrecampo in 1996. He spent his early career scrapping for every opportunity, working hard to win each chance to take on a marquee fighter. The idea of preserving an undefeated record, even if he had possessed one, would have been meaningless hubris. His path was marked by struggle, by a rise from the streets, and he earned his titles and glory in tough bouts against the very best: Erik Morales (a 4-1 record in five bouts), Marco Antonio Barrera (2-0), Hector Velasquez, and Juan Manuel Marquez (2-0-1).

But Pacquiao"s gritty rise to superstardom has created its own questions. How can he be considered the greatest of his era when he has lost to men like Torrecampo and MedgeonSingsurat? Even discounting those defeats as circumstantial results derived from his harsh life experience, what about the loss to Morales and draws to Agapito Sanchez and Juan Manuel Marquez? Like Hagler, his gritty boxers rise to unexpected stardom has left him, at least until recently, in the shadow of a more charismatic, pure-bred superstar.

Back in 1981, Marvin Hagler and Sugar Ray Leonard stood opposite one another as great champions. They rose to boxing's pinnacle in polar opposite ways but, regardless of their path to success, they were now equals without peer and natural mega-fight foes. But Leonard, a natural welterweight, feared that his smaller size and speedy, elusive, peppering style would leave him at a disadvantage against the relentless Hagler. Their fight would have to wait six years, until April 6th, 1987.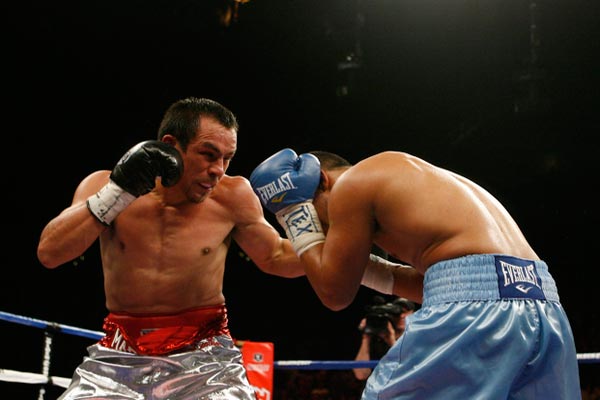 Floyd Mayweather and Manny Pacquiao now stand opposite one another at the pinnacle of boxing, as Leonard and Hagler once did. They rose to glory in completely different ways and conduct themselves in opposite ways both inside and outside the ring. Mayweather is an elusive, stylistic defender who relies on his speed and canny anticipation to avoid opponents" blows.
Pacquiao is a relentless brawler who depends on his unique hand speed and body coordination to land crushing blows. The two are natural foes and their mutual glory and legacy depends on defeating the other in the ring. Yet, two years after a fight between them was first proposed, the boxing world is still waiting.

In 1987, Sugar Ray Leonard finally decided to fight Hagler and determine, once and for all, who was the best fighter of the decade. Despite his superstar status, most of the boxing world felt Leonard's elusive, almost "delicate" boxing style would not match up well against Hagler's relentless punching. Like Pacquiao is today, Hagler was viewed as an unmovable rock in the ring and many believed that Leonard would have to knock him out to win the fight.
But, even though Hagler was the favorite, Leonard won their fight in a controversial split decision. He mixed his fast, jab-heavy style with a healthy dose of the power boxing he had first demonstrated against Duran back in 1980. Hagler was taken aback by the mix but fought gamely. The result is still disputed today.

Boxing waited six years to see Leonard defeat Hagler. The lead-up to the fight was unmatched in boxing history. Its decision was inconclusive and did little to resolve the debate over their respective greatness. Leonard is viewed by many as the best non-heavyweight of hi time. Hagler may be the most underrated. But their bout, often dubbed the fight of the decade, left fans with as many questions as answers.

Floyd Mayweather vs. Manny Pacquiao is a fight that has not yet been made. But, it is the hypothetical fight of this decade and bears undeniable and uncanny similarities to its 1980s predecessor. Yet, all fights are different. When it happens, how will Mayweather vs. Pacquiao turn out? Will it leave us with more questions, or with more answers?


What do you think?
We'd love to hear your comments and/or opinions. If you submit them here, other visitors can read them, rate them and comment on them. An e-mail address is not required.
From PacMay vs. LeoHag to Boxing Blog