Overview of Australian National Football Team
Australia is no stranger to the World Cup, and they have a strong team this year for those of you that are into world cup betting. After all, when it comes to world cup odds, it's a good idea to get all of the facts first. Here's a guide to how the world cup team looks for Australia this year.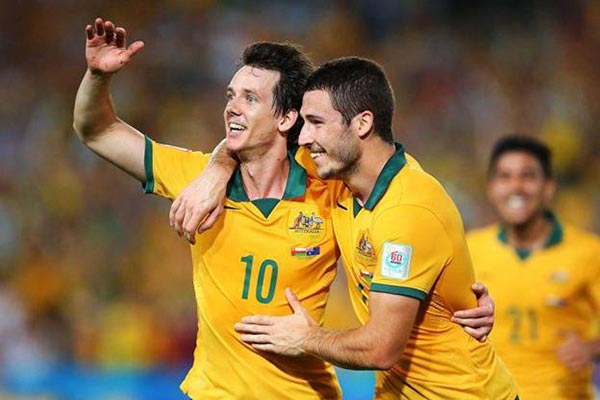 Players
The players this year are one of the main reasons why the world cup odds are so favourable for Australia. The top players on the national World Cup team for Australia include players like Tim Cahill, who scored 2 goals during the last World Cup. Mile Jedinak also scored a goal in the competition.
Outside of the cup, Mile Jedinak scored 3 goals in recent games as well. Tim Cahill scored his share of goals in other games outside of the cup with a total of 7. A number of players have been called up recently to the national World Cup team, including at least three goalkeepers. These are Brad Jones, Mark Birighitti and Eugene Galekovic.
Some of the more impressive players called up recently include Josh Kennedy, who has 20 goals in recent games. Robbie Kruse was injured recently, but he was also called up with 4 goals.
General World Cup History
The Australians have made it to the World Cup 4 times including in 2014. They only just made it to the tournament in 2014 since they had ties and losses before winning 3 games in a row. They took 23 men to the 2014 World Cup. The team won 13 points and placed second in the AFC Group B.
In terms of games in past national games, Mark Schwarzer is the player who was in the most games with 109. The current player, Tim Cahill, still has the record for most goals in national games with 39.
As a team, Australia has the record for most goals scored by just a single player in a match in the international arena. The national team
also has the record for most goals scored in one match. This was 31.
2014 World Cup History
The Australian national team played in the World Cup in 2014. They lost to Chile, the Netherlands and Spain where they were eliminated. These games were all in Brazil. The national team also played some friendly games after the cup was over in 2014. They lost to Belgium, won against Saudi Arabia and tied against the United Arab Emirates.
Current Games
The Australian National team most recently played in the AFC Asian Cup. They won most of their games including against Kuwait, Oman,
China
, United Arab Emirates and South Korea. They lost a game against South Korea 0-1, however. The national team also played friendly games against Germany last March, which they tied 2-2. They played against Macedonia as well, also in a friendly match, and tied again 0-0.
2018 Qualifying Games
Another of games are going to be played in anticipation for the next FIFA World Cup which will be in 2018. The first qualifier will be played between Australia and Kyrgyzstan in June of 2015. After that, Australia will play against Tajikistan and Bangladesh in September. They will play against Jordan in October, Kyrgyzstan again in November, and Bangladesh again in November. The last qualifying games known about currently are against Tajikistan in March of 2016, and Jordan in March of 2016.
All of these games will be in order to qualify for the
2018 World Cup
.
Other Considerations
It's popular in some areas to call the Australian national team the "Socceroos". Many people are looking forward to what kind of surprises the team can produce in the future against the other competitors in the national stage.
This is exactly why people like to use Australia for exciting World Cup betting. The team is nothing if not surprising. You're never quite sure exactly what they're going to do in any particular match. This means it's possible to get a number of advantages when it comes to betting.