One Win Away From History and Being the Buckeyes Daddy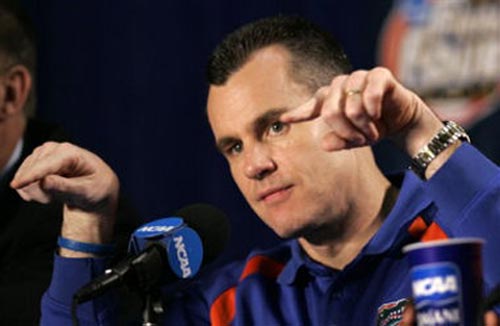 Donovan Point.
---
I sense other Div I schools are sick and tired of seeing the same two schools in the championship games in the two main men's college sports. You would think one school who didn't do so well in one sport would have an opportunity to excel in the other. Like a Duke or North Carolina who has to suffer through a miserable football season to get to basketball where they actually have a chance.
However I am on the lucky side and I get to see the Florida Gators in a major championship game for the third time in a year. Hell yeah I'm spoiled and I'm going to enjoy it while it last. It pains the Gators most hated rivals (Florida State and Georgia) in the south to see all this success. I'm loving it. I know it's never going to be this good maybe in my lifetime. For Ohio State it is the second time this calendar year. Unlike previously when the Buckeyes were a seven point favorite to win the BCS game, the Gators are a 4.5 point favorite to cut down the nets in Atlanta. I'll take a 41-14 score again this time because it would be a thousand times more embarassing if the Buckeyes only score 14 points tonight.
No Cinderallas tonight. It's just going to be an all out battle. I sense the Gators know they're on a mission and are very focused. Forget the excuse that Oden was still raw in their first meeting in Gainesville and was shaving and shooting free throws with his left hand. Remember the Gators best big man, Al Horford, was coming off an ankle injury. The Gators have won something like 13 games in a row in a dome. They just won the SEC Championship under the same dome less than a month ago.
If the Gators win, I'm going to be doing the Joakim Noah screaming. I'll pass on the chest thumping. I would like to think I'll do it with better looks than Noah but sadly I'll be without the swarms of women throwing themselves at me.
In one last meaningless note, I filled out a NCAA bracket very quickly on ESPN.com. I just had to feel included. I figured I'd do terrible and didn't even check it until the Final Four. To my surprise I had the Final Four correct. I'm in the top 98.6 percentile which would be great if I was taking the SATs again. I even have the Gators and Buckeyes in the championship game. My final score prediction? Gators 75-60.
---
---
What do you think?
We'd love to hear your comments and/or opinions. If you submit them here, other visitors can read them, rate them and comment on them. An e-mail address is not required.
---
From One Win Away From History and Being the Buckeyes Daddy to NCAA Basketball Archives | Sports Blog | NFL Archives | College Football Archives | MLB Archives | NBA Archives | Soccer Archives | Olympics Archives | Stupid Athletes Archives | Other Archives |
---
Home Page
About Us | Contact Us | Site Search | Advertise | Terms of Use |
---