One and Done College Basketball Rule
Does the One and Done Rule Hurt College Basketball?
Take a look at most 2011 Draft 1st Round projections, and the order will look something like this: Harrison Barnes, Enes Kanter, Perry Jones, Jan Vesely, Kyrie Irving, Josh Selby, Jonas Valenciunas, Jared Sullinger, Patric Young, Brandon Knight, and John Henson. Twelve names that may or may not stick out but what is unique about this year's list of top draft prospects is that eight are current freshman. Take out the three internationals, and only one of the top twelve 2011 prospects went into the 2010-2011 season with any college basketball experience.
How did we get to the point where the top sophomore prospect is rated tenth and the top senior-Kyle Singler-is likely to be picked in the twenties? Put simply: the one and done rule. The one and done rule was put in place a half decade ago and dictates that, in order to be drafted into the NBA, a player must be at least eighteen years of age and have played at least one season of college ball. The rule was put in place because for every Kobe Bryant there was a Kwame Brown and league officials thought that top prospects would benefit from a year of college ball. Moreover, the perception was that the injection of NBA-ready talent into the college game would electrify the sport and increase its watchability.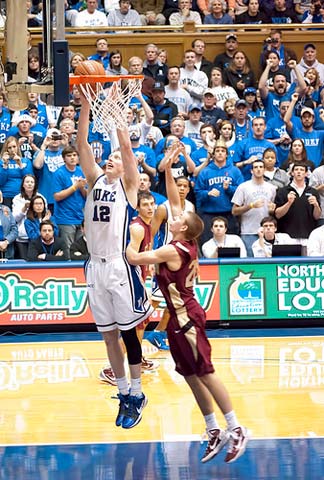 Kyle Singler at December 2010.
Thanks to BrainNY08 at flickr.com for the picture.
---
However, a half-decade later, it is becoming increasingly clear that the one and done rule is hurting college basketball in a number of different ways. Some college coaches-particularly John Calipari-will stop at nothing to land these top recruits and the increasing number of rules violations threatens the prestige of a number of top programs. Moreover, while these players are remarkably talented and can-singlehandedly in some cases-propel their team into title contention (think Deron Williams with Illinois in 2003 or Derrick Rose with Memphis in 2008), the letdown from their early departure often sets those same teams back for years. Finally, the one and done rule damages the extremely prestigious top programs that are less willing to accept one year rentals, which hurts the sport.
---
What do you think?
We'd love to hear your comments and/or opinions. If you submit them here, other visitors can read them, rate them and comment on them. An e-mail address is not required.
---
From One and Done College Basketball Rule to NCAA Basketball Blog | Sports Blog | NFL Football Blog | NCAA Football Blog | NFL Football Archives | College Football Archives | MLB Baseball Blog | College Baseball Blog | MLB Baseball Archives | NBA Basketball Blog | NBA Basketball Archives | NCAA Basketball Archives | Fantasy Football | Fantasy Basketball | Fantasy Baseball | Soccer Archives | Olympics Archives | Stupid Athletes Archives | Other Archives | Football Forum | Basketball Forum | Baseball Forum | NFL Football Store | NBA Basketball Store | MLB Baseball Store | NCAA Football Store | NCAA Basketball Store | NCAA Baseball Store | Fatheads | NFL Football Tickets | NBA Basketball Tickets | MLB Baseball Tickets | NCAA Football Tickets | NCAA Basketball Tickets | NCAA Baseball Tickets |
---
Home Page
About Us | Contact Us | Site Search | Advertise | Terms of Use |
---