Ohio State vs Michigan Rivalry
How the tables have turned in the best college football rivalry
I want to start out this column by saying I'm a fan of the Big Ten (cheer for Illinois) and don't have a preference between Ohio State and Michigan. At the same time, I'm intrigued in examining the great pro and college rivalries and there isn't a better rivalry in college football history than these two programs. Though this is a great rivalry, the decades have been dominated by each university over the past 2 decades. Throughout the 1990's, the Wolverines dominated by winning 7 of the 10 meeting during that decade and lead to the firing of John Cooper, even though his overall record was 111-43-4.
Since 2001, Ohio State has won all of the meetings against Michigan besides their 2003 matchup in Ann Arbor, and like John Cooper, because he struggled to defeat Michigan it lead to people campaigning to have Lloyd Carr fired and him resigning in January of 2008.

Though everything I said was true, that was then and this is now and though Ohio State dominated the 2000's, it looks like Michigan will dominate the decade of the 2010's. Now that Michigan finally fired Rich Rodriguez, it looks like there ready to return to the past and listen to the advice that Bo Schembechler gave the school in 1989 when he said he wanted a Michigan man coaching at Michigan. Enter Brady Hoke, the man who was a coach at Michigan under Lloyd Carr from 1995-2002. In his initial press conference as Michigan head coach he refereed to Ohio State as "the team from Ohio" and took the rivalry personally. Also, the renewed toughness at Michigan has been shown with their win over Notre Dame. If that outcome was last year, Michigan would have lost, but with the new leadership of Hoke this team is prepared to play in close games that there not favored to win.

So that shows why I feel Michigan is turning their football program around, but what about Ohio State? Unfortunately, I feel they're going completely downhill and it's going to take a good amount of time before they recover to where they have been the past decade. By this time, everyone knows about the Jim Tressel situation and some of the players that played under him that are both on the team or graduated in the recent past. I instead wanted to examine why I feel it will take time for them to recover from where they were in the recent decade.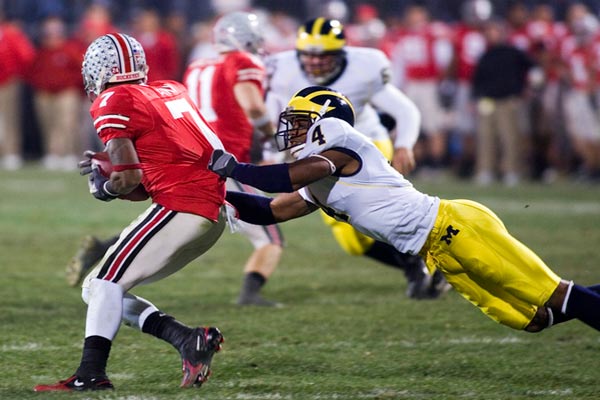 For starters, because the school is on probation and have an new unproven coach, the school won't be able to receive as good of out of state prospects in the near future. Because Ohio State doesn't have any significant in state schools to compete with for blue chip recruits, they should be able to keep a good portion of the elite Ohio talent in state. Also, Ohio State has a new and unproven head coach in Like Fickell who has the potential to be a fine coach.
At the same time, Fickell is being placed into an extremely difficult situation with being a first time head coach at a college football powerhouse and all of the allegations surrounding OSU. After the consequences are served by Ohio State, the university might be in position to recover and rebuild there program but after watching OSU play Miami last weekend it showed how much they have fallen and how this will be a long carried out process.

Which brings me back to the reason I'm writing this article, why I feel Michigan can reacquire the dominance in the rivalry again. If there was every a time that Michigan could take charge it was now. Michigan should be able to do very well in the Legends division with not having to worry about powerhouses Wisconsin and Penn State until the Big Ten championship game if they make it that far. As for Ohio State, they have to worry about other teams in the leaders division and there own problems.

Also, if coach Like Fickell starts to have problems he will start to hear the whispers of other coaches who should be hired. Ohio natives Jon Gruden (whose brother is the offensive coordinator for the Cincinnati Bengals) and Urban Meyer will be the first names mentioned with many others also mentioned. The next few years will be a trying time for "The" Ohio State football program and should lead to a new leader in the OSU vs. Michigan rivalry.


What do you think?
We'd love to hear your comments and/or opinions. If you submit them here, other visitors can read them, rate them and comment on them. An e-mail address is not required.