No Mas for a Rematch Please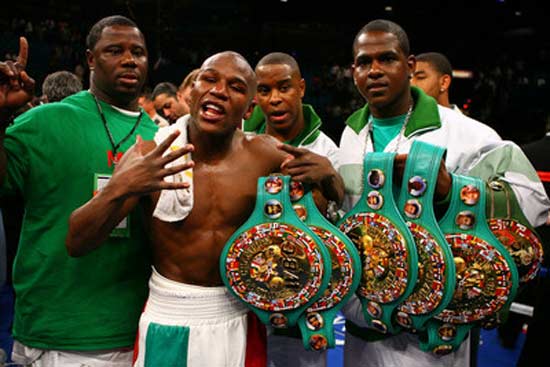 Mayweather.
---
Who wants their money back? Who would not buy another boxing match after the match not living up to the hype?
After a well tuned marketing campaign to get everyone talking about this fight, we all might be scratching our head and wondering what we actually paid for.
Both fighters looked more like they played boxing on the Nintendo Wii. Faces were fairly intact. A small stream of blood was coming out of De La Hoya's nose after the fight. They looked like they could have gone another 12 rounds. That's not what fans wanted to see. All that for $54.99.
Suffice to say the day after chatter about the much anticpated match between the Golden Boy and the Pretty Boy was at a minimum. I don't think fans are screaming for a re-match.
Back in the good old days of boxing when Tyson, Holyfield, and Lewis dominated the scene, we saw big mean and bigger punches. Now in the era of UFC, fans want to see hard punches, bloody, and knockout hits. It doesn't happen in boxing anymore. Add that to the fact the heavyweight division is full of people we couldn't name. We wanted to see as much blood as Steve Nash had on Sunday.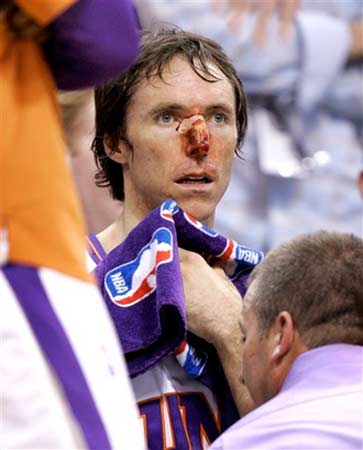 Nash.
---
Maybe for boxing purist who appreciate the style of fighting and the strategy really enjoyed this fight. For the public, it did not win the fans back.
---
What do you think?

We'd love to hear your comments and/or opinions. If you submit them here, other visitors can read them, rate them and comment on them. An e-mail address is not required.
---
---
From No Mas for a Rematch Please to Other Archives | Sports Blog | NFL Archives | College Football Archives | MLB Archives | NBA Archives | NCAA Basketball Archives | Soccer Archives | Olympics Archives | Stupid Athletes Archives |
---
Home Page
About Us | Contact Us | Site Search | Advertise | Terms of Use |
---