NHL Western Conference Playoff Previews
Chicago Blackhawks vs. (3) Phoenix Coyotes (Regular Season Series Record: Phoenix won 2-1-1):
This was a series that features two completely different styles; one that's up and down and one that plays a slowed down style. In the division winning Coyotes (winning it for the first time since they moved from Winnipeg to Phoenix), they play a slower pace style helps complement their great goaltender and defensive play. The Coyotes finished in the middle of the NHL with 2.56 G/G ratio (Goals per game) while having one of the best GA/G (Goals Against per Games) in the NHL (2.37) which was 5th in the league. As good as the Coyotes defense is (which I'll get to in a few minutes), they still have a few really good forwards on their team.
Left Winger Ray Whitney finished 12th in the NHL with 77 points (24 Goals and 53 Assists), former Chicago Blackhawk RadimVrbata finished 11th in the NHL with 35 goals, and team Captain Shane Doan had 50 points on the season. As good a year as those forwards had, it's the Coyotes defense and goaltending that won them there first ever division title. The Coyotes feature one of the best defensemen in Keith Yandle, as he had 43 points on the year which was good for 14th among defensemen in 2012 along with another former Blackhawk, Adrian Aucoin, as he finished with a +14 on the year. Lastly, Goaltender Mike Smith finished the year with a 2.21 GAA (Goals Against Average) on the year which was 7th in the entire NHL.
As for the Blackhawks, they feature one of the best core of players in the entire NHL which includes Captain Jonathan Toews, (who I feel will be back for the playoffs and remember what Dave Bolland did for the Hawks last year when he returned before game 4 against Vancouver), Marian Hossa (leading the team with 77 points) , Patrick Sharp (second on the team in points (68) and best individual +/- on the Hawks (28), Patrick Kane (66 points), Dave Bolland (anchor of the 3rd line), Duncan Keith (2nd most average ice time this year), Brent Seabrook (best +/- by a defenseman), NiklasHjalmarsson, and the newest Hawk Johnny Oduya.
Even though the Hawks didn't rank very high on the Power Play this year (26th), I still feel they can improve on this throughout the Playoffs. The biggest question surrounding the Hawks this year is their Goaltending as if Corey Crawford is able to be the Crawford that he was last years during the playoffs, then Chicago might just be able to make another long run in the NHL Playoffs.
Prediction: Blackhawks in 6
(8) Los Angeles Kings vs. (1) Vancouver Canucks (Regular Season Series Record: Vancouver won 2-1-1):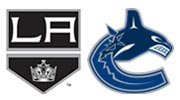 These two teams have great forwards, good defensemen, along with solid goaltending. The Canucks have two of the best offensive players (The Sedin brothers), one of the best 2-way players in the NHL (Ryan Kesler), along with winger Jannik Hansen. The Canucks also feature a few good defensemen on their roster which comprise of Alexander Edler (who lead all Canucks defensemen in points with 49), Dan Hamhuis (who is second among all defensemen in the NHL with a +29), and Kevin Bieksa. As for their goaltending, Roberto Luongo has once again had a solid regular season (recording 31 wins) and their backup goaltender (Cory Schneider) had a 1.96 GAA during the regular season.
As for the LA Kings, they have three good centers on their roster in AnzeKopitar (team leader in points with 76) along with former Flyer teammates Mike Richards and Jeff Carter. Los Angeles also have a few good wingers in Justin Williams (finished with 59 points) and Dustin Brown (54 points and a +18) to help create two quality lines for the LA Kings. As for their defense, their signature player is 22 year old Drew Doughty (who led all Kings defensemen in points with 36), and alongside him are Willie Mitchell (finished the season with the 11th best +/- on the year with a +20), and former Stanley Cup Champion (won with Pittsburgh in 2009), Rob Scuderi. As good as the Kings forwards and defensemen are, its their goalie (Jonathan Quick) that's become the star of their team. This season, Quick has the second best GAA (1.95) in the entire NHL and he's so vital to their roster that I feel this series will come down to the goaltending as this will be a low scoring series.
Prediction: Canucks in 5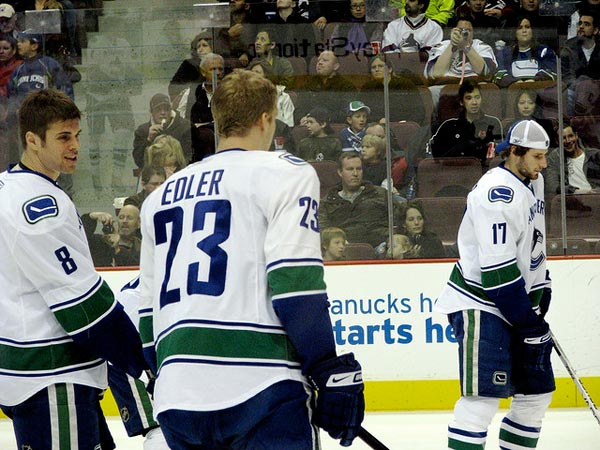 Mitchell, Edler, and Kesler of Vancouver Canucks. Thanks to John Bollwitt at Flickr for this great picture.
---
(7) San Jose Sharks vs. (2) St. Louis Blues (Regular Season Series Record: St. Louis won 4-0).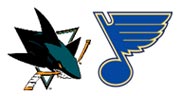 What a turnaround by the St. Louis Blues playing in either the hardest or second hardest division in all of hockey. At the beginning of the season, they were predicted to finish 4th or 5th in the division and instead overtook everyone and were named division champions ahead of the third, forth, and fifth best records in the NHL (Nashville, Detroit, and Chicago). The Blues season changed on November 6th, when they named Ken Hitchcock as the teams new head coach and ever since Hitchcock took over as the teams head coach, the Blues have recorded 94 points. St. Louis don't have the signature players that their opponent (the San Jose Sharks) feature on their roster, however, they have a lot of good forwards, defensemen, and two great goalies. Interestingly enough, not one forward on the Blues scored more than 54 points on the year (both Captain David Backes and T.J. Oshie each had 54 points), and Alexander Steen (+24) and David Perron (+19) also had great years.
The Blues finished the year 7th in the NHL for PK% (Penalty Kill %) at a 85.8% mark and at one point successfully killed off 51 consecutive penalties. Their individual point scoring was good during the season, however, it's the Blues defensemen and goalies that make this such a great team. The Blues feature three great defensemen (Alex Pietrangelo, who had 51 points which was good for 5th most in the NHL), Kevin Shattenkirk, and BarretJackman (each of the final two had a +20 on the season). Lastly, the goaltending on the Blues in 2012 was fantastic as they had the best 2 man goalie combination in the entire NHL which featured Brian Elliott (who had a 1.56 GAA) and JaroslavHalak (with a 1.97 GAA).
Like a few other playoff series, the San Jose Sharks and St. Louis Blues feature completely opposite styles. As shown above, the Blues don't have much offensive on their roster; on the other hand, the Sharks have some of the best scores in the league on their roster. On San Jose, they feature a few of the best forwards: Captain Joe Thornton (who led the team with 77 points), Patrick Marleau, Joe Pavelski, Logan Couture, RyaneClowe, and Martin Havlat.
Most of these players didn't have nearly the same statistics that they usually have; however, if they play up to their potential, they can average 3-5 goals per game. Like the Sharks offense, their defense has the potential to be great even though, they've had a pretty bad season. Their defense includes Dan Boyle (who led all Sharks defenseman in points), Brent Burns, and Marc-Edouard Vlasic (who led all Sharks defenseman in +/-). Lastly, San Jose has a goaltender (AnttiNiemi) that won a Stanley Cup a few years ago and if the Sharks play like the team everyone thought they would be, they might win this series and go far into the playoffs.
Prediction: Blues in 6
(5) Detroit Red Wings vs. (4) Nashville Predators (Regular Season Record: Tied 3-3).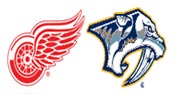 As good as the other series are, (and the other 3 matchups are good) no other Western Conference First Round Series can compare to the matchup between these two division rivals. The Wings, (making the playoffs for the 21st straight time), are well prepared for this this series as their accustomed to playing in the biggest games. Detroit don't have any dominant scorers on their roster (no one scored more than 70 points on the season), however, they had 5 forwards (Henrik Zetterberg, PavelDatsyuk, ValtteriFilppula, Johan Franzen, and Jiri Hudler) who recorded at least 50 this year along with Todd Bertuzzi (who was tied for the team led in +/- with a +23).
Detroit also has a good group of defensemen led by Captain and future Hall-of-Famer NicklasLidstrom, along with NiklasKronwall, Ian White (who led all Red Wings defensemen with a +23) Kyle Quince, Brad Stuart, and Jonathan Ericsson. The Wings also feature one of the best goalie in the league in Jimmy Howard who was voted as an All-Star this year by posting a 2.13 GAA in 2012.
Nashville on the other hand had a tremendous year and have started to realize that this might be there last chance to have everyone play together (as both of their star defensemen Shea Weber (RFA) and Ryan Suter (UFA) are Free Agents following the 2012 season). Even though Nashville didn't have anyone score 60 points this year, the Preds contain a solid group of forwards on their roster which include Martin Erat (who led the team with 58 points), David Legwand, Mike Fisher, both Kostitsyn brothers (Andrei and Sergei), along with Alexander Radulov. Although Nashville has a talented group of forwards, its not the main reason why they have the best Power Play Percentage in the NHL.
The main reason why they had the best Power Play is because of their dominant defensemen shooting at the blue line. Led by one of (if not the best) defensemen in the NHL in Shea Weber (who shoots the puck the second hardest in the NHL), along with fellow All-Star Ryan Suter and Kevin Klein, Nashville is a tough team to skate against. Lastly, they feature one of the best goalies in the league in PekkaRinne who had a GAA 2.39 and recorded the most saves this year. This should be a great series and I feel the only Western Conference Series 1st round series going 7 games.
Prediction: Predators in 7
Here's our NHL Eastern Conference Playoff Preview.
What do you think?
We'd love to hear your comments and/or opinions. If you submit them here, other visitors can read them, rate them and comment on them. An e-mail address is not required.
---
---
From NHL Western Conference Playoff Previews to Other Archives | Sports Blog | NFL Football Blog | NCAA Football Blog | NFL Football Archives | College Football Archives | MLB Baseball Blog | College Baseball Blog | MLB Baseball Archives | NBA Basketball Blog | NCAA Basketball Blog | NBA Basketball Archives | NCAA Basketball Archives | Fantasy Football | Fantasy Basketball | Fantasy Baseball | Soccer Archives | Olympics Archives | Stupid Athletes Archives | Football Forum | Basketball Forum | Baseball Forum | NFL Football Store | NBA Basketball Store | MLB Baseball Store | NCAA Football Store | NCAA Basketball Store | NCAA Baseball Store | Fatheads | NFL Football Tickets | NBA Basketball Tickets | MLB Baseball Tickets | NCAA Football Tickets | NCAA Basketball Tickets | NCAA Baseball Tickets |
---
Home Page
About Us | Contact Us | Site Search | Advertise | Terms of Use |
---