NFL Wild Card Weekend is Fantastic!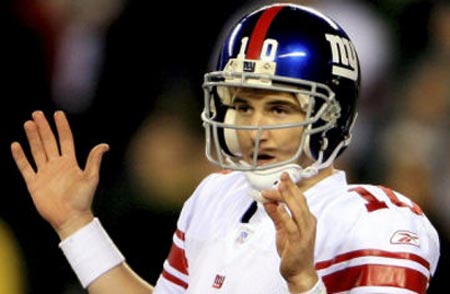 Eli Manning
---
Here's the lock of the week. Tom Coughlin will be fired. I know I'm not divulging breaking news. It's just the Giants were such an embarassment to even make it into the playoffs. He's not made of teflon like Matt Millen, who is still employed because like John Saunders said on ESPN, he has the secret plans for a car that runs completely on air and Ford wants in. Coughlin has shown that he has lost control of that team. There were so many penatlies, stupid timeouts, and horrible play calling in that game. Though the Eagles only won by a field goal the Giants did too little too late in the game. If Eli Manning's career were like the game horse, he would already have a "b-u-s" and almost near that last "t".
Peyton Manning throws three interceptions and wins. They also shutdown a potent rushing attack with some defense. What the hell is going on here?? Is this the year the the breaks go for Peyton Manning and company? Kansas City served up that win on a platter with that putrid offense they put out there. It took something like 45 playing mins before they got a first down. Their offense was so predictable. Run, run, pass. Suck, suck, blow.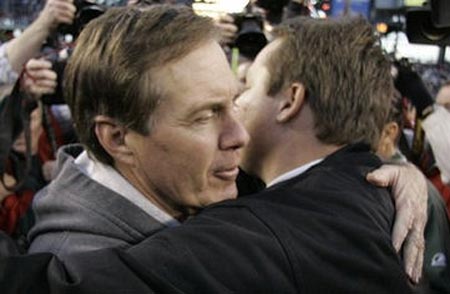 Bill Billicheck gives Eric Mangini a hug at midfield.
---
New England wins and Bill Billicheck gives Eric Mangini a hug at midfield. Friends now? That was the most uncomfortable, awkward hug after a butt raping. Did anyone buy they're all good now?
Can't believe there's only five games left in the NFL season. Next week brings us some glued to the couch matchups. Will Rex Grossman throw more completions to his team than the other? Can Manning win a big game on the road? Can the Saints be the feel good team of this playoff? Can LT be slowed by Bellichik's defense? Will Shaun Merriman take extra steroids for his first playoff game?
---
---
What do you think?
We'd love to hear your comments and/or opinions. If you submit them here, other visitors can read them, rate them and comment on them. An e-mail address is not required.
---
From NFL Wild Card Weekend is Fantastic to NFL Archives | Sports Blog | College Football Archives | MLB Archives | NBA Archives | NCAA Basketball Archives | Soccer Archives | Olympics Archives | Stupid Athletes Archives | Other Archives |
---
Home Page
About Us | Contact Us | Site Search | Advertise | Terms of Use |
---