NFL Wide Receivers:  The stories of Chad Ochocinco and Randy Moss
The 2012 NFL season has a number of fascinating storylines coming in, but one of the most interesting might be the attempts of a couple of aging receivers trying to rekindle old glory in new places. On Thursday, the New England Patriots, after looking around for a potential trading partner, decided to finally release Chad Ochocinco, recognizing they already had a squadron of receivers at the ready. Ochocinco had what can only be described as a disappointing 2011 season, only starting in three games for the Patriots and averaging one reception a game.
With the Patriots already having Wes Welker and Deion Branch on the roster, and having added Brandon Lloyd, Jabar Gaffney and Donte' Stallworth to the suddenly bloated receiver corps, this does not come as a surprise. However, when you're looking at a six time pro bowler and two-time all-pro, you know that some receiver needy team – the Hard Knocking Dolphins perhaps – will give him a shot to prove that he has something resembling his mid-decade form left.

Across the country, another aging receiver is also trying to get a second shot. Randy Moss spent the 2010 season bouncing around the NFL, playing for three different teams, and not producing anywhere. He spent the entire 2011 season on the couch at home, apparently having lost the desire – and opportunity – to play big league ball. The San Francisco 49ers, however, decided to give the enigmatic receiver another chance, and, so far at least, he's been lighting up the practice field, showing flashes of the form that allowed him to set records during his almost certainly first-ballot hall-of-fame career. It's a story we've heard before from Moss – showing up in a new place, wowing all the coaches and reporters, and generally proving himself to be the athletic freak of nature he is. That hasn't always translated to results on the field, but the 49ers are banking on Moss recovering at least his 2009 form, or some reasonable shadow of it, in their attempt to give Alex Smith someone to throw to.

During their peaks, Ochocinco and Moss were two of the most visible players in the NFL – and two of the biggest locker room distractions. The erstwhile Chad Johnson's name change was just one of his attention grabbing stunts – he's appeared on Dancing With the Stars, evaluated the defensive backs he's had to play against, and come up with some of the most entertaining and creative touchdown celebrations in recent memories. Likewise, Moss often found himself in the headlines, though often for less fun reasons – accusations of a lack of effort, for example, or famously leaving the field before the end of the game in 2004 with Minnesota trying to recover a miracle onside kick, or his various run ins with the law – sometimes literally, as with his 2002 collision with a Minneapolis traffic control officer.

Regardless of the motivation behind them, all these sorts of extracurriculars were certainly distractions for their teams – but distractions that were put up with because of the high level of performance they exhibited on the field. During his time in Minnesota, Moss averaged more than 1300 yards a season, and led the league in touchdowns three times – and in New England, he broke Jerry Rice's longstanding record for touchdowns in a season. Ochocinco also averaged more than 1000 yards a year for Cincinnati, including leading the league in yards in 2006, when he hauled in 87 balls for 1369 yards. Coaches tend to turn a blind eye, or at least begrudgingly put up with, all sorts of antics when they're backed with numbers like that – but when that production starts dropping, so does the grace they are afforded. Look at Terrell Owens, who recently got cut by the Allen Wranglers of the Indoor Football League for being a bigger pain off the field than an asset on it. If Ochocinco and Moss want to hook up with a new team, they're going to have to back their large personalities with equal production on the field.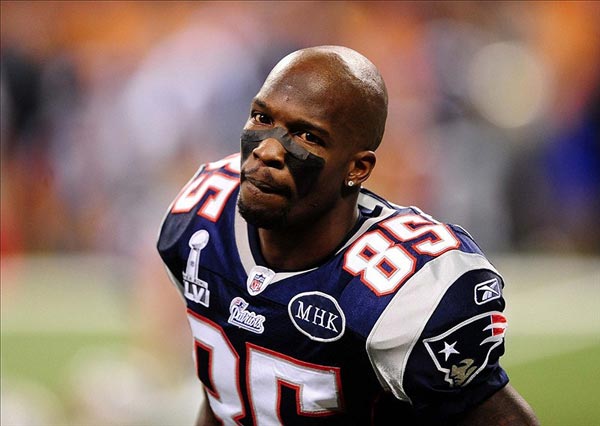 No one knows what we'll get out of them in 2011. Moss was retired in 2011, and looked, for all the world, like he had had enough of the NFL life, refusing several tryout requests during the season. Ochocinco might as well have been retired in 2011 – an executive for an AFC team, when asked about Ochocinco, said "I don't have a clue what you are going to get with him and neither does anybody else. He didn't show enough on tape last year to get a good feel for him." The simple fact might just be that their age has finally caught up with them – at 34 and 35, most receivers' best days are far behind them. That being said, there is some hope, if we look back at some similar historical receivers.

Take, for example, the case of Cliff Branch. Branch was a fourteen year veteran receiver, playing on all three Super Bowl teams for the Raiders franchise. In the mid '70s, he was a regular pro bowler – between 1974 and 1977, Branch was arguably the best receiver in the league, with the most yards (3,636) and touchdowns (40) over that span. Like Moss, he was a physical freak – Branch was a sprinter in college, running a ten second flat 100 meter dash, and is consistently listed as one of the fastest players in NFL history. Like most receivers, he began trailing off as he aged, with some of those raw physical talents started fading, and he was never again the exceptional player he was in his late twenties.

But, after a couple fading seasons on some mediocre Raiders teams in the mid-80s, Branch had a bit of a career renaissance during his age 34 and 35 seasons, leading up to the Raiders victory in Super Bowl XVIII. Lining up across from younger receivers like Todd Christiansen, and featuring in a run-heavy offense led by an amazing young Marcus Allen, Branch put up very respectable numbers for the era, finishing in the top ten in yards per reception in both 1982 and 1983. Those Raiders, of course, weren't counting on Branch to lead the way – they were led by a hungry young defense led by the likes of Howie Long and Lester Hayes, with the offense playing just well enough to keep up.

Does that sound familiar? Lining up next to a number of talented young receivers in Mario Manningham and Michael Crabtree, on a team featuring a run-first philosophy and returning every starter from the top defense in the NFC, Moss might do worse than look to Branch as an example of the sort of season he could have. Likewise, as long as Ochocinco bills himself as a complimentary piece rather than the solution to a team's offensive woes, he may also surprise in 2012, if he can get on the field. Both players need to take a step back from their reputation and their outsized personalities and accept these complimentary roles with gusto. Moss still has some of the best hands the league has ever seen. Ochocinco still has some juice in his legs, and could be a useful outside receiver. This is probably the best case scenario for the 49ers and whatever team ends up with Ochocinco.

However, there is one key difference between Branch and Ochocinco and Moss. Branch has been hailed as one of the smartest receivers ever to play the game, while Ochocinco's mental preparation came under fire several times last season, as he would find himself lined up in the wrong location or in illegal formations, and seemed generally behind the curve in New England's complex spread system. People who talk about Branch point out his fantastic character issues and lack of trouble off the field – compared to the Raiders of his era, that's a real rarity. Moss, of course, is a bundle of character issues and on field troubles wrapped up in a talented receiver. If either of them is going to follow Branch's path here, they will need to button themselves down and commit themselves to a team-first attitude, not letting their brands outshine their dedication to their team and devotion to the game. This is certainly something they can do but, with players as divisive as Ochocinco and Moss, teams might justifiably be somewhat skeptical of their ability to actually do it.

Branch isn't the only receiver who had success in his mid to late 30s, though the list is a thin one – and hardly filled with the types of personalities Ochocinco and Moss bring with them. More to the point, none not named "Jerry Rice" were able to string more than a couple quality seasons together, and the list of even two-season stars are low—Charlie Joiner, Drew Hill, Irving Fryer, Cris Carter, Tim Brown, Rod Smith, and Derrick Mason might well be the lot, and are a very rare breed indeed. The list of receivers who sputtered out when reaching this age, on the other hand, is longer than this article. Moss and Ochocinco have to know that this is essentially their last chance to make a meaningful contribution to an NFL team. I think they both have the talent to be success stories in the 2012 season – but they need to display a commitment that has been lacking from both of them for the past two years, if not longer.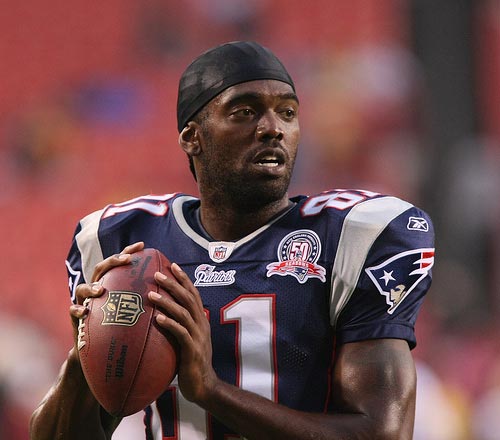 The 2012 season could be the capper to their resumes – Moss hopes to raise that Super Bowl trophy that's been missing from his otherwise stellar career, and Ochocinco probably needing one last run to get his name at least in consideration for Canton at the end of his career. Both are undoubtedly capable of proving all their critics wrong and being one of the top dozen receivers next year – but if they can't keep their egos in check and keep their minds on the game, they'll become just another name on that second, lengthy list – and any team that signs Ochocinco should do as the 49ers did with Moss and limit their liability in both money and personnel, rather than relying on him to single-handedly save their season – the 49ers are prepared to go with a Crabtree-Manningham-AJ Jenkins squadron, and if the Dolphins think Ochocinco can provide much more than their current squad of Davone Bess, Brian Hartline, and LegeduNaanee, they'll likely be disappointed.

Someone will take a chance on Ochocinco, and rightfully so – even in New England, he was described as a great teammate and there's always the memories of his highlight reels to put fear into defensive coordinators. The league's certainly a more interesting place when Ochocinco and Moss are reeling in touchdowns. The odds are stacked against them, but I'm hoping they've got one last hurrah in them – but counting on them to be the kinds of players they've been in the past? As Ochocinco would say, child, please.


What do you think?
We'd love to hear your comments and/or opinions. If you submit them here, other visitors can read them, rate them and comment on them. An e-mail address is not required.