NFL Week 15: The Outlook is Still Ugly For Some
It got really ugly for some quarterbacks on Sunday. David Carr, who might be replaced with a just as bad Jake Plummer in the off season, continues to suck. Four interceptions and five sacks doomed Houston against the Patriots.
Joey Harrington relived his old Detroit days for going 5-17 for 20 yards to go along with two interceptions. Replaced by a Lemon. Brad Johnson got booed at home and was replaced by the fan favorite Tarvaris Jackson. I think they would cheer free E. Coli Taco Bell over watching Brad Johnson play. Bruce Gradkowski was ineffective against the Bears defense and Tim Rattay came in and nearly pulled a major upset. Then my favorite stat of the day belongs to Chris Weinke who lost again today and is 1-16 career as a starter.
How the hell were Oakland made three-point favorites this week? I know St. Louis is terrible and I have been cursed every time I bet on St. Louis but the Oakland Raiders should never be favored. If there is a bloody diarrhea virus going around and the whole Raider team was quarantined in a germ free, medically stocked bunker. I'm betting explosive bloodyditherer finds a way to blow up their assholes. I hope that happens to the Raiders.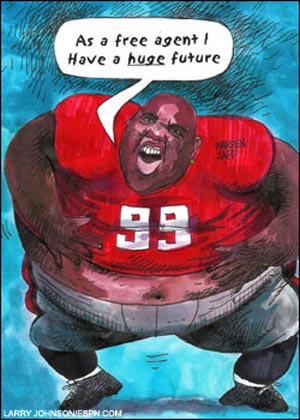 Warren Sapp Stupid
---
If I'm projected as being the overall #1 pick in the 2007 NFL draft, I'm having some sleepless nights. Sure you have the prestige and the extra millions but is it worth it to go to an Oakland or Detroit? They both have the same 2-12 record and they both have a record of producing bad high draft picks. For Detroit from 2002-2006 you have Joey Harrington(bad), Charles Rogers (not in league), Roy Williams (hmmm..okay), Mike Williams (got them a fat lazy one), and Erinie Sims (leading tackler). Oakland, from the same time period, has Phillip Buchanon (sucks), Nnamdi Asomugha (who?), Robert Gallery (Hmmm), Fabian Washington (sucks), and Michael Huff (makes tackles and that's it). Getting a paycheck is nice but winning might be an even better feeling. You might be a good player but you're going to be surrounded by mediocrity. I understand you can have a New Orleans who went 2-14 last season and now are going to the playoffs but look at what else that front office did. Houston and Oakland have a bunch of wabbits running the team.
Drew Brees is a feel good story but give him the Comeback of the Year award and etch Ladanian Tomlinson's name in that MVP trophy. It's not hard to go with either but it is Tomlinson's year. He's such the anti-T.O. and he deserves all the records he breaks. 199 yards and two touchdowns yesterday pretty much seals it.
---
---
What do you think?
We'd love to hear your comments and/or opinions. If you submit them here, other visitors can read them, rate them and comment on them. An e-mail address is not required.
---
From NFL Week 15: The Outlook is Still Ugly For Some to NFL Archives | Sports Blog | College Football Archives | MLB Archives | NBA Archives | NCAA Basketball Archives | Soccer Archives | Olympics Archives | Stupid Athletes Archives | Other Archives |
---
Home Page
About Us | Contact Us | Site Search | Advertise | Terms of Use |
---