NFL Sunday Night Football Humorous Preview: Chicago Bears vs. Seattle Seahawks
Normally, Week 13 and the playoff scenarios it brings with it are exciting – all the races end up boiling down to a couple key games. Sadly, this year, most of the divisional races are rather boring. Three of the four AFC divisions, and one in the NFC, can be wrapped up this week. There's an unusual level of repetition this year, too – at this point, nine of the twelve playoff teams would be the same as 2011, with Cincinnati just missing on tiebreakers. That does leave three teams trying to break in, however, and this week's game of the week involves two of those much improved teams in the NFC. Sadly, for those of you on standard cable, you'll probably miss this game in favor of Minnesota @ Green Bay, but those of you in Chicagoland and the Pacific Northwest – as well as those of you with Sunday Ticket – are in for a treat.
Seattle Seahawks(6-5) @ Chicago Bears (8-3) – Sunday, December 2nd, 1:00PM Eastern, FOX.
Last Week: The Bears got their star quarterback back – and started playing like one of the NFL's best teams again. Taking on a feisty Vikings team, the Bears scored early, opening up a 22 point lead in the first half, before coasting the rest of the way to an easy 28-10 victory. Jay Cutler returned from his concussion, and the difference couldn't have been greater. Without Jay Cutler, the Bears struggle to hit two touchdowns a game, and are 1-6 in their last seven starts. With Cutler, they score more than 28 points a game, and are 13-2 in their last fifteen. Perhaps no team in the NFL is more dependent on their QB than the Chicago Bears. That being said, it wasn't all good news – the Bears lost five players to injury, including Devin Hester, Matt Forte, and Charles Tillman. The Seahawks would have enjoyed such a painful game if they could have gotten a win, but alas, it wasn't to be. Playing potential AFC-playoff crasher Miami Dolphins, a slow starting game fired off in the fourth quarter, with Ryan Tannehill leading the Dolphins down the field for two touchdowns and a last second, game winning field goal. The loss puts dampers on any Seattle hopes for a divisional crown, and places their wildcard spot in jeopardy, as well.
Last Meeting: These two teams met in a pivotal late season matchup last season , but they were teams headed in different directions. The 7-6 Bears, after starting out hot, were fading fast due to, you guessed it, starting quarterback Jay Cutler's injuries, while the 6-7 Seahawks were struggling to try to hold on to a wildcard spot. The more things change. This game started out close, but the Seahawks ferocious defense eventually got to Caleb Hanie and Josh McCown, getting four interceptions and four sacks to lead a defense-dominated 38-14 stomp. The Bears never really recovered from Cutler's injuries, while this would be the last win for the Seahawks in 2011.
What's at Stake: The winner will get a nice cushion, the loser will be fighting for their lives. The Seahawks definitely could use a win here – the loss to the Dolphins was somewhat alleviated by the slipups of the Cowboys, Vikings, Buccaneers, and Saints, but they lost a key opportunity to stake a claim on the last NFC wildcard slot, leaving it wide open for a half-dozen teams. The Seahawks control their own destiny – win out, and they'll be in the playoffs – but a loss would give a chance for one of the teams they're currently outpacing to leapfrog them. That being said, this would be a bit of gravy, for if they can win their three home games from here on out, they'll likely take a playoff spot – with no margin for error. The Bears are pretty much assured of going to the playoffs, but the question is where they'll play. The Packers loss on Sunday night gives the Bears sole possession of first place in the NFC North, but remember – they lost to the Pack back in week 2, harming their tiebreakers. They'll probably need to get to 12-4 to claim the divisional crown, based on Green Bay's schedule – meaning a loss here will destroy their cushion as well.
This Time: The Bears are seeing flashes of last season, as they're held together by tape and wire at this point. They'll be relieved Matt Forte practiced on Wednesday, giving him at least a chance to play in the game proper, but Charles Tillman and Devin Hester are much more questionable – and they'll definitely be missing Alshon Jeffery and probably Kellen Davis, as well. That's a lot of firepower missing, and they'll need to find ways to have success despite missing key players all over their formation. The worst injuries might be on the offensive line, where both guards went down last week. Jay Cutler takes a lot of sacks – that's just something that comes with the territory when you're starting Cutler – and missing both guards will make an already weak line become a target. Cutler is great, when he can stay upright, so the Bears are going to have to scheme around these potential holes. It's hard to plan, though, when you have no idea which bodies are even going to be available for help -- without Davis, a dual tight-end set seems unlikely, and Michael Bush is a sub-par pass blocker. This is a real point of concern.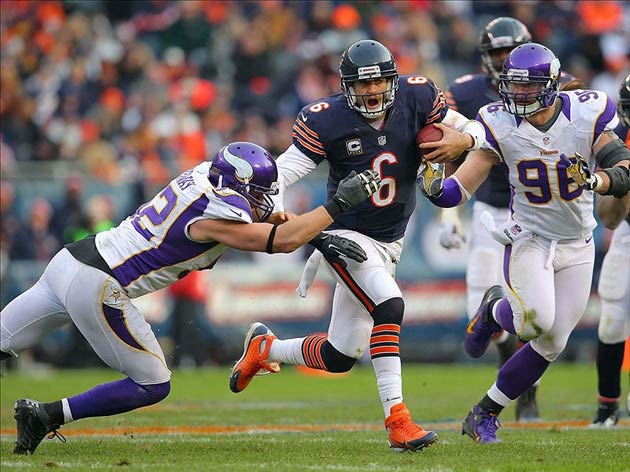 ---
They're doing much better on the other side of the ball, where the Bears defense, outside of the shocking performance against the 49ers on Monday Night two weeks ago, has kept up its dominating string of performances. The front four of that Bears lineup is going to be coming hard at the Seahawks offensive line all game long – and they can get pressure with only four, as 27 of their 30 sacks have been by defensive linemen. Don't count the Seahawks line out, though – they're more than up for the challenge, especially in the running game. They're top 10 all the way across the board, but I've been most impressed at their ability to surge forward and create huge lanes for Marshawn Lynch. The Bears had a little trouble containing Adrian Peterson in the second half last week, so we could see a big day from Lynch this week.
And the Seahawks will need it. The Hawks have been ferocious at home, but on the road, they tend to go out with a whimper. They've only won one game on the road all season long, and that was at pitiful Carolina, while Arizona, Detroit, and Miami were all able to handle them in their home stadiums. A trip to Soldier Field is never easy at the best of times, and no team is quite as different home and away as the Seahawks are. They're going to need to rely on Lynch to quiet the crowd, and grind out the ball on the ground. The Bears are turnover forcing machines, and Russell Wilson, while impressive, is still a rookie quarterback. No, trusting the ball to the veteran and letting him carry the team on his back is probably the Seahawks best chance for an upset victory in Chicago.
At least the Seahawks will be at full strength for this clash. Starting cornerbacks Richard Sherman and Brandon Browner are facing a four-game suspension for performing enhancing drugs – allegedly the ADHD medication Adderall. However, they are allowed to play while the suspension is being appealed, so they will be suiting up for the game against the Bears. It may end up doing the Seahawks in in the end, though – very few teams can survive losing both their starting cornerbacks for any reason, and as noted, they don't exactly have a huge cushion to coast into the playoffs on. Their hearing next week may be larger than this game for Seattle when the 2012 season is over.
Prediction: Seattle needs this one, and they'll be suitably chagrined for their loss to Miami. Chicago's pretty banged up everywhere on offense, leading me to wonder how they're going to score – the defense can't continue to handle the burden every week, can they? Plus, Chicago is only 2-3 against teams with a winning record. I smell an upset possibility here – if the Seahawks can control the tempo of the game, they might just come out of Chicago with their second road victory of the season. Why not, let's be bold, and say: Seattle 27, Chicago 24.
---
What do you think?
We'd love to hear your comments and/or opinions. If you submit them here, other visitors can read them, rate them and comment on them. An e-mail address is not required.
---
From NFL Sunday Night Football Humorous Preview: Chicago Bears vs. Seattle Seahawks to NFL Football Blog | Sports Blog | NCAA Football Blog | NFL Football Archives | College Football Archives | MLB Baseball Blog | College Baseball Blog | MLB Baseball Archives | NBA Basketball Blog | NCAA Basketball Blog | NBA Basketball Archives | NCAA Basketball Archives | Fantasy Football | Fantasy Basketball | Fantasy Baseball | Soccer Archives | Olympics Archives | Stupid Athletes Archives | Other Archives | Football Forum | Basketball Forum | Baseball Forum | NFL Football Store | NBA Basketball Store | MLB Baseball Store | NCAA Football Store | NCAA Basketball Store | NCAA Baseball Store | Fatheads | NFL Football Tickets | NBA Basketball Tickets | MLB Baseball Tickets | NCAA Football Tickets | NCAA Basketball Tickets | NCAA Baseball Tickets |
---
Home Page
About Us | Contact Us | Site Search | Advertise | Terms of Use |
---