NFL Football Previews: New England Patriots vs. Tennessee Titans
By Bryan Knowles
Week 1! Finally, games that matter. No team will make or miss the playoffs after one week, of course, but for some, getting off on the right foot is more important than others. Each week, we'll try to spotlight one or two games that mean the most to teams as they try to approach Super Bowl XLVII.
New England Patriots @ Tennessee Titans – Sunday, September 9th, 1:00 PM Eastern, CBS.
Last Season: The Patriots, dedicating their 2011 season to the departed Myra Kraft, rolled to a 13-3 regular season to easily win the AFC East. They ended Tebowmania and squeaked out a narrow win at the end of Billy Cundiff's leg. They then ended up becoming the fourth team ever to lose four super bowls, as they ran into Eli Manning and the Giants' amazing playoff run. The Titans had a tougher run of it, but bounced back from a disappointing 2010 season. They rode the decaying back of Matt Hasselbeck to their best record since the 2008 season – 9-7. Unfortunately for them, one of those losses were to the Bengals, which kept them out of the playoffs in a tiebreaker.
Last meeting: It was ugly. The teams last met in 2009 in Foxboro, and got on the sort of list teams try to avoid – the Patriots blew the Titans out of the water, winning 59-0 in the sixth biggest rout in NFL history. Tom Brady lit up the scoreboard, tossing six touchdown passes, while, in comparison, Titans quarterbacks Vince Young and Kerry Collins combined for a total of negative seven passing yards. The second quarter alone was a 35-0 romp.
What's at stake: Again, this early, it's just momentum. The Patriots are looking to shake off the Super Bowl hangover – whether it's a jinx or regression the mean or just the product of a shortened offseason and heightened expectations, the Super Bowl losing squad seems to nearly always fall significantly short of their previous record. The last time the Patriots lost the Super Bowl? Tom Brady tore his ACL the first game. They'll be trying to avoid that. The Titans will be trying to get the Jake Locker era off on the right foot with a victory in his NFL debut. Getting some revenge for their shaming in 2009 would bode well for their attempt to return to the playoff promised land.
This time: It seems like the Patriots just never age. Quite a few of those faces from the '09 team are still clicking here – Brady and Welker most notably – and anyone who has moved on has been replaced, and often improved upon. However, how much longer can it roll on? The offense seems unmatchable throughout the league, but the defense let them down when they counted upon it most last season. For a so-called defensive mastermind like Belichick, this has to be unacceptable. It's an offensive league, sure, but you can't count on any team, even one lead by Brady, to score 30 points every week.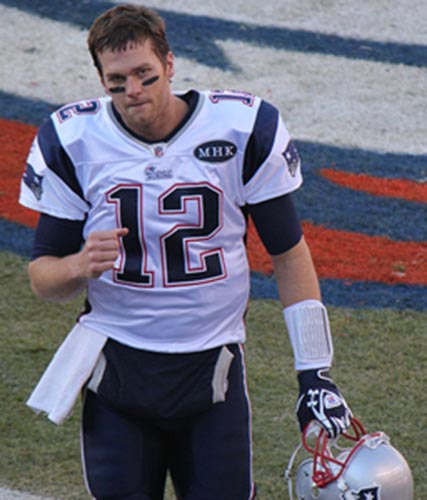 ---
Belichick's revamped 2012 defense will get a nice opportunity early. Despite their success running with Matt Hasselbeck last year, the Titans have decided to go with the future of their franchise, and put Jake Locker under center for 2012 and beyond. He's had an entire season to sit and learn, andwill be looking to show that they made the right choice when they drafted him last year. That being said, Hasselbeck, with his experience, would probably have been the better choice if they wanted to win this season – Locker has zero track record, and the possibility of a weak arm. They aren't the Colts, mired in last place with no real prospects this season. They were a tiebreaker out, so a move to Locker, while the correct move for the future, is a gamble for right now.
What will Belichick see when he looks at footage of Locker? He'll see a quarterback who doesn't have a ton of consistency yet on the short touch throws, and who lacks the experience so far to stand in the pocket under pressure and progress through his reads. He has an absolute cannon of an arm, though – that's his party piece. Expect Belichick to send the house, and then some. It's a pretty standard tactic for dealing with a rookie quarterback – send blitzers from every conceivable angle, and watch them crack under the pressure. The sorts of quick outs and dump offs that could really make them pay are exact the throws he has had trouble with, and it will also take some of the pressure off their secondary, which was atrocious last year. Locker is going to get a trial by fire in his first real start, putting a lot of pressure on Chris Johnson and his offensive line to establish a running game, quickly. If they can get some consistent yards up the middle, then the Patriots will be forced to hold back some blitzers, giving Locker the time to show off that cannon against a potentially overmatched Patriots secondary. The Patriots had the most trouble with three wide-receiver sets last year, facing them 49% of the time and giving up 6.7 yards per play, but that just may not play to Locker's skills.
The Titans, on the other hand, are going to have to try to come up with some way to slow down Tom Brady and the ferocious offense of the Patriots, and frankly, I'm not sure they can do it. That's not a knock on the Titans – they were a perfectly adequate defense last year, and show some potential for improvement this year. It's just that the Patriots are challenging the '84 Dolphins as models of productivity on the offensive side of the ball. They like to spread the ball out, yet still keep two tight ends for potential pass protection – this is the inherent advantage in having two studs like Rob Gronkowski and Aaron Hernandez at the tight end positions. Frankly, no team in the league really has shown a way to stop them yet, and I don't see the Titans being the first ones to accomplish the feat. I'm not sure what will stop the Patriots offense other than themselves.
Prediction: Locker will show some signs of the QB the Titans hope they got in the draft in 2010 – but just some signs aren't enough in this matchup, as the Patriots begin to roll towards their next playoff run. Final score: Patriots 31, Titans 17.
---
What do you think?
We'd love to hear your comments and/or opinions. If you submit them here, other visitors can read them, rate them and comment on them. An e-mail address is not required.
What Other Visitors Have Said
Click below to see contributions from other visitors to this page...

NFL Upset of the Week: Titans Over Pats Not rated yet
The Pats have been established as a 5 Point favorite over the Titans. I believe this line is underestimating the value of Chris Johnson. The key match …
---
From NFL Football Previews: New England Patriots vs. Tennessee Titans to NFL Football Blog | Sports Blog | NCAA Football Blog | NFL Football Archives | College Football Archives | MLB Baseball Blog | College Baseball Blog | MLB Baseball Archives | NBA Basketball Blog | NCAA Basketball Blog | NBA Basketball Archives | NCAA Basketball Archives | Fantasy Football | Fantasy Basketball | Fantasy Baseball | Soccer Archives | Olympics Archives | Stupid Athletes Archives | Other Archives | Football Forum | Basketball Forum | Baseball Forum | NFL Football Store | NBA Basketball Store | MLB Baseball Store | NCAA Football Store | NCAA Basketball Store | NCAA Baseball Store | Fatheads | NFL Football Tickets | NBA Basketball Tickets | MLB Baseball Tickets | NCAA Football Tickets | NCAA Basketball Tickets | NCAA Baseball Tickets |
---
Home Page
About Us | Contact Us | Site Search | Advertise | Terms of Use |
---