NFL Football Playoff Snapshot
We're halfway through the 2012 season! Or, well, we almost are – a dozen teams are still waiting for their bye week, so they've played eight games. By now, we know who people are, more or less – we know that the 4-0 start by the Arizona Cardinals was an illusion, that no, the Saints will not be able to withstand the loss of Sean Peyton, that Peyton Manning is back and Michael Vick is not, that Cam can't win and Matty Ice can't lose. It's a good time to take a look at how the teams have positioned themselves for the rest of the season, as they try to slip into the playoffs.
As such, I've taken a look at every team's remaining schedule, compared it to that of their division mates and the wildcard race, and given them a number from 0 to 10. A ten can basically start printing playoff tickets right now, while the zeros can start dreaming of Matt Barkley or Jarvis Jones.
Tens – Atlanta Falcons, Houston Texans
There are only two teams left in the NFL who control their own destiny for home field advantage throughout the playoffs – and these are them. The Texans solidified it with their victory over Baltimore in week 7, while the Falcons simply have not lost. Now, this doesn't mean you should expect the Falcons to go undefeated – the Broncos, Panthers, Redskins, and Raiders all came close, and the Giants do lurk down in week 15 – but with a four game lead in their division, it would take a minor miracle for Atlanta to stay at home. If that wasn't enough, they've got the easiest schedule in the second half of the season. Houston's got a more middle-of-the-pack road, but again, they're clearly the class of their division.
Nines—San Francisco 49ers
Why are the 49ers a rung down? It's very simple – they don't control anything but their own division. Losses to the Vikings and Giants, as well as the presence of a 6-1 Chicago team, mean that the 49ers will need help to do anything other than just win their division. However, this isn't an 'anything else' ranking, it's a playoff ranking, and an utter domination over the Cardinals plus a hard-fought win over the surprisingly talented Seahawks put the Niners well in the driver's seat to claim the NFC West crown. If 18-for-19 Alex Smith shows up more often than multiple-interception Alex Smith, the team will go far, too – but they may rue the day Eli Manning came into San Francisco and battered them around.
Eights—Chicago Bears, New York Giants, Denver Broncos, Baltimore Ravens
Two of these squads (the Bears and Ravens) still control their own fate for a bye week, which is better than the 49ers can say. So why are they a rung lower? They've all got one major road bump in their path. For the Bears, its competition– the Packers and Vikings are a tough pair for any team to beat, and the Lions still cling to a degree of explosiveness. For the Giants, inconsistency– they let the Browns get up two scores on them, let the Cowboys nearly charge back from a 24 point deficit, and so on. For the Ravens, its injuries – their defense is decimated, and they'll be limping through a tough second half. For the Broncos, however, it's just the fact that they're only 4-3 – but in a weak, weak division. They all have something to overcome – but you can expect them to do it.
Sevens—New England Patriots
The Patriots get their own rung, because who can explain them? They've lost close games to the Cardinals (and Seahawks and Ravens, but those are slightly more justifiable), and then blow out the Bills and Rams. At times, their offense looks utterly unstoppable, and at others, their defense looks to be made out of Swiss cheese – and occasionally, both at the same time. I don't like anyone else in the division to jump up and take the crown from them, but we're at the end of the Patriots dynasty, that much is for certain – they're good enough to win the division, but a long run in the playoffs seems questionable, at least. Or maybe they just have problems with bird-based teams, in which case they'll roll undefeated from here until they meet the Ravens in the AFC playoffs. It's about as accurate a betting strategy as we've had so far.
Sixes – Green Bay Packers
But if we're talking about expected contenders floundering, we have to look past New England and head to the Pack. The Packers are the highest team on this list who do not control their destiny in their division – even if they win out, they could still end up as a wildcard team, thanks to a one and a half game lead by the Bears. That fateful Monday night game in Seattle might be the difference between the division and the wildcard slot, which would be a nightmare for the NFL – but if they had put away the Colts in Week 5, that wouldn't be an issue. You can't JUST blame this on the replacement referees. With tough games in the second half against the Giants, Bears, and Vikings (twice!), the Packers are still in alright position to make the playoffs, but they didn't expect to be this low this late into the year.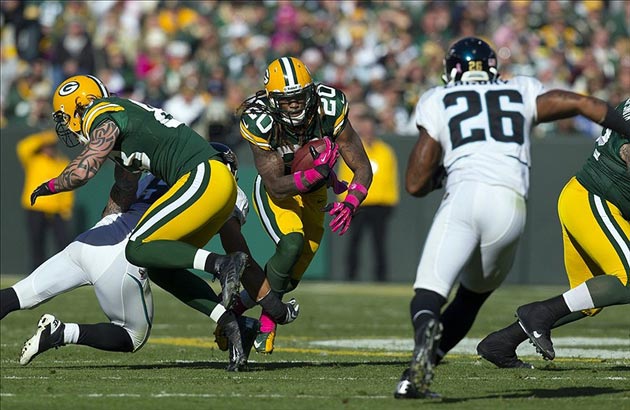 ---
Fives—Miami Dolphins, Pittsburgh Steelers
Now we're getting into teams that are actively fighting to just make the playoffs – you can expect the nine previous teams to make it in (or, at least the eight before the Packers), but down here, a rough stretch could send you packing. The Dolphins currently have the tiebreaker over the Steelers in conference record, 3-2 to 2-3 –which explain why, if the season were to end today, the Dolphins would be travelling to Denver for a wildcard game, and the Steelers would be travelling to the golf course. Both these teams are surprised to be here, for very different reasons – some idiot said that the Dolphins would be doomed due to Hard Knocks, while the Steelers were supposed to be going back and forth for the division crown with the Ravens. Both squads could still win their divisions on their own, though, so their seasons still have a lot of potential. You just have to wonder how much the Dolphins are playing with house money, and how much the Steelers have been the victims of bad luck – or if both of them are for real.
Fours – Minnesota Vikings, Indianapolis Colts
If the Indianapolis Colts win out, they will have a bye week in the NFL playoffs. With a rookie quarterback, and an interim coach. That's insane. This is a team that went 2-14 last year, and looked to be beginning a long rebuilding program. For Andrew Luck to be so good, so quickly, just seems unfair – surely, there's supposed to be a transitional period between the Manning era and the Luck era. Can you imagine a Peyton Manning v. Colts playoff game? It's not as farfetched as you might think. The Vikings, while not in quite the same position the Colts are due to the tougher NFC North, also are working on quite a turnaround, as they were only 3-13 last season. I'll be honest – I still don't expect either of them to be in the playoffs come January, as the talent levels aren't quite there yet, but there's a lot to like here for both of these teams. It's a successful season for both teams, no matter how it ends.
Threes –Philadelphia Eagles, Dallas Cowboys, Seattle Seahawks, Oakland Raiders, San Diego Chargers
The NFC teams here have to be cursing their luck. In the NFC, their teams with shaky quarterback situations, behind numerous others, and probably headed for an early exit. The Seahawks are certainly better than the Eagles or Cowboys, but have the harder ladder to climb in the NFC West. And none of them control their own destiny – they'll need losses by their competitors to slip in. In the AFC, however, they'd be kings! In their old AFC West division, the 'Hawks would be neck and neck with Peyton Manning's Broncos. The Raiders and Chargers both DO control their playoff destiny. The AFC is so much weaker than the NFC this year.
Twos—Washington Redskins, Arizona Cardinals, Detroit Lions, New York Jets, Buffalo Bills
So much potential in some of these squads, and it's all gone horribly wrong. The Jets were talking Super Bowl. The Cardinals thought they could reclaim the NFC West. The Redskins had RGIII – ok, they still do have RGIII, but nothing else. The Bills had that revamped defense. The Lions were going to build on a full healthy season for Stafford. The Lions and Bills, at least, still control their own destiny for the playoffs. But all these teams will enter the offseason with massive question marks.
Ones—St. Louis Rams, Tampa Bay Buccaneers, Cincinnati Bengals, Tennessee Titans
They're alive, and with decent second halves, each of these teams could make some noise – but don't count on it. They've all got two or three teams ahead of them in their division, and, well, they're just not that good. But at least they've still got a proverbial chip and a seat, unlike…
Zeros—New Orleans Saints, Carolina Panthers, Cleveland Browns, Jacksonville Jaguars, Kansas City Chiefs
Needed records in the second half to have even a 50/50 chance of making the playoffs: 9-0 (Panthers), 8-1 (Saints , Jaguars, and Chiefs), or 7-1 (Browns). I'm less than confident.
---
What do you think?
We'd love to hear your comments and/or opinions. If you submit them here, other visitors can read them, rate them and comment on them. An e-mail address is not required.
---
From NFL Football Playoff Snapshot to NFL Football Blog | Sports Blog | NCAA Football Blog | NFL Football Archives | College Football Archives | MLB Baseball Blog | College Baseball Blog | MLB Baseball Archives | NBA Basketball Blog | NCAA Basketball Blog | NBA Basketball Archives | NCAA Basketball Archives | Fantasy Football | Fantasy Basketball | Fantasy Baseball | Soccer Archives | Olympics Archives | Stupid Athletes Archives | Other Archives | Football Forum | Basketball Forum | Baseball Forum | NFL Football Store | NBA Basketball Store | MLB Baseball Store | NCAA Football Store | NCAA Basketball Store | NCAA Baseball Store | Fatheads | NFL Football Tickets | NBA Basketball Tickets | MLB Baseball Tickets | NCAA Football Tickets | NCAA Basketball Tickets | NCAA Baseball Tickets |
---
Home Page
About Us | Contact Us | Site Search | Advertise | Terms of Use |
---