NFL Football and Madden 2013 Comparisons
I know Madden 13 has been out for a while now, but I thought I'd give a look at some of the highest rated players on the game and how they are doing thus far in the regular season.

Let's start with the top receivers in the game – including tight ends.
Calvin Johnson – WR – Detroit Lions, 99
Rob Gronkowski – TE – New England Patriots, 97
Larry Fitzgerald – WR – Arizona Cardinals, 97
Andre Johnson – WR – Houston Texans, 97
Vernon Davis – TE – San Francisco 49ers, 95
Jimmy Graham – TE – New Orleans Saints, 95
Steve Smith – WR – Carolina Panthers, 95
Wes Welker – WR – New England Patriots, 95
Roddy White – WR – Atlanta Falcons, 94
Hakeem Nicks – WR – New York Giants, 94

Of that list only three receivers made the top 10 in receiving yards. The first tight end doesn't show up until Tony Gonzalez at No. 15. Wes Welker has turned things around after a slow start to land at No. 6 with 484 yards and one touchdown. Roddy White of Atlanta follows him up at No. 7 and Calvin Johnson lands at the 10-spot with 423 yards and one score. There are a few surprises on the list though, mainly the top two spots which belong to Miami's Brian Hartline and Indianapolis' Reggie Wayne.
Both have rookie signal callers under center and have obviously developed into the main targets. Hartline has found the end zone once and Wayne twice through the first five weeks of the season. Wayne has also had a bye early on in the year, so the fact he's on the top of the list is extremely shocking. Next is Demaryius Thomas of Denver. He started to get on track last year with Tim Tebow as the team's quarterback, but with Peyton Manning leading the Broncos, Thomas has excelled and become a legit threat for Manning. All of the remaining guys on the list did make the top 50, all except Nicks. Nicks has been battling a foot injury this year and hasn't been that a big of a factor thus far. The season is still early, so this list will change by the end of the year. It's definitely interesting to see how this list will change the remainder of the season.

Here's the top-ranked running backs on Madden.

10. Michael Turner, Atlanta Falcons: 91 overall
 9. Jamaal Charles, Kansas City Chiefs: 91 overall
 8. Steven Jackson, St. Louis Rams: 92 overall
 7. Frank Gore, San Francisco 49ers: 92 overall
 6. Matt Forte, Chicago Bears: 93 overall
 5. Ray Rice, Baltimore Ravens: 95 overall
 4. LeSean McCoy, Philadelphia Eagles: 95 overall
 3. Arian Foster, Houston Texans: 96 overall
 2. Adrian Peterson, Minnesota Vikings: 97 overall
 1. Maurice Jones-Drew, Jacksonville Jaguars: 97 overall

Jacksonville's MJD sits just outside the top 10 at this stage of the season, but in his defense he didn't see many touches in Week 1 after holding out for a bigger contract. The top back in the NFL is Jamaal Charles, who has put up some monster numbers the past two weeks. He's averaging a staggering 110 yards per game but has found the end zone just twice as the Chiefs continue to struggle offensively. Charles is coming off an injury, so his durability will be a question mark this year.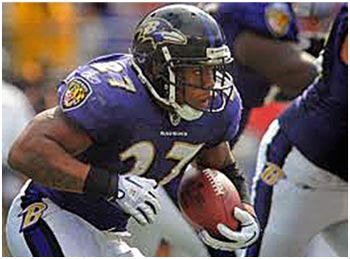 Like Charles, Peterson is coming off a serious surgery and wasn't expected back for the start of the season. Peterson was determined to prove everyone wrong and he's done just that. Peterson is a top-10 running back and is the motor of Minnesota's offense. All the top backs in Madden are close to the top in rushing yards so far this year, all but Steven Jackson. I was on the St. Louis bandwagon last year and thought they had all the pieces to be a legit playoff contender. Well I was wrong. And Jackson hasn't done much to change my mind this season. He has yet to find the end zone and the Rams' offense just isn't cutting it.

The one surprising name on the top rushers' list is Alfred Morris. Morris has come out of nowhere and is the new back to excel in Mike Shanahan's offense. Shanahan has been known to get the best out of running backs and it seems Morris is the latest to make it on this list. Morris has five scores on the year, four coming in wins. The rookie running back is part of Washington's ground attack, which is currently one of the best in the league.

It'll be interesting to see how some of the best rushers in Madden turnout by seasons' end. Rookies, like Morris, don't always hold up for the entire season; veterans coming off injuries also don't always bounce back for the long haul.

What do you think?
We'd love to hear your comments and/or opinions. If you submit them here, other visitors can read them, rate them and comment on them. An e-mail address is not required.