New York Sports Will Help the City Recover From Hurricane Sandy
Around 8pm on Monday evening, most of Lower Manhattan went dark. As a New Yorker, I cannot remember any other time where the City was pitch-black.
New York, the 'city that never sleeps,' the true 'city of lights,' was dark and trying desperately to sleep through Hurricane Sandy.
Sandy is now gone and, as of Wednesday, I saw the first gleam of real sunlight on the horizon. The devastation, particularly in Lower Manhattan, Brooklyn, and the Jersey Coast, is frightening yet New Yorkers are starting to move again. New York is a city of climbers and survivors and its people are ready to move onward.
So what role will sports play in the city's path forward from the worst natural disaster in collective memory?
At first, sports will probably remind New Yorkers more of the damage Sandy left in its wake. The New York Knicks vs. Brooklyn Nets NBA opener at the Barclays Center has already been postponed. The most highly anticipated basketball event in New York in years, its absence Thursday will remind the city of what it just survived.
The New York Giants are scheduled to play the Pittsburgh Steelers at Met Life Stadium on November 4th, but will that game be postponed as well?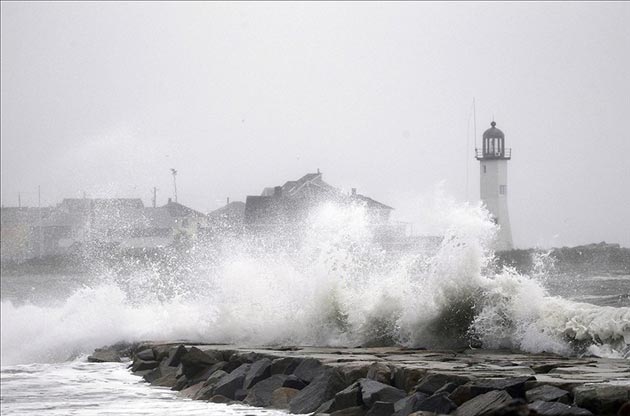 ---
No one here knows, yet in a way it does not matter. New York will move steadily forward and it will enjoy its sports events, whether they are on Thursday, Sunday, or at some later date. That's how New Yorkers are; they are loud, dramatic, and animated when times are good and tough, stodgily solid, and reserved when faced with challenges.
It's telling that, even on Monday night, in the middle of the storm, a reporter asked a Brooklyn resident whether he feared for his life and, in the pouring rain and wind, he simply replied:
'No. The house will flood, but what are we going to do? We'll get up tomorrow and start fixing it.'
New York's sports teams will ultimately serve to remind the city of its perseverance. When the Knicks and Nets do square off, New Yorkers will show up in droves, cheer, and have a good time, as they always do. The event may perhaps be a bit subdued, it recognition of Sandy's depredations, but it will showcase the city's ability to move forward.
Then, when it is over, New Yorkers will file out into the night, and go out with their friends. The city will once again be filled with light and, once again, will never sleep.
---
What do you think?
We'd love to hear your comments and/or opinions. If you submit them here, other visitors can read them, rate them and comment on them. An e-mail address is not required.
---
From New York Sports Will Help the City Recover From Hurricane Sandy to Other Archives | Sports Blog | NFL Football Blog | NCAA Football Blog | NFL Football Archives | College Football Archives | MLB Baseball Blog | College Baseball Blog | MLB Baseball Archives | NBA Basketball Blog | NCAA Basketball Blog | NBA Basketball Archives | NCAA Basketball Archives | Fantasy Football | Fantasy Basketball | Fantasy Baseball | Soccer Archives | Olympics Archives | Stupid Athletes Archives | Football Forum | Basketball Forum | Baseball Forum | NFL Football Store | NBA Basketball Store | MLB Baseball Store | NCAA Football Store | NCAA Basketball Store | NCAA Baseball Store | Fatheads | NFL Football Tickets | NBA Basketball Tickets | MLB Baseball Tickets | NCAA Football Tickets | NCAA Basketball Tickets | NCAA Baseball Tickets |
---
Home Page
About Us | Contact Us | Site Search | Advertise | Terms of Use |
---