NCAA Tournament: The Most Important Players Left
By Jason Fryer
There are a lot of great players left in the NCAA Tournament, and because of this, I want to highlight the most important players on each of the remaining 16 teams left in the NCAA Tournament.
Kentucky: Marquis Teague: Anthony Davis might be Kentucky's best player, but I believe Kentucky can't win a National Championship without great point guard play from Marquis Teague. Teague struggled during the regular season (averaging only 9.4 points and 4.8 assists per game) and the Wildcats will need him to play at a accelerated level if they want to go deep in the NCAA Tournament. In their first NCAA Tournament game, Teague improved his played a little (12 points and 4 assists) but it was during their second game (when most of the team was struggling), that Teague decided to step-up his game as he delivered 24 points and 7 assists to go along with 10-14 shooting from the field. I'm not saying Marquis Teague has to put up those type of numbers to have Kentucky win a championship, but if he can average 14-16 points and 6-8 assists per game, I feel it will be Kentucky cutting down the nets in New Orleans when April 2nd rolls around.
Syracuse: Rakeem Christmas: Rakeem Christmas has done a tremendous job trying to fill in for star center Fab Melo while he's been suspended. Christmas (a feshman) has been forced into the Orange lineup while having little to no time to prepare for the NCAA Tournament and yet so far he's done a solid job. In the first two games, Christmas averaged 7 points and 9 rebounds to go along with playing 30 minutes per game (before the NCAA Tournament, he only played 20-plus minutes 5 times during his collegiate career). If he's able to keep playing like this, the Cuse should have a opportunity at winning the East and advancing to the Final Four.
North Carolina: Kendall Marshall: If Kendall Marshall isn't able to play this weekend; North Carolina will have a more more difficult time winning the Midwest and reaching the final four. Before Marshall was inserted into their starting lineup last year, Carolina's offense struggled and at times looked lost, however, since Marshall was put into the starting lineup, the Heels offense has been on fire and everyone on the roster has been playing at a much higher level. I feel the Tar Heels need a solid point guard that can set-up Henson, Zeller, Barnes, and McAdoo inside if they want to reach the Final Four. If another UNC point guard can step-up and prove to be successful, the Tar Heels offense will be fine and should have a solid opportunity to make a run at another championship; if not, I don't feel the Heels will even reach the Final Four.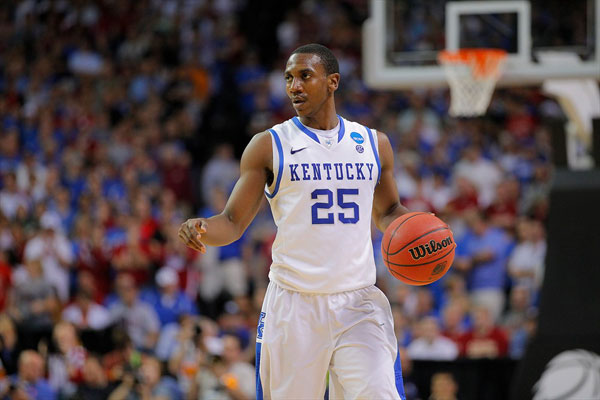 Kentucky Wildcats Guard Marquis Teague (25) during the Kentucky Wildcats game versus the Indiana Hoosiers in the South Regional Semifinals of the NCAA Division I Men's Basketball Championship at Georgia Dome in Atlanta, GA.
---
Michigan State: Draymond Green: The most important player in the NCAA Tournament and Mr. Do It All (Draymond Green) for Tom Izzo and the Spartans of Michigan State. Only 3 people have recorded at least 2 triple doubles during the NCAA Tournament and ironically two played at Michigan State (Oscar Robertson, Magic Johnson, and Draymond Green). The Spartans have a nice combination of older players in their rotation (Seniors Green, Wood, and Thornton; Junior Derrick Nix; and Sophomores Trice, Payne, and Appling) along with a nice mix of guards and centers throughout their rotation. At the same time when Green isn't on the court directing traffic, the Spartans offense looks confused and has a lot of problems; when he's on the court organizing everyone and recording triple doubles, the Spartans have a golden opportunity to return to the Final Four for the 6th time under coach Tom Izzo (3rd in 4 years) and maybe bring home the schools 3rd National Championship.
Kansas: Thomas Robinson: Like Draymond Green, Thomas Robinson is the reason why the Jayhawks went 27-6 during the season and made it back to the Sweet 16. During the offseason, the Jayhawks lost almost their entire starting lineup with the departures of both Marcus and Markieff Morris along with Brady Morningstar and Josh Selby. Kansas was able to overcome these departures and reach the sweet 16 thanks to the leadership shown throughout this year by Thomas Robinson. As for the next few rounds, if Robinson doesn't play like an All-American, Kansas is going to have a difficult time defeating a suddenly hot NC State Wolfpack team; however, if Robinson players like an All American, and Elijah Johnson/Tyshawn Taylor continue their great play, I feel Kansas will defeat NC State and have a solid chance at defeating a questionable (with Marshall not 100%) UNC team.
Ohio State: Aaron Craft: No question Jared Sullinger is the best player on the Buckeyes, however, I still feel Ohio State's destiny in the NCAA Tournament will be determined by the play of Aaron Craft. If Craft (the Big 10 Defensive Player of the Year) is attacking the glass and trying to find his shot on the offensive end, the other members of the Buckeyes (Sullinger, Deshaun Thomas, William Buford, and Lenzelle Smith Jr.) will have an easier time finding their shot and have more opportunities on the offensive end. If Craft keeps up his play as of late, Ohio State will reach the Final Four and become a dark horse to win it all in a few weeks.
Baylor Bears: Perry Jones III: Brady Heslip came up huge for Baylor during the first two rounds of the NCAA Tournament scoring 17 vs. South Dakota State and 27 against Colorado. As big as Heslip was during the first two games, I feel the most important player on a very good but inconsistent Baylor Bears team is Perry Jones III. With Jones III, Pierre Jackson, Quincy Acy, and Quincy Miller, along with Heslip making his 3's, the Bears can becomes a legitimate contender that I feel can athletically keep up with Kentucky. On the other hand, if Baylor doesn't make their shoots, gets away from their game plan, and star Perry Jones III doesn't play up to his potential, the Bears might get upset by Xavier.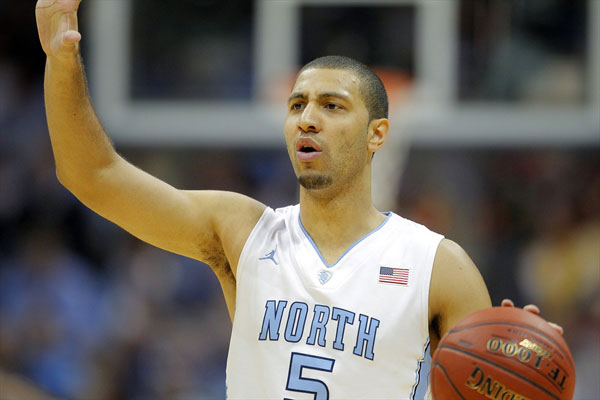 North Carolina Tar Heels guard Kendall Marshall (5) in the North Carolina Tar Heels 69-67 victory over the NC State Wolfpack in the ACC Tournament at Philips Arena in Atlanta, GA.
---
Marquette: Jae Crowder: The Golden Eagles are led by seniors Jae Crowder and Darius Johnson-Odom, whose averaged 18.5 points along with 3 assists this season. As important as Odom is to Marquette success, there's no question that the leader of this team is senior Jae Crowder (whose averaged 17.4 points and 8.1 rebounds) while also being the leader of their team. The Golden Eagles also feature a few good underclassmen in Davante Gardner, Junior Cadougan, Todd Mayo, Jamil Wilson and Vander Blue to complement the two senior leaders of their roster. If Crowder and DJO (two of the best players remaining in the tournament) play up to their potential, the Golden Eagles should have a solid chance at defeating Florida and upsetting Michigan State in the Elite 8.
Wisconsin: Jordan Taylor: Prior to the start of the tournament, Jordan Taylor had been having a down year, but that didn't stop him from being considered one of the best senior leaders in college basketball highlighted by the Badgers having the best defense in college basketball. Just as in years past, Coach Bo Ryan has done a tremendous job and has the Badgers playing arguable their best basketball now shown by the play of their team as of late. As for Taylor, he's currently playing his best basketball (almost recorded a triple double vs. Montana) and has been a great leader throughout this tournament for a tough Badgers team. If Taylor continues his play, Wisconsin makes their outside shoots, and the Badgers defense frustrates the Syracuse offense, Wisconsin should have a good chance to upset Syracuse.
Louisville: Peyton Siva: Since the start of the Big East Tournament, (averaging 11.1 points and 5.67 assists during this span) Peyton Siva has been playing at the top of his game, and the Cardinals haven't lost a game during this time. It seems that since the end of the Big East Tournament, Siva along with the rest of the Cardinals have turned up their intensity and have been playing much better as of late. Louisville, along with Siva, need to make sure they receive solid contributions from seniors Kyle Kuric (who is the team's leading scorer) and Chris Smith along with Russ Smith and GorguiDieng if they want an opportunity to upset the Spartans.
Indiana: Christian Watford: Even though Christian Watford's stats aren't as impressive as they were last year, the junior forward has proved he's willing to step-up to take and make the big shot (as shown earlier in the year against Kentucky). Since the start of the NCAA Tournament, the Hoosiers have received great contributions from everyone in their starting lineup which includes Will Sheehey (who make the game winner last Saturday vs. VCU), Jordan Hulls, Victor Oladipo, and star freshman Cody Zeller. I'm not sure this young and inexperienced Indiana team is ready to upset Kentucky, however, if star center Cody Zeller decides to stay and not enter the NBA Draft along with the majority of their roster returning next year and a great class coming to Bloomington, Indiana in 2012 (which is highlighted by five stars Kevin Ferrell (PG) and HannerPerea (PF) along with four star small forward Jeremy Hollowell). With the experience these players have received this year, along with the new players coming to Indiana for the 2012-2013 season, IU will be a top 5 team next year and should make a deep run at raising another championship banner.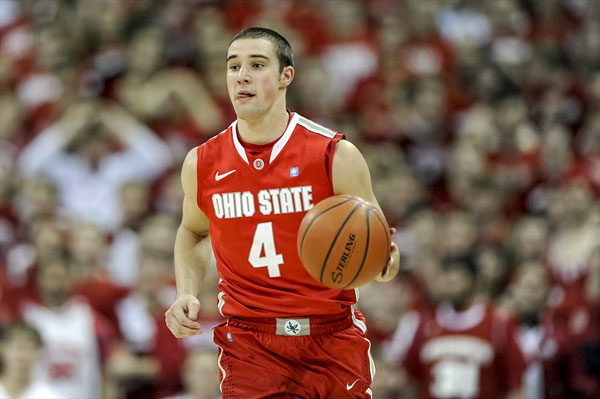 Ohio State Buckeyes guard Aaron Craft (4) in game action. The Ohio State Buckeyes defeated the Wisconsin Badgers by the score of 58-52 at the Kohl Center, in Madison Wisconsin.
---
Cincinnati: Yancy Gates: The Bearcats feature a lot of quality guards (Dion Dixon, Sean Kilpatrick, Jaquan Parker and Cashmere Wright), but Gates is the only legitimate big man and inside presence on their roster. Yancy Gates averaged 9.1 rebounds per game this season (while playing in one of the toughest conferences in College Basketball), and after Gates, the person who averaged the most rebounds during the regular season was guard Jaquan Parker with 5.6 rebounds per game. While Gates was suspended from their roster for 6 games (because of a fight between Xavier and Cincinnati on December 10th), the Bearcats had trouble scoring and rebounding in two of their games (vs. Oklahoma scored 55 points and 66 vs. Pittsburgh), however, once Gates returned to the team, the Bearcats were a more focused and committed team to making a long run in the NCAA Tournament. As for this weekend, if Yancy Gates can play stride for stride with Jarred Sullinger and their starting five can stay out of foul trouble, they should have a chance at the end of the game against their instate rivals from Columbus; if not, Ohio State will dominant the underdog Bearcats.
Florida: Patric Young: Like Cincinnati with Yancy Gates, SophomorePatric Young has become the lone dominant big-man for the Gators. Entering the NCAA Tournament, Florida had lost four of five games (@ Georgia, @ Vanderbilt, and vs. Kentucky (twice)) but since the loss to Kentucky on 3/10, the Gators offense and defense have been sharp, scoring 77.5 points per game while allowing only 47.5 points. In the first two games, its been their each member of their starting five doing their part, however, if center Patric Young doesn't step-up and play at an elite level, Marquette's big man Jae Crowder will dominate Florida on the glass and make it almost impossible to win. If he does show up and plays like he has so far in the tournament, the Gators are a dark-horse to come out of the West Region and reach the final four.
Xavier: Kenny Frease: In their last game vs. Lehigh, Xavier was down 15 midway through the second half and looked like a team that was lost and ready to join Duke and Missouri in loosing to a 15 seed during the 2012 tournament. That's when 7 footer Kenny Frease decided to show up and help save the Musketeers season by scoring 25 points, grabbing 12 rebounds, and went 13-15 from the field. If Kenny Frease can keep up this elevated play and fellow senior Tu Holloway can continue this tremendous stretch of play (scoring 20 or more points in 5 of his last 6 games), along with containing their turnovers so Baylor doesn't have too many fast break opportunities, the Musketeers should have a solid chance of upsetting Baylor on Friday.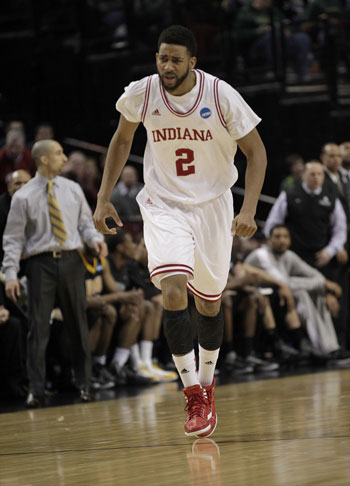 Indiana Forward Christian Watford (2) as the Virginia Commonwealth Rams played the Indiana Hoosiers in the Third Round of the NCAA Division I Men's Basketball Championship at the Rose Garden in Portland, OR.
---
NC State: C.J. Leslie: What a great bounce back season by forward C.J. Leslie as he has led their team in scoring with averaging 14.6 points to go along with 7.5 rebounds per game, which is good for second on their roster. As good as Leslie has been over the past 4 games (averaging 17.5 points and 8.5 rebounds during this stretch), the Wolfpack will need others to keep stepping up (as they've received great contributions from Richard Howell and Lorenzo Brown), if they want this dream season to continue. If the Wolfpack keep playing the same way as they have in the first two games, I believe they will upset Kansas and reach the elite 8 then again if N.C. State is able to defeat Kansas, I feel they would have a chance against North Carolina as the two teams have already met 3 times this year.
Ohio: D.J. Cooper: Congrats to the Ohio Bobcats on making it to the Sweet 16; your reward a match-up against an angry North Carolina Tar Heels team. Since the start of the MAC Championship (on March 8th vs. Toledo), guard D.J. Cooper has been on tear averaging 19.8 points, 6.4 assist, and 3.2 rebounds (even though he's not even 6 feet). With the dominant play of Cooper as of late and the possibility of Kendall Marshall not playing, I feel with Cooper and Walter Offutt the Bobcats should have the edge at the guard position. However, I'm still not sure it will be enough to defeat a dominant a Tar Heels front court which features four future NBA Players (Barnes, Henson Zeller, and McAdoo off the bench). The Bobcats should be the favorites to win the MAC next year with their entire starting lineup expecting to return for the 2012-2013 season.
---
What do you think?
We'd love to hear your comments and/or opinions. If you submit them here, other visitors can read them, rate them and comment on them. An e-mail address is not required.
---
From NCAA Tournament: The Most Important Players Left to NCAA Basketball Blog | Sports Blog | NFL Football Blog | NCAA Football Blog | NFL Football Archives | College Football Archives | MLB Baseball Blog | College Baseball Blog | MLB Baseball Archives | NBA Basketball Blog | NBA Basketball Archives | NCAA Basketball Archives | Fantasy Football | Fantasy Basketball | Fantasy Baseball | Soccer Archives | Olympics Archives | Stupid Athletes Archives | Other Archives | Football Forum | Basketball Forum | Baseball Forum | NFL Football Store | NBA Basketball Store | MLB Baseball Store | NCAA Football Store | NCAA Basketball Store | NCAA Baseball Store | Fatheads | NFL Football Tickets | NBA Basketball Tickets | MLB Baseball Tickets | NCAA Football Tickets | NCAA Basketball Tickets | NCAA Baseball Tickets |
---
Home Page
About Us | Contact Us | Site Search | Advertise | Terms of Use |
---