NBA Midseason Report Cards: the Atlantic Division
By Lorenzo Tanos

With All-Star Weekend less than two weeks away, here's how each team in the Atlantic Division has graded out so far in the 2012-13 NBA season.
Boston Celtics (24-23)

This is a team that was, and still is expected to do better.  And it's a combination of things that has turned the once-mighty Celtics into a run-of-the-mill, average NBA team.  Paul Pierce and Kevin Garnett are still playing younger than their age and experience may suggest, but arguably no longer at an elite level.  Of course, there's Rajon Rondo's season-ending injury and the lack of elite talent at off-guard – Jason Terry (10.1 ppg) has been inconsistent and far from his super sixth man glory days, and Avery Bradley and Courtney Lee seem best used as defensive specialists.  But on the plus side, Jeff Green has made a strong return after missing a year due to heart surgery, and prior to his own season-ending back injury, Jared Sullinger was a quality reserve big man.  It's still not too late for the C's to come back strong, but at this point, they look like a 45-win team at best.  (C)

Brooklyn Nets (28-19)
I guess you can call it a minor miracle that Brook Lopez has been healthy for most of the season, the Nets' top scorer with 18.7 ppg (and not Joe Johnson or Deron Williams) AND a very competent rebounder, the team's leader, in fact, with 7.2 a game.  But despite Lopez's surprising performance and Johnson's solid performance (17.0 ppg, 3.0 rpg, 3.6 apg) with a new team, there have also been some disappointments.  Some VERY big disappointments.  Kris Humphries (6.2 ppg, 6.5 rpg) immediately comes to mind, as 2012-13 has been a mix of injuries, bad attitude and underachievement for the one-time late-blooming double-double machine.  And Gerald Wallace has been a very subpar fourth or fifth offensive option as starting SF, though he's still a good defender and versatile player overall.  (B-)

New York Knicks (31-15)
See what a little attention on the defensive end can do for you?  Granted, the Knicks are averaging a very strong 101.0 ppg (8th in the league), but are also holding opponents to 95.5 ppg, good for 6th overall.  And the Knicks didn't have to stop running.  Carmelo Anthony is having one of the best statistical seasons of his career, ditto J.R. Smith and Raymond Felton; there's something about New York's typically high-octane offense that does wonders for players' careers.  Holding things down on the defensive end is Tyson Chandler (11.7 ppg, 11.2 rpg), another player whose numbers are on the upswing.  And the amazing thing is that the Knicks achieved all this with Amar'eStoudemire out for a good 30 games.  Special mention goes out to undrafted rookie Chris Copeland (6.3 ppg), currently a deep sub, but someone who's dropped 29 and 23 points in separate games.  Talk about a pleasant surprise.  (B+)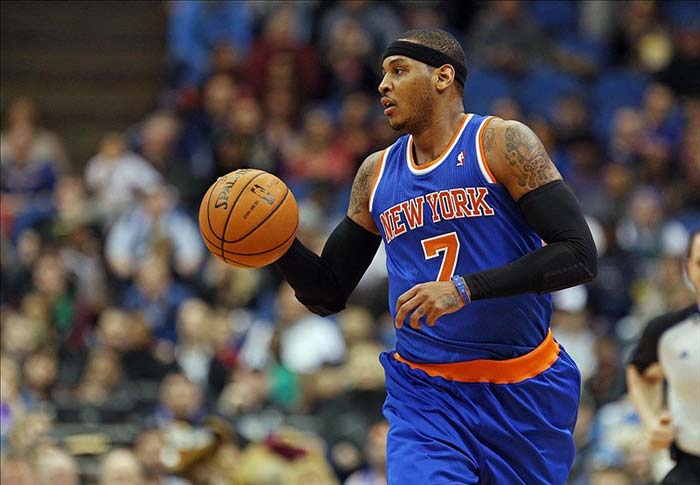 Feb 8, 2013; Minneapolis, MN, USA; New York Knicks small forward Carmelo Anthony (7) dribbles the ball down the court in the first half against the Minnesota Timberwolves at Target Center. The Knicks won 100-94. Photo Courtesy By Jesse Johnson-USA TODAY Sports.

Philadelphia 76ers (21-26)
They can't score (93.0 ppg, 28th in the league), their new franchise center (Andrew Bynum, who else) remains sidelined due to an injury aggravated while BOWLING, and the man who could have stepped up to the plate in the interim (Spencer Hawes) has only regained his starting job recently.  Still, the 76ers have had some redeeming factors at this point in the season.  They play good defense, currently 8th overall and capable of holding the Magic down to 61 points as they so recently did.  Jrue Holiday (19.3 ppg, 9.0 apg) and Evan Turner (13.9 ppg, 6.6 rpg, 4.5 apg) are having breakout seasons.  And the Young boys (Thaddeus at SF/PF and Nick at SG/SF) have, in a way, made up for the disappointments that are trade acquisitions Jason Richardson and Dorell Wright.  (C-)

Toronto Raptors (17-31)
So you thought Kyle Lowry was going to have one helluva breakout season in 2012-13?  So did I.  He's missed stretches of the season due to injury, and had even Wally Pipp-ed himself to Jose Calderon before the latter got traded to the Detroit Pistons in the deal that brought Rudy Gay to the Raptors.  Gay should be the consistent go-to guy on offense DeMarDeRozan showed some potential of being (not that he's any bad, with 17.6 ppg in 48 games), and a nice antidote to Lowry's disappointing 2012-13 and Andrea Bargnani's elbow problems, which have kept him out of action since December.  Oh, and Landry Fields (4.9 ppg, 5.0 rpg in 23 mpg) has been a disappointment too.  Fortunately, the unheralded Alan Anderson (12.1 ppg) has been a nice surprise as an off-the-bench source of points and threes.  (C-)


What do you think?

We'd love to hear your comments and/or opinions. If you submit them here, other visitors can read them, rate them and comment on them. An e-mail address is not required.