NBA Free Agency: Possibilities for LeBron James
By Aaron Sass

It's official, LeBron James has decided to opt out of his contract with the Miami Heat and test free agency. After watching the Heat get dismantled in the NBA finals by the San Antonio Spurs, this was pretty much universally expected.

There are only a few teams that have a legitimate shot at landing James this summer, but I'm sure that all of the teams that I'm going to mention below are going to go all in for The King.

Phoenix Suns - This is by far the least likely landing spot for King James this summer. But, you never know. The Suns have a phenomenal back court in Eric Bledsoe and Goran Dragic and they will have an abundance of cap room.

Phoenix plays an exciting style of basketball and has one of the best coaches in the entire league. The Suns are clearly a team on the rise, and could very well be one of the top 5 seeds in the western conference next season.

However, as I mentioned it's very unlikely that LeBron even considers going to Phoenix. But stranger things have happened.

Los Angeles Lakers - The Lakers have a small chance at getting LeBron this summer. They only have two players under contract for next season in Kobe Bryant and Steve Nash, so they have plenty of cap room to work with in free agency.

Kobe and Nash will make up the oldest starting back court in NBA history next season, and their health is a huge question mark. For that reason alone LeBron may not take the Lakers seriously as he may be put in a worse situation than he was in this past year if he signs with them.

If the Lakers can land another big time free agent, someone like Carmelo Anthony, then LeBron may take a more serious look at the Lakers. But for now, it's unlikely that he'll go there. But he may consider them just because they're the Lakers.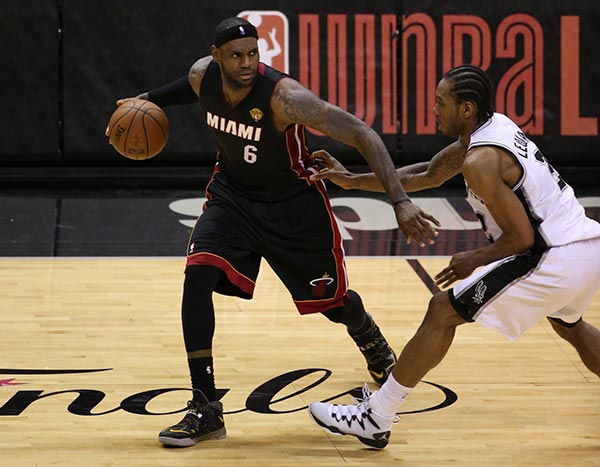 Houston Rockets - This is a toss up. There are negatives and positives to LeBron going to Houston. Of course for the Rockets to even have a shot at signing LeBron they need to find a home for Omer Asik and Jeremy Lin to clear the cap space to make a run at The King.

Houston is an awful defensive team. Outside of Patrick Beverley they don't have anyone who plays defense on the perimeter. LeBron would be one of the only players who took defense seriously on the team, and I'm not sure he would be happy about that.

James Harden is the streakiest star in the entire league. When he's on he's almost impossible to stop. But as we saw in their first round playoff series against the Blazers, he's not always on. And on top of that he doesn't play defense. So when he's not adding anything offensively he really hurts the team.

Dwight Howard is the whiniest star in the entire league, and likes to blame everyone else for everything bad that happens. If there's any one player that can set him straight it's LeBron. But I don't think LeBron would want to have that responsibility. For that reason alone I think LeBron would pass on Houston. But a trio of Harden, Howard, and James would be deadly.

Los Angeles Clippers - This could happen. The Clippers need to find homes for guys like DeAndre Jordan, JJ Redick, and several other players to clear the proper amount of cap space to make a run at LeBron. But it's a possibility.

James has never played with a real point guard. Well, joining the Clippers would take care of that issue as he'd be joining the best point guard in the entire league in Chris Paul.

He's never played with a real post prescience. Once again, joining the Clips takes care of that as he would be playing with Blake Griffin who many people believe is the best power forward in basketball.
Also the Clippers have a phenomenal coach in Doc Rivers. So there's a pretty good chance that James ends up playing for the Clippers next season.

Chicago Bulls - The Bulls are being thought of as the front runners for Carmelo Anthony. But if you can get LeBron James, you get LeBron James. Now that he's available I'm assuming they'll make a run at James and possibly use Anthony as their plan B if he'd be available after and if James declined.

To make this happen they'd have to amnesty Carlos Boozer which wouldn't hurt the team at all. The only concern here for James would be the injury history of Derrick Rose, who has basically missed the last two seasons with knee injuries.

If Rose is able to be healthy, a trio of Derrick Rose, Joakim Noah, and LeBron James would be frightening for the rest of the league. Not to mention they'd still have Taj Gibson and Jimmy Butler in the lineup.

Cleveland Cavaliers - When the Cavs hired David Blatt as their new head coach I thought the possibility of James making a return to Cleveland went out the window. But it still could happen, and I believe that if he leaves Miami he'll go back to Cleveland.

James has said that he'd love to play for Mark Jackson, and Jackson just got fired by the Golden State Warriors. Jackson is known as a player's kind of coach. Almost every single player on the Warriors roster stuck up for him when he got fired. So I thought Cleveland should have hired him knowing that, and knowing that LeBron would love to play for him.

Kyrie Irving is a superstar and is a lot better than Dwyane Wade at this point. Also, the Cavs could put together a trade package for Kevin Love that could include Tristan Thompson, Deon Waiters, Anthony Bennett, and their first round pick (either Embiid, Wiggins, or Parker) if LeBron decides to make a return to Cleveland.

It's unlikely the Cavs will get Love and James, but if they do Cleveland would be instant championship contenders.

Miami Heat - The most likely scenario is that LeBron returns to Miami, takes a pay cut, and convinces Wade and Bosh to take a pay cut so the Heat can go out and get LeBron some more help. Guys like Kyle Lowry and Trevor Ariza come to mind as potential free agents that Miami can add if the big 3 take a pay cut.

If Wade and Bosh don't take a pay cut I can see Miami looking to trade Bosh for someone like Marc Gasol or Al Horford. Wade will probably stay in Miami for the rest of his playing career, which probably won't be much longer.

The bottom line is the Heat need to get LeBron some more help if they're going to convince him to stay. Dwyane Wade has become a shell of himself and is breaking down physically, and Chris Bosh has become Sam Perkins.

But when it's all said and done I think the Heat will get LeBron some more help, and he'll be playing in Miami next season.

What do you think?

We'd love to hear your comments and/or opinions. If you submit them here, other visitors can read them, rate them and comment on them. An e-mail address is not required.
NBA Free Agency: Possibilities for LeBron James to NBA Basketball Blog