NBA Basketball is Like the Presidential Election: Only Seven States Matter
The most fascinating part of the 2012 U.S. Presidential Election was not its length (2 years), money spent (upwards of 2,000,000,000), or its rancor, it was the fact that only the seven "battleground" states of Ohio, Florida, Virginia, Colorado, North Carolina, Iowa, and Michigan decided the outcome of the election. There are 50 states, sure, but the candidates spent two years ignoring 43 of them because they didn't matter; their voting interests were already decided. Basketball displays a fascinatingly similar pattern leading up to the NBA Championship: there are 30 teams, but only seven of them have a real shot at the title.
Shocked? I hope not. Charlotte fans, were you really sitting there believing your team is ready for prime-time? I doubt it. Everyone knows Charlotte isn't going anywhere, just like everyone knew New York wasn't going to turn red on election night.
But, this "narrowness of contention" problem runs deeper than just bottom feeder teams like Charlotte, Sacramento, and Washington: it engulfs most of the NBA's franchises; teams whose off-seasons offer fans hope of exciting games and playoff berths but little to no chance of real contention.
Consider the Indiana Pacers. The Pacers resigned all-star level center Roy Hibbert during the summer. Their roster, headlined by Hibbert, Danny Granger, Paul George, and a world-class bench, is good enough to challenge the Chicago Bulls in the Eastern Conference Central Division and perhaps qualify for a top 5 playoff seeding. But, the Pacers do not have the MVP-level stars and offensive firepower to reach the NBA Championship; they simply cannot outlast the Miami Heat, Chicago Bulls, or Boston Celtics in a seven game playoff series.
Just which teams stand a chance at title contention? Like the 2012 Presidential Election, which featured three ultra-close swing states in Ohio, Florida, and Virginia and four others that were up for grabs but not nearly as close, the NBA's seven "battleground" teams are divided into two tiers of potential contention. The Miami Heat, Los Angeles Lakers (recent issues notwithstanding), and Oklahoma City Thunder are the headliners. The San Antonio Spurs, Boston Celtics, Chicago Bulls, and Los Angeles Clippers can all make a run if things break right at critical points in time.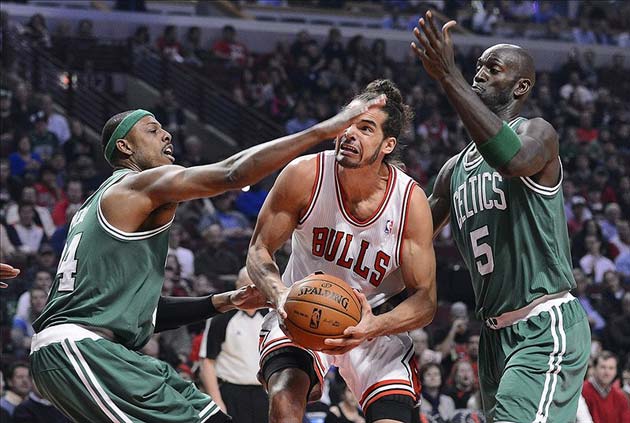 ---
For the Celtics, all of their stars will have to stay healthy; a tall task when two of them, Paul Pierce and Kevin Garnett, practically qualify for Medicare. For the Bulls, their patchwork roster will have to hold up until January and Derrick Rose will have to both recover from knee injury quickly and recapture his pre-injury form come playoff time. For the Clippers, Chris Paul and Blake Griffin will have to play like Supermen and DeAndre Jordan will have to turn into an all-star. And, for the Spurs, they will need to rock it like its 2007. And, that is just for a chance, not a probability of contention for a title. But, at least there is a chance.
Everyone else was dead on arrival.
---
What do you think?

We'd love to hear your comments and/or opinions. If you submit them here, other visitors can read them, rate them and comment on them. An e-mail address is not required.
---
From NBA Basketball is Like the Presidential Election: Only Seven States Matter to NBA Basketball Blog | Sports Blog | NFL Football Blog | NCAA Football Blog | NFL Football Archives | College Football Archives | MLB Baseball Blog | College Baseball Blog | MLB Baseball Archives | NCAA Basketball Blog | NBA Basketball Archives | NCAA Basketball Archives | Fantasy Football | Fantasy Basketball | Fantasy Baseball | Soccer Archives | Olympics Archives | Stupid Athletes Archives | Other Archives | Football Forum | Basketball Forum | Baseball Forum | NFL Football Store | NBA Basketball Store | MLB Baseball Store | NCAA Football Store | NCAA Basketball Store | NCAA Baseball Store | Fatheads | NFL Football Tickets | NBA Basketball Tickets | MLB Baseball Tickets | NCAA Football Tickets | NCAA Basketball Tickets | NCAA Baseball Tickets |
---
Home Page
About Us | Contact Us | Site Search | Advertise | Terms of Use |
---