NBA 2012-2013 Midseason Report Card: the Central Division
By Lorenzo Tanos

We're now on to the Central Division, and since I didn't mention this in my midseason report cards for the Atlantic, we should take note that these grades are based on two things – overall talent level, overall performance and how well a team has maximized its talents.  That said, here's the second of the six divisions, starting with the...
Chicago Bulls (29-19)
You have to give coach Tom Thibodeau a lot of credit for this.  This is a team that doesn't have its franchise player healthy yet, as Derrick Rose is expected to be back after All-Star Weekend.  In the meantime, Kirk Hinrich (7.0 ppg, 5.2 apg) has done a competent job filling in, even if his numbers are very, very far removed from those he put up back in his early years in the NBA.  Luol Deng's numbers (17.2 ppg, 6.7 rpg, 3.0 apg) are solid across the board, but it's his intangibles and defense that have helped him to a second straight All-Star appearance.  He'll be joined in the Eastern All-Stars by first-timer Joakim Noah, yet another defensive anchor for the tenacious Bulls.  If you look at all that, plus the slightly reduced numbers from Carlos Boozer and the lack of a quality starting backcourt, it's amazing that the Bulls are over the 60% mark at this point in the season.    (A-)

Cleveland Cavaliers (14-34)
Oh, how things could have been better for the Cavs if only Anderson Varejao didn't have yet another season cut so short due to injury.  Remember these numbers, as he's out for the year, as is often the case – 14.1 ppg, 14.4 rpg.  In the meantime, it looks like more opportunities for the Cavs' young big men to shine.  Tristan Thompson (11.1 ppg, 9.3 rpg) took some time to get in the groove, but he's now a reliable source of interior points and rebounds, particularly on the offensive end.  Tyler Zeller (8.1 ppg, 6.1 rpg) has put up some solid numbers since cracking the starting lineup.  But MarreeseSpeights could be one to watch for as he could be getting some quality minutes going forward.  The backcourt's looking quite good with Kyrie Irving (24.0 ppg, 5.4 apg) and Dion Waiters (14.2 ppg), although Waiters' 38% field goal shooting is a concern.  Small forward is still a weak link with Alonzo Gee the top option at the three.   (C-)

Detroit Pistons (18-31)
The Pistons have just one bright, consistent spot in the lineup right now and it's Greg Monroe (15.8 ppg, 9.3 rpg, 3.2 apg), who's still a bit of a liability on defense but otherwise a young, versatile big man with some of the best passing skills for a forward/center.  Brandon Knight (13.8 ppg, 4.4 apg) has made some improvements, but is still prone to inconsistency and tweener-ish tendencies.  The real disappointments, though, are Rodney Stuckey and Corey Maggette.  It's too much to expect Maggette to return to his form of old, but he's been largely a nonfactor, while Stuckey hasn't built on the promise he once had as a potential second coming of Joe Dumars.  Rookies Andre Drummond and Kyle Singler, however, have been pleasant surprises with their first-year performances.  (C-)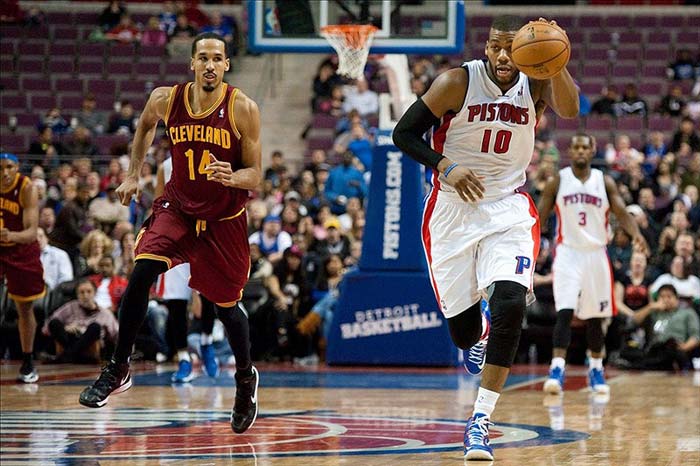 Feb 1, 2013; Auburn Hills, MI, USA; Detroit Pistons center Greg Monroe (10) brings the ball up court against Cleveland Cavaliers point guard Shaun Livingston (14) during the fourth quarter at The Palace. Detroit won 117-99. Photo Courtesy By Tim Fuller-USA TODAY Sports.

Indiana Pacers (30-19)
Paul George (17.6 ppg, 7.7 rpg, 3.9 apg, 1.8 spg) has broken out and become a first-time All-Star, David West (17.2 ppg, 7.7 rpg) is back in the groove and George Hill (14.7 ppg, 4.2 rpg, 4.9 apg) is proving to be a strong third offensive option, if a bit of a tweener, as the Pacers' starting point guard.  All told, the Pacers are getting along quite well even with Danny Granger's knee still keeping him out of action.  There are some disappointments, though, as Roy Hibbert (9.9 ppg, 8.3 rpg, 2.6 bpg) has regressed offensively.  No need to remind you about how D.J. Augustin has slipped from mediocre starting PG to terrible backup PG.  And small forward, like it is in Cleveland, is a weak point for the Pacers, which is where Granger's return can help; you can't exactly call Lance Stephenson or Gerald Green quality starters.  (B)

Milwaukee Bucks (25-22)
Finally, Scott Skiles' reign of terror with the Bucks is over, and Jim Boylan has been doing a better job so far, at least if wins and losses are a measure of success.  The jury's still out on him.  Still, there's no stability in the Bucks' frontcourt rotation aside from the much-improved Larry Sanders (8.5 ppg, 8.5 rpg, 3.2 bpg), who's limited on offense but a nightmare for opponents on the defensive end.  ErsanIlyasova (10.9 ppg, 6.2 rpg) seems to be out of the funk he was in early in the season, and at small forward, Luc Mbah a Moute and Mike Dunleavy make a good, but not great defense-and-offense platoon.  Sadly, there doesn't appear to be a place in the rotation for Samuel Dalembert and Drew Gooden, even if both are healthy.  There are no complaints with the backcourt, as Brandon Jennings (18.6 ppg, 6.1 apg) and Monta Ellis (18.4 ppg, 5.5 apg) are as potent as they get from the 1-2 spots.  On the other hand, their combined 40% shooting can be a bit of an eyesore… (C)
What do you think?

We'd love to hear your comments and/or opinions. If you submit them here, other visitors can read them, rate them and comment on them. An e-mail address is not required.