My Prediction for NFL Division Winners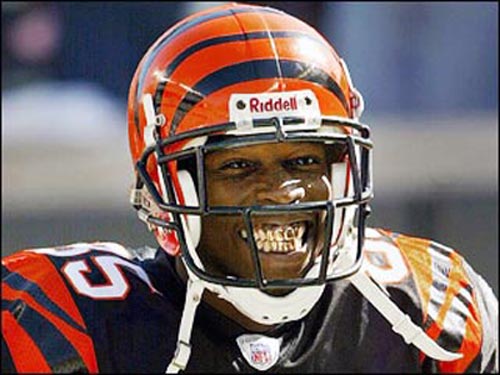 Chad Johnson
---
Since football season starts tonight at 8pm (clap clap clap), I'm going to give my meaningless predictions of each division winner. I would not put any amount of money on my picks. I'll probably look back in January and notice that I got less than half right but I'm okay with that. I'm just going to give it a hail mary type try.
NFC East: Dallas Cowboys (not cause of T.O. and Vanderjadt but their defense)
NFC North Chicago Bears (Thought about the Packers for .00001 secs)
NFC South Carolina (The popular pick but hard to go against them)
NFC West St. Louis (Going with the Super Bowl jinx for Seattle and ruling out SF, and Arz)
AFC East New England (Bellichik and Brady may still be good enough)
AFC North Cinncinnati (Hard for Pittsburgh to repeat success. Cincy has unfinished business)
AFC South Indianapolis (Wishful thinking would be my Jaguars but they have a brutual schedule)
AFC West Denver (Hoping for Mike Bell to have a big fantasy football season for me)
---
What do you think?
We'd love to hear your comments and/or opinions. If you submit them here, other visitors can read them, rate them and comment on them. An e-mail address is not required.
---
From My Prediction for NFL Division Winners to NFL Archives | Sports Blog | College Football Archives | MLB Archives | NBA Archives | NCAA Basketball Archives | Soccer Archives | Olympics Archives | Stupid Athletes Archives | Other Archives |
---
Home Page
About Us | Contact Us | Site Search | Advertise | Terms of Use |
---