My Baseball Hall of Fame Ballot
I'm just warning you: my hall of fame ballot is pretty short. While I don't have a vote for the Baseball Hall of Fame (I haven't gone mainstream and sold out that far yet), if I did I would base my vote on two core principles. First, I believe in a smaller Hall of Fame where borderline candidates are not admitted. That's what the All Star game, Gold Gloves, and other awards are for: they honor very good players for great achievements during their careers. The Hall of Fame is something different: it's a place for the very best of the best players of all time. In order to get onto my Hall of Fame ballot, a player must be one of the very best at their position ever, had a career filled with near unique achievements (MVP awards rather than a few All Star appearances), and been a genuine contributor to the enduring legacy of the game. Second, my Hall of Fame will not include players who test positive for performance enhancing drugs. Innocent until proven guilty but, if a player tests positive as a steroid user at any point in their career, then I don't think they belong in the Hall of Fame. Indeed, that's why I think it's so important that the 2003 anonymous test results get released; that way we can know who used, address it, and finally move forward.
Interestingly, despite my belief in a smaller Hall of Fame, I actually would have voted for the same amount of players as the rest of the Hall's voters….this year. That's because, while I agreed with the voters on Roberto Alomar, one of my candidates (Barry Larkin) had an often misjudged career while my bear miss (Jeff Bagwell) has been suspected of steroid use. Let's delve a bit into the cases of each of these candidates-and a couple of near misses-and see which eligible players really belong in the Hall of Fame.
Second Baseman Roberto Alomar
Alomar was one of my favorite players growing up. He was just special to watch: a slick fielder, excellent bat, and great base-runner all in one. I think it was a shame that a lot of writers made him sit a year because he regrettably spat at an official once in his career but the important thing is that he got in. Statistically, there really isn't much to debate about: a 12-time All Star (including every year of the 1990s) and ten time Gold Glover, Alomar was the best at his position for nearly a decade. He wasn't just the best on one side of the game either: as a four time Silver Slugger he was as good a hitter as he was a defender. He was also a clutch postseason player-as his 1992 ALCS MVP and two World Series in 1992 and 1993 attest, which makes him one of (if not the) most complete player at the position in baseball history.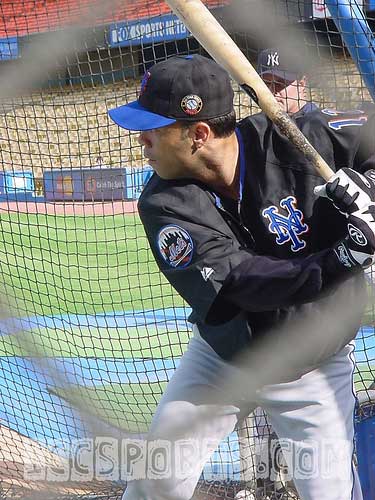 Thanks to iccsports from Flikr.com for this great picture of Second Baseman Roberto Alomar.
---
Shortstop Barry Larkin
Barry Larkin was not inducted into the Hall of Fame this year. However, I think he belongs there because, while he was not the best shortstop ever or even the best of his era (that honor belongs to the immortal Derek Jeter), Larkin did everything well and was one of the best players to have on the field during his prime. Because of his ability to positively impact the game in every area, Larkin changed every team he was ever on for the better and excelled throughout his career. He is one of the best examples of a player who was great on his own but whose greatness should be measured by how much he elevated his teams and teammates.
That is not to say that Larkin lacked individual honors. He was a twelve time All Star (with only three missed years from 1988-2004), a nine time Silver Slugger, the 1995 NL MVP, and a World Series champion in 1990. Indeed, Larkin is considered the best hitting shortstop of his era (and it's not even really that close) and he can make a strong case as the best hitting shortstop of the live ball era. Plus, Larkin was always a very good fielder and, unlike many top hitters who are often gifted gold gloves (Derek Jeter is famous for this), Larkin probably deserved more than the three that he actually won. He was, most certainly, a top three offensive and defensive performer at his position in all of baseball for over a decade. That kind of excellent performance over a long period of time combined with unique awards should hopefully get Larkin in the Hall at some point.
Near Miss: First Baseman Jeff Bagwell
I do think that Jeff Bagwell was underrated for most of his career. He was one of my favorite players to watch growing up. He certainly deserved to make more than five All Star games, win more than three Silver Slugger awards, and probably earned more than one Gold Glove with good defense through most of his career. Bagwell was also one of the most consistent hitters of his generation and deserves high marks for remaining with the Astros his entire career.
However, I think Bagwell is one of those border candidates who did not quite do enough to make it into the more elite Hall of Fame that I think baseball should have. While he was consistently good his entire career and boasts a very high career OPS and on-base percentage, Bagwell was never the best hitter in the league. In fact, I'm not sure he was ever the best hitter on his own team; Craig Biggio had over 3,000 hits over his career. Bagwell hit for a lot of power but did not reach five home runs and could not truly carry a lineup and he was not much of a base running threat. Bagwell also did not have a career .300 plus batting average or ever win a world series. All in all, I think he was a very good to great player but not a true Hall of Famer.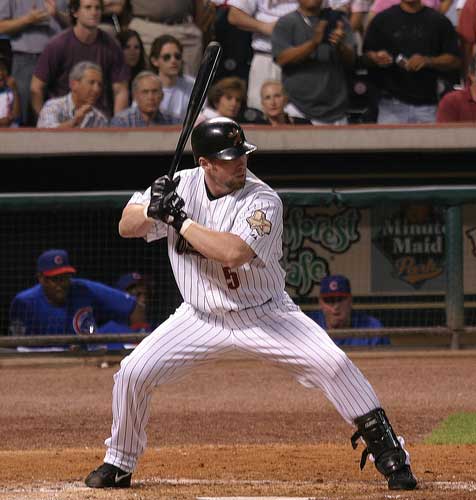 Thanks to Christopher Ebdon from Flikr.com for this great picture of First Baseman Jeff Bagwell.
---
This is a Hall of Fame list so I'm sure there will be disagreement and controversy (yes I'm speaking to everyone who voted for Bert Blyleven especially). So, if you disagree, make sure to post your own list in the Forum and let's debate it out!
---
What do you think?
We'd love to hear your comments and/or opinions. If you submit them here, other visitors can read them, rate them and comment on them. An e-mail address is not required.
---
From My Baseball Hall of Fame Ballot to MLB Baseball Blog | Sports Blog | NFL Football Blog | NCAA Football Blog | NFL Football Archives | College Football Archives | College Baseball Blog | MLB Baseball Archives | NBA Basketball Blog | NCAA Basketball Blog | NBA Basketball Archives | NCAA Basketball Archives | Fantasy Football | Fantasy Basketball | Fantasy Baseball | Soccer Archives | Olympics Archives | Stupid Athletes Archives | Other Archives | Football Forum | Basketball Forum | Baseball Forum | NFL Football Store | NBA Basketball Store | MLB Baseball Store | NCAA Football Store | NCAA Basketball Store | NCAA Baseball Store | Fatheads | NFL Football Tickets | NBA Basketball Tickets | MLB Baseball Tickets | NCAA Football Tickets | NCAA Basketball Tickets | NCAA Baseball Tickets |
---
Home Page
About Us | Contact Us | Site Search | Advertise | Terms of Use |
---